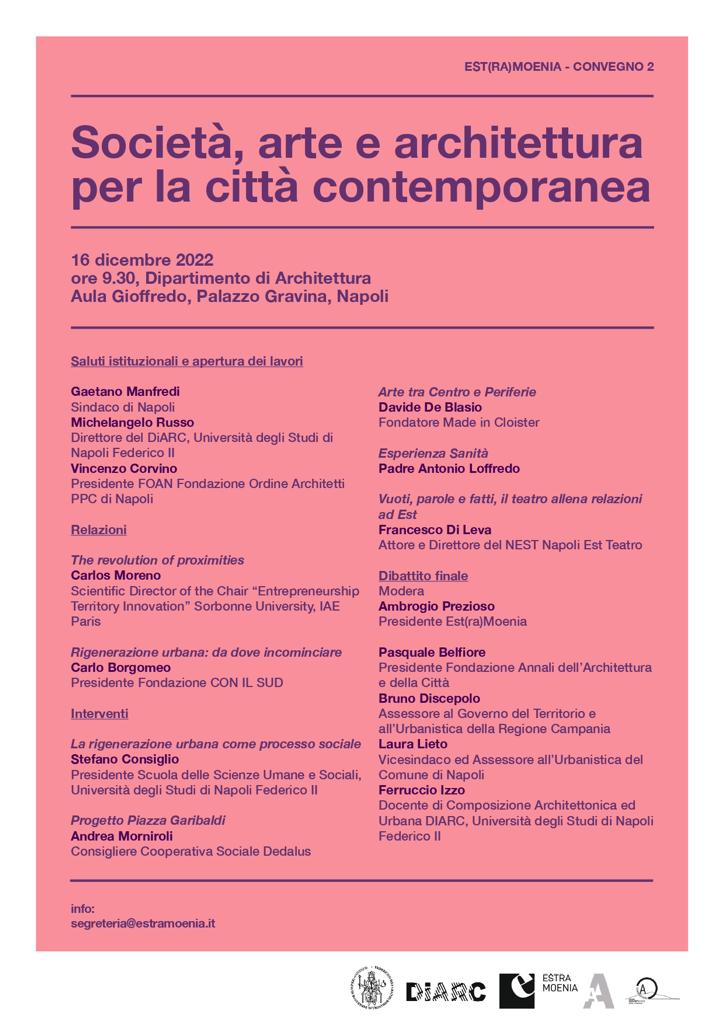 Invito da parte del Dipartimento di Architettura dell'Università degli Studi di Napoli Federico II, dell'Associazione EstraMoenia e della Fondazione dell'Ordine degli Architetti di Napoli a tenere la relazione principale del simposio organizzato il 16 dicembre sul tema della rigenerazione delle periferie, del riposizionamento della pratica architettonica e del suo ruolo nella società.
Tema del simposio:
Evidenziare come l'architettura possa concentrare l'innovazione, la ricerca e l'immaginazione in modo più responsabile, celebrando l'infrastruttura sociale piuttosto che la leva commerciale, e unendosi come cittadini.
Gaetano Manfredi, sindaco di Napoli, terrà un discorso di apertura, seguito dalla conferenza del professor Carlos Moreno.
–
Invitation by the Department of Architecture at the Naples Federico II University, the EstraMoenia Association and the Naples Board of Architects Foundation to deliver the keynote lecture at the symposium organised on 16th December about the theme of regenerating the periphery, repositioning the practice of architecture and its role in society.
Theme of the symposium :
To highlight how architecture can focus innovation, research and imagination in a more responsible manner, by celebrating societal infrastructure rather than commercial leverage, and coming together as citizens.
Gaetano Manfredi, Major of Naples, will give an opening speech, followed by the lecture of Prof Carlos Moreno.