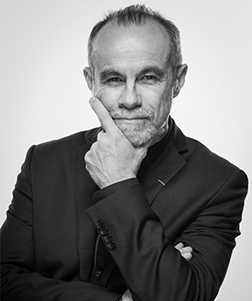 Carlos Moreno – Professeur des Universités, expert villes, territoires de demain, spécialiste du contrôle intelligent des systèmes complexes.
Chercheur et personnalité de réputation internationale, Carlos Moreno est professeur associé à l'IAE de Paris – Université Panthéon Sorbonne, et co-fondateur et directeur scientifique de la chaire ETI « Entrepreneuriat, Territoire, Innovation », spécialisé dans l'étude des systèmes complexes et dans le développement des processus d'innovation.
Scientifique reconnu par ses réflexions, travaux et propositions originales concernant les problématiques urbaines, il est un pionnier de la « Ville Intelligente ». Il a été aussi un entrepreneur à succès avec une start up en disruption. Conseiller scientifique des grands acteurs nationaux ou internationaux au plus haut niveau, dont la Maire de Paris Anne Hidalgo dont il est son envoyé spécial « Villes Intelligentes ».
Carlos Moreno fait partie des visionnaires ayant apporté toujours un regard nouveau sur ces thématiques. Ses recherches le placent au cœur des thématiques de portée internationale, avec la « Ville Numérique et Durable », qu'il a formulée en 2006, aux avant-postes de la « Smart City », apparue en 2010, la dépassant ensuite avec la « Human Smart City » en 2012, « la Living City » en 2014 et la « Ville du Quart d'Heure » puis le « Territoire de la ½ Heure » en 2016. Ces deux derniers concepts conjuguent une approche urbaine et territoriale nouvelle sur le chrono urbanisme, la chronotopie et la topophilie.
Un parcours à la croisée de la RECHERCHE, de l'INNOVATION et de l'INDUSTRIE
Les contributions de Carlos Moreno sont reprises dans le monde entier, mises à l'honneur par leur originalité et ont été intégrées dans de multiples projets de gouvernances locales et transformations urbaines en France et dans le monde. Engagé également sur le terrain pour mettre à l'épreuve ses concepts, avec un vaste écosystème national et international, il est à l'initiative ou participe à de multiples activités, réunissant des experts du monde entier pour promouvoir la transformation de modes de vie et des espaces urbains et répondre aux enjeux des villes, métropoles et territoires au XXIe siècle.
Il a été fait Chevalier de la Légion d'Honneur en 2010 par la République Française et il a reçu la Médaille de la Prospective en 2019 par l'Académie française d'Architecture. Il est également Lauréat du Obel Award 2021, au titre de ses travaux sur les proximités urbaines et territoriales et de son impact dans le monde. En novembre 2021, il a remporté le Leadership Award à l'occasion des World Smart Cities Awards, organisés par le Smart City Expo World Congress.
Carlos Moreno es Catedrático, experta en ciudades, territorios del mañana, especialista en control inteligente de sistemas complejos.
Investigador de renombre internacional, Carlos Moreno es Profesor Asociado en la Universidad de París IAE-Panteón Sorbona en Francia, y también cofundador y director científico de la cátedra ETI "Emprendimiento-Territorio-Innovación". Está especializado en el estudio de sistemas complejos y en el desarrollo de procesos de innovación.
Obtuvo reconocimiento como científico con una mente innovadora, por sus trabajos pioneros y su enfoque único sobre asuntos urbanos. Es reconocido por su concepto "Smart City", y conocido como emprendedor de éxito gracias a una innovadora start-up. Reconocido como asesor científico de personalidades nacionales e internacionales del más alto nivel, incluida la alcaldesa de París, Dña. Anne Hidalgo, en calidad de Enviado especial de la alcaldesa para la "Smart City".
Carlos Moreno es uno de los visionarios que aporta nuevas perspectivas sobre los problemas. Trabaja en el foco de asuntos de relevancia internacional como resultado de su investigación, incluidos los siguientes conceptos: la "Ciudad digital y sostenible" en 2006 (antes de la aparición del concepto Smart City en 2010), superada por la "Smart City Humana" lanzada en 2012, la "Ciudad viva" en 2014, así como la "Ciudad de los 15 minutos" seguida del "Territorio de los 30 minutos" lanzado en 2016. Los dos conceptos más recientes implican un nuevo enfoque urbano y territorial en el crono urbanismo, la cronotopia y la topofilia.
Un viaje en la encrucijada de investigación, INNOVACIÓN e INDUSTRIA
Las contribuciones de Carlos Moreno son valoradas internacionalmente por su originalidad e incorporadas en múltiples proyectos de gobernanza local y transformaciones urbanas en Francia y a escala mundial.
También está comprometido y participa en el impulso de múltiples proyectos que involucran a expertos de todo el mundo, lo que le permite poner sus conceptos a prueba en implementaciones reales. Sus actividades se benefician de la contribución de un extenso ecosistema nacional e internacional.
Sus trabajos tienen como objetivo promover la transformación de nuestro estilo de vida y los espacios urbanos, y ofrecer soluciones a los grandes desafíos de las ciudades, metrópolis y territorios durante el siglo XXI.
Carlos Moreno fue condecorado con la Orden de la Legión de Honor en 2010 por la República de Francesa. En 2019, recibió la Medalla de la Prospectiva por la Academia Francesa de Arquitectura. También es ganador del Premio Obel 2021, por su trabajo sobre la proximidad urbana y territorial y su impacto en el mundo. En noviembre de 2021, ganó el premio al liderazgo en los premios World Smart Cities Awards, organizados por el Smart City Expo World Congress.
Carlos Moreno – University Professor, cities expert, territories of tomorrow, specialist in intelligent control of complex systems.
Researcher of international renown, Carlos Moreno is Associate Professor at the Paris IAE – Panthéon Sorbonne University in France, and also co-founder and scientific director of the ETI Chair « Entrepreneurship – Territory – Innovation ». He is specialized in the study of complex systems and in the development of innovation processes.
He earned recognition as a scientist with an innovative mind, pioneer works and his unique approach on urban issues. He is renowned for his "Smart City" concept, and well-known as successful entrepreneur thanks to an innovative start-up. He is now renowned as a scientific advisor of national and international figures of the highest level, including the Mayor of Paris, Mrs. Anne Hidalgo, in quality of "Smart City" special Envoy of the Mayor.
Carlos Moreno is one of the visionaries who brings a new perspective on issues. He works at the heart of issues of international significance as a result of his research, including the following concepts: the "Digital and Sustainable City" in 2006 (before the appearance of the Smart City concept in 2010), overtaken by the "Human Smart City" launched in 2012, the "Living City" in 2014, as well as the "City of 15mn" followed by the "Territory of 30mn" launched in 2016. The two most recent concepts involve a new urban and territorial approach on the chrono urbanism, the chronotopy and the topophilia.
A journey at the crossroads of research, INNOVATION and INDUSTRY
Carlos Moreno's contributions are internationally valued for their originality and incorporated in multiple projects of local governance and urban transformations in France and worldwide.
He is also at the initiative and committed to multiple projects involving experts from all over the world, allowing him to put his concepts to the test of real implementation. His activities benefit from the contribution of an extensive national and international ecosystem.
His works aim at promoting the transformation of our lifestyles and urban spaces, and to offer solutions to the issues faced by the cities, metropolises and territories during the XXIst century.
Carlos Moreno was awarded Knight of the Order of the Legion of Honor in 2010 by the French Republic. In 2019 he received the Foresight Medal by the French Academy of Architecture. He is also a winner of the Obel Award 2021, for his work on urban and territorial proximity and its impact in the world. In November 2021, he won the Leadership Award at the World Smart Cities Awards, organized by the Smart City Expo World Congress.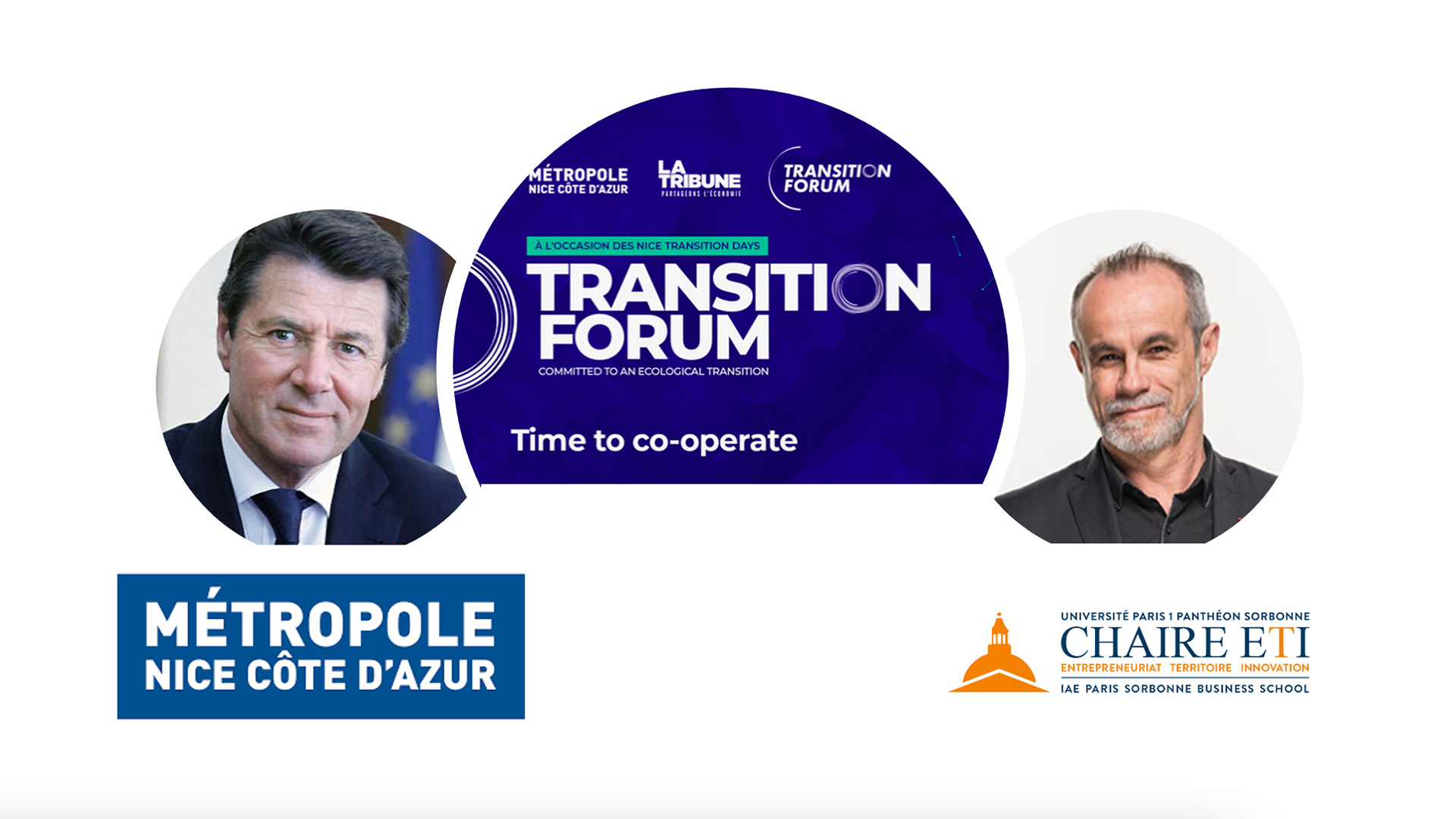 LA MÉTROPÔLE NICE COTE D'AZUR INTÈGRE LA CHAIRE ETI
Dans le cadre du Transition Forum à Nice, ce jeudi 30 septembre, la Métropole Nice Cote d'Azur annonce son intégration dans la Chaire « Entrepreneuriat, Territoire, Innovation » – ETI- de l'IAE, Paris Sorbonne Business School.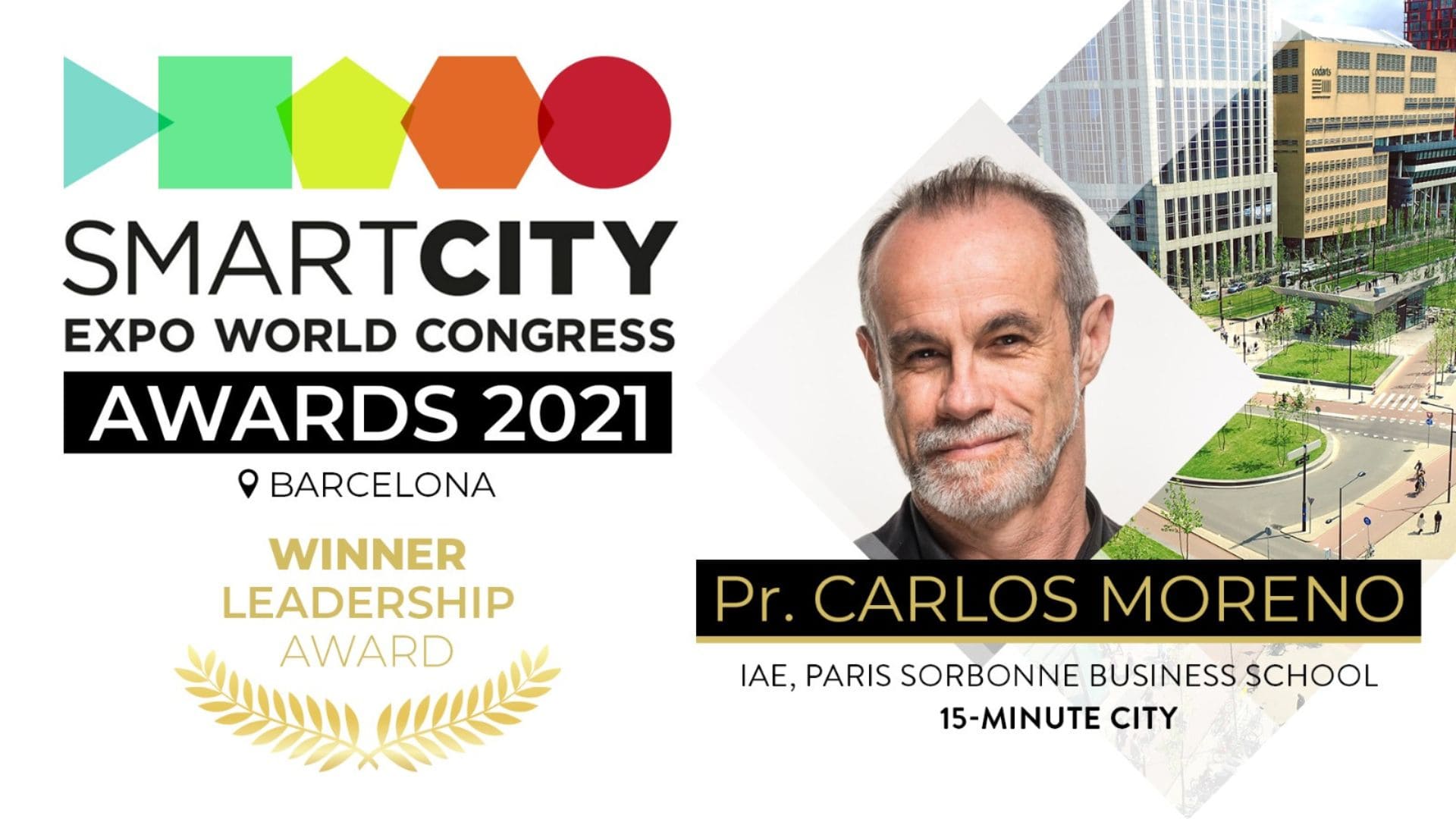 Le Professeur Carlos Moreno a remporté mercredi 17 Novembre le Leadership Award à l'occasion des World Smart Cities Awards, organisés par le Smart City Expo World Congress. Les World Smart City Awards sont un prestigieux concours international qui vise à récompenser les projets, idées et stratégies pionniers rendant les villes du monde entier plus vivables, durables et économiquement viables. #SCEW21
Membre du Jury Concurso del modelo de ciudad para SANTANDER_2055, Département Urbanisme de la Ville de Santander (Espagne), Année 2022.
Membre du Jury du concours international d'architecture «Carpark Futures 2022»,
« Jury du Concours international d'Architecture « Carpark Futures 2022 à Lille »,
Jury à Paris le vendredi 17 juin 2022 & Remise de prix à Lille le mercredi 29 juin 2022.
Membre du Jury Concours Ensas, Ecole nationale supérieure d'architecture de Strasbourg, Strasbourg, Décembre 2021.
Membre du Jury final Accélérateur Circular Challenge CITEO, Musée du Quai Branly, Paris, Décembre 2021.
Membre du Jury international MegaCities-ShortDocs very short Film Festival, Environment / Social Impacts, Paris, Octobre 2021.