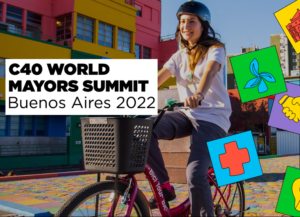 Invitado por la Ciudad de Buenos Aires y C40 Cities, el profesor Moreno intervendrá en la octava Cumbre Mundial de Alcaldes C40, que tendrá lugar en Buenos Aires del 19 al 21 de octubre de 2022.
El 19/10 a las 10:30 participará a las la Keynote sesión II ": Innovative experiences for low-carbon growth (mitigation)." en el Salón Sauco del Centro de Conferencias de Buenos Aires para la Reunión de Alcaldes 2022 del BID.
De las 15 a las 15:50, intervendrá a la Conferencia Ciudades Resilientes al Centro Cultural Recoleta de Buenos Aires.
De las 5:30 a las 6:30, 15 minute city drink, organizado por el C40, el NREP y Carlos Moreno.
El 20/10 de las 14 a las 15, participará al la sesión del C40 'Green and Thriving Neighbourhoods' .
El 21/10 mañana, hará una reunión en la Embajada de Francia, invitación del Dr. Enrique Sánchez Albarracín, Agregado de Ciencia, Tecnología y Cooperación Descentralizada (Embajada de Francia en Argentina).
Después, reunión con la ciudad de Tigre, en el marco de un borrador de documento que se está elaborando sobre el proyecto urbanístico de la ciudad de Tigre "Un pacto con la gente".
De las 16 a las 17:30 hará una Master Class a la Universidad de Buenos Aires : "Architecture and Sustainability: the key to build sustainable cities"
De las 18 a las 19, participará a la conferenza TEDx Invitación por la UE en Argentina al Centro Cultural Recoleta.