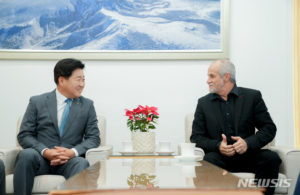 Jeju Governor Younghoon OH had a talk with professor Carlos Moreno who initially announced "15 Minute City"
In the hours-long talk, six key elements, including life, work, commerce, medical care, education, and culture, were provided according to the size and density of the city, and the operation of people-centered systems and platforms was of paramount importance.
It pursues equality, solidarity, and proximity centered on people, it is also a concept aimed at actively participating in urban life without being alienated from the elderly, women, and children through social connection.
Six key services can be provided, and new opportunities for transformation can be created through observable systems. Carlos Moreno suggested that it is also important to participate in discussions and cooperate in various exchanges and cooperation in the international community while forming a consensus with various stakeholders, economic actors, and provincial residents to create a city in this process.
Jeju Governor Oh Young-hoon said that in a non-face-to-face society triggered by COVID-19, there is a big change in the lifestyle of the 2030 generation.  It was an opportunity to set the goal of how to design and create a vision for "people-centered" cities for balanced development, revitalization of the local economy, sustainable urban development and environment. Public-private partnerships and vacation spots remote work (workplaces) actively promoted in Jeju are linked to the realization of the city, so we will review various proposals in detail.
The 15-minute city is a city built to allow all living areas, including education, medical care, parks, and cultural facilities, within 15 minutes. After Professor Carlos Moreno first proposed it, it was embodied when Anne Hidalgo, mayor of Paris, France, introduced it as a major policy pledge in Paris in 2020.