Le billet du Pr. Carlos Moreno, ce mercredi, est consacré au Forum International de la Smart City Humaine, "Live in a Living City", qui aura lieu le 23 juin 2014 à Paris. Save the date !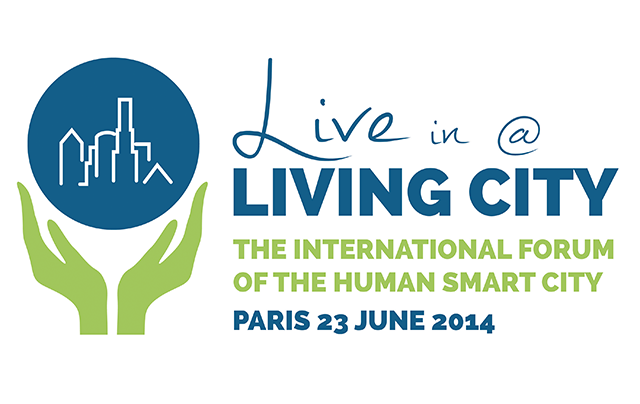 « Live in a Living City » se positionne comme le rendez-vous annuel français où les acteurs internationaux partagent leurs réflexions et leurs expériences au service de l'intérêt général, afin de co-construire dès aujourd'hui la ville de demain. C'est pour moi un grand honneur, mais également un grand plaisir, de présider ce forum, ainsi que son comité scientifique international et transdisciplinaire de très haut niveau.
Cette journée de transdisciplinarité sera l'occasion, pour nous, d'échanger autour de l'ensemble des domaines de la vie de la Cité et de la ville vivante avec, pour fil directeur, une réflexion sur la convergence entre l'innovation sociale et l'innovation technologique.
Notre objectif : penser le développement de l'intelligence urbaine pour mieux vivre ensemble au sein d'une ville sensible, durable et accueillante.
Ce forum international a trois langues officielles : le français, l'anglais et l'espagnol avec des traductions en temps réels ainsi qu'un site web trilingue où vous pouvez dès maintenant effectuer vos inscriptions (gratuites mais obligatoires) pour assister à cette journée et consulter le programme détaillé.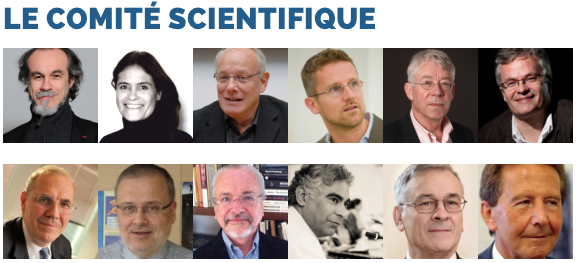 Je remercie à nouveau l'ensemble des membres du Comité Scientifique pour leur implication. Tous ont accepté d'être interviewés à propos des enjeux actuels pour la ville de demain et sur ce que signifie pour eux une ville vivante. Vous trouverez leurs interviews vidéos (en français et en anglais) sur le site de "Live in a Living City", ainsi que sur mon blog et les sites partenaires. Leur implication est un exemple de plus de la contribution par l'échange et du partage permanent que nous voulons susciter entre les différents acteurs, un peu partout dans le monde.
Du nord au sud et de l'est à l'ouest de la planète, dans la lignée de mes convictions de brassage et d'altérité, ainsi que d'échanges ouverts, nous retrouverons, lors ce Forum, des personnalités de tout premier ordre qui participeront au Comité Scientifique, au Comité d'Organisation, aux  keynotes, aux tables rondes et aux ateliers.
Live in a Living City s'inscrira pleinement dans une démarche ubiquitaire et interactive où se mélangeront interventions en présence physique et interventions en télé-présence.
À chaque séance, nous mettrons une ville à l'honneur et nous nous intéresserons ensemble à son contexte particulier ainsi qu'à ses contributions en faveur de la démarche qui nous mobilise tous : la ville vivante, ouverte, innovatrice, durable, responsable et solidaire. Il s'agira pour nous de comprendre, à travers les témoignages des villes et leurs problématiques particulières, l'ancrage de la technologie au sein de la ville, la manière dont elle est rejetée (ou piratée), mais aussi la manière dont elle favorise le mieux vivre ensemble.
Je remercie Carlo Ratti, Directeur du SENSEable City du MIT à Boston et fondateur associé de CARLORATTI Associatti, pour sa  confiance, son soutien et sa disponibilité.
Il nous honore de sa présence au sein du Comité Scientifique dont il faisait déjà partie l'année dernière. Il se chargera de l'ouverture du Forum et nous parlera de la ville sensible, ouverte et de la ville plateforme. Merci Carlo pour ton soutien !
Je remercie également la ville de Barcelone qui, très tôt, a donné son accord pour soutenir cette manifestation avant même d'avoir été élue « Capitale européenne de l'innovation ». Elle l'est désormais – c'est un titre amplement mérité –  et je suis très fier d'accueillir les acteurs de la ville pour écouter leur témoignage. Merci au Maire Xavier Trias et à toute l'équipe municipale pour leur confiance.
De la même manière, nous aurons la présence, lors d'une keynote, du Secrétaire Général de la City Protocol Society et CIO de la Ville de Barcelone, Manel Sanroma, Une initiative de premier ordre que nous voulons continuer à appuyer et à diffuser dans l'écosystème international. Merci Manel pour ta présence.
Cet événement n'aurait jamais vu le jour sans le soutien de nos trois parrains :
– L'Académie Française des Technologies, un acteur du plus haut niveau, dont je remercie le Président, Gérard Roucairol, qui a accepté de placer cet événement sous le parrainage de l'Académie. Je suis très heureux et très fier  de compter parmi trois Académiciens au sein du Comité Scientifique: Nicolas Curien, Alain Costes et Bernard Daugeras. Je les remercie tous les trois.
Nous aurons en outre l'honneur d'écouter une keynote de Jean-Claude Raoul, qui pilote à l'Académie les réflexions et les actions autour de la Ville Intelligente et en particulier le partenariat avec l'Association des Maires des Grandes Villes de France.  Nous comptons également sur la participation de Bernard Descomp dans l'une de nos tables rondes.
– UN – Habitat, acteur mondial autour des problématiques de la ville, mais aussi acteur engagé, a également accepté d'apporter son parrainage. Le succès du Forum Mondial Urbain de Medellin, auquel j'ai eu le plaisir d'assister et que j'ai commenté pour vous sur ce blog, est de toute actualité et montre avec éclat la belle dynamique que cet acteur majeur génère partout sur la planète. Je suis très honoré d'accueillir également l'un de ses responsables, Alfonso Govela, qui du Mexique assure la coordination des programmes importants concernant le mieux-vivre ensemble et  la manière dont les technologies et l'innovation aux services des usages révolutionnent nos vies. Qu'il trouve ici également mes remerciements.
– Le Ministère de l'Ecologie, du Développement Durable et de l'Energie, nous a accordé aussi son parrainage. C'est un honneur pour nous de compter sur son soutien. Nous y voyons un encouragement à continuer pour les années à venir et à pérenniser cette manifestation qui en France, à Paris, est devenue un rendez-vous attendu par la communauté internationale.
À côté de nos sponsors, nous avons trois partenaires majeurs, qui apportent une dynamique et une synergie au service de l'intérêt général :

– L'Association Internationale pour l'Aménagement Urbain (INTA) qui avec son Secrétaire Général Michel Sudarskis et sous la Présidence du Français Maurice Charrier, nous apporte une contribution internationale et transverse autour de cette thématique commune du développement durable de nos villes. Je suis également ravi de compter de nouveau avec mon ami Michel Sudarskis, qui était déjà l'année dernière, dans le Comité Scientifique.
– La WebTV Terre TV présidée par le journaliste de la science et  de l'environnement, l'infatigable Jean-Yves Casgha. Ce média puissant, ubiquitaire, est à l'origine d'une autre manifestation à laquelle j'ai aussi l'honneur et le plaisir de participer « 24 heures sur la Terre » et dont j'assure le fil rouge « Ville Intelligente et Durable ». Personne n'est surpris lorsqu'on évoque la synergie et l'imbrication de ces deux manifestations, avec bien plus qu'un fil rouge, car notre dynamique croisée et nos supports respectifs, publics et gratuits, reflètent pleinement cette complémentarité de tout notre travail de réflexions et d'actions. Merci Amigo Jean-Yves !
– Bien sûr, la RATP, qui grâce à la puissance de travail et l'engagement de l'un de ses brillants responsables, Rémi Feredj, nous a accordé sans hésiter sa confiance, en nous accueillant dans ses beaux locaux à Paris, Gare de Lyon. Qu'il trouve ici l'expression de toute notre reconnaissance. Merci Rémi pour ta générosité et ton ouverture d'esprit… et ton humour décapant…!
Nous avons réussi en très peu de temps – disons en un temps record ! – à réunir un écosystème très divers avec des partenaires nationaux et internationaux qui contribuent également à créer l'événement.
Il m'est impossible de les citer tous ici, mais nous aurons certainement l'occasion de revenir sur chacun d'eux au cours de nos diverses chroniques. Au sein du Comité Scientifique, l'année dernière déjà, j'ai eu l'honneur de compter sur la participation du Pr. Sunil Dubey qui dirige l'action Asie sud-est de l'association des grandes métropoles mondiales METROPOLIS à Sidney.  Je te remercie, Sunil, ainsi que la direction de METROPOLIS pour leur soutien très actif.
La France prépare en 2015 la Conférence Mondiale sur le Climat, un événement majeur que nous attendons tous avec impatience. Il s'agit en effet d'un rendez-vous mondial capital pour la planète, l'enjeu étant vital pour tous. J'ai souhaité associer, au sein du Comité Scientifique, une personnalité française très impliquée dans la vie de l'environnement, le développement durable et l'écologie. Il a coordonné la présence française au sommet de Rio + 20 et préside l'action du Comité 21. Il agit dans chaque ville afin qu'une prise de conscience des enjeux environnementaux soit intégrée dans les plans de développements locaux. C'est ainsi que naturellement, Gilles Berhaut a rejoint le Comité Scientifique. Il tiendra une keynote autour de cette problématique qui nous est chère à tous.
Notre Forum se déroulant en Île-de-France, à Paris, mais dans une approche fidèle à mes convictions totalement internationales et imprégnées d'un écosystème planétaire, il est indispensable de maintenir la présence d'un acteur à la pointe de la convergence des révolutions technologiques, des usages et de la création de la valeur sous toutes ses formes, mû également par une ambition mondiale. Le Pôle de Compétitivité de portée mondiale SYSTEM@TIC sera donc lui aussi associé à cet événement, en la personne de Dominique Potier, Directeur Scientifique, qui était déjà associé au Forum l'année dernière.
Voilà pour le début de mes chroniques sur cet événement qui aura lieu dans quelques semaines à Paris. Pour finir, je tiens à vous dire chers lecteurs, que plus qu'un évènement, nous nous impliquons dans la construction d'un écosystème ouvert, indépendant, de haut niveau, transdisciplinaire, sans frontières.
C'est en réalité un ensemble d'évènements, des manifestations, des sites web, des émissions de radio, des WebTV, des écrits, qui relient entre eux des acteurs, des contributeurs, afin de porter dès aujourd'hui notre réflexion et notre action à la construction du futur, et de faire face à tous les impératifs d'un monde urbanisé et en sérieuses difficultés face aux menaces de toutes sortes, et pour l'essentiel liées à l'activité humaine.
Voilà donc une démarche de construction commune de la ville de demain, la ville vivante, la ville où le bien-vivre sera également à la porté de tous.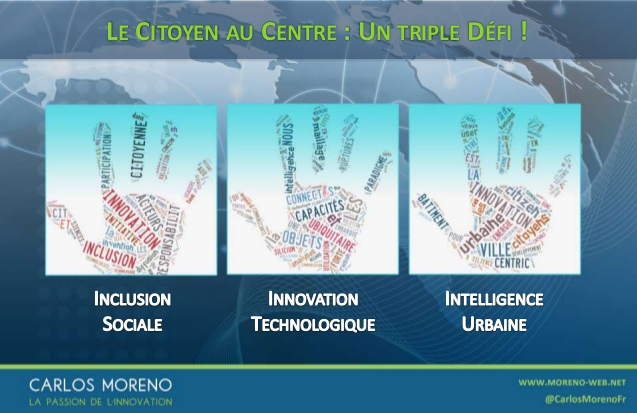 Je vous présenterai dans mon prochain billet les éléments forts du programme.
Le 23 juin nous vous attendons nombreux…  Inscrivez-vous en ligne !
Paris, 5 mai 2014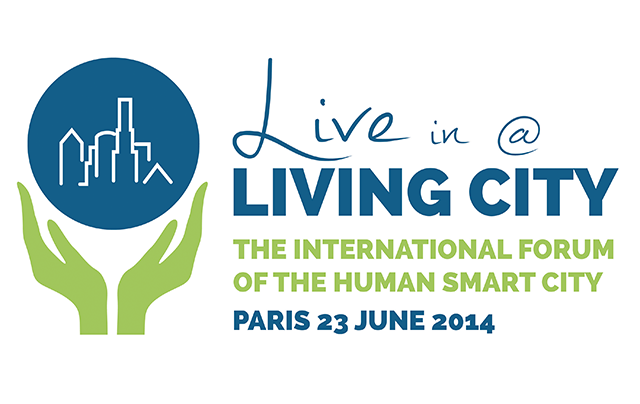 Mi crónica de este día está dedicada al Foro Internacional de la #SmartCity Humana, "Live in a Living City" que se llevará a cabo en París el 23 de junio y que tengo el honor de presidir.
« Live in a Living City » se constituye  en la cita internacional anual en Francia de alto nivel transdisciplinario para compartir reflexiones y experiencias, con el fin de co-construir hoy, en todos los dominios de la vida de la Ciudad, la ciudad de mañana, la ciudad viva.
Nuestro programa está en línea y las inscripciones, gratuitas pero obligatorias, están abiertas. Se trata de un acontecimiento totalmente independiente que concebimos al servicio del interés general.
Confirmando  nuestra actitud  inclusiva e internacional, los idiomas oficiales son el francés, el inglés y el español, con traducciones simultáneas y un sitio Web trilingüe.
Nuestro hilo conductor a lo largo de este día se centra en reflexionar juntos  sobre como construir la Ciudad de mañana, teniendo en el corazón la convergencia de la innovación social y tecnológica: Desarrollar la inteligencia urbana para vivir mejor juntos en una ciudad sensible, sostenible y acogedora.
Me siento muy satisfecho de presidir un  Comité Científico de tan alto nivel internacional y transdisciplinario, que da la pauta  de lo que será ese día en París.
Agradezco de nuevo a cada uno de los miembros por su implicación en el proceso y por sus aportes a través de una entrevista video (en francés y en inglés) que  se encuentran publicadas en el website del evento, en el mío y en sitios asociados. Es también una contribución para el intercambio permanente que queremos suscitar entre los diferentes actores, en todas partes en el mundo.
Del Norte al Sur y del Este al Oeste del planeta, fiel a mis convicción de mezcla, de alteridad, de intercambios abiertos, tendremos personalidades de primer orden que participan en el Comité Científico, en el Comité Organizador y como Invitados para dar conferencias, testimoniar, participar en las mesas redondas, hacer talleres, de manera física o ubiquitaria de manera interactiva.
En cada sesión destacaremos una ciudad. Disimiles testimonios abrirán los debates sobre la ciudad que queremos construir y que nos moviliza, la ciudad viva, la ciudad abierta, innovadora, sostenible, solidaria y responsable. La ciudad que "hackee" la tecnología y en la cual esta aporte un mejor vivir.
Agradezco a Carlo Ratti, Director del SENSEable City du MIT en Boston y asociado en CARLORATTI Associati por su confianza, apoyo y disponibilidad. El año pasado él hizo parte del Comité Científico y este año nos honra nuevamente con su presencia. Él hará la apertura para hablarnos de la ciudad sensible, la ciudad abierta, la ciudad plataforma. ¡Gracias Carlo por tu apoyo !
También agradezco a la ciudad de Barcelona que muy temprano decidió apoyar este evento sin que aun fuera la « Capital europea de la innovación », distinción que ahora tiene.  Me enorgullece acogerla para escuchar su testimonio. Gracias al alcalde Xavier Trías y a todo el equipo municipal por su confianza.
De la misma manera, Manel Sanroma, CIO de la Ciudad de Barcelona y secretario general de la City Protocol Society, – una iniciativa de primer orden que queremos difundir en el ecosistema internacional-, realizará una conferencia. Gracias Manel por tu presencia.
Este acontecimiento no habría salido a la luz sin el apoyo de nuestros tres patrocinadores :
– La Academia Francesa de Tecnologías, un actor del más alto nivel, por lo que agradezco a su Presidente, Gérard Roucairol, quien aceptó apoyar este acontecimiento desde la Academia. Nos enorgullece de contar en el seno del Comité Científico con tres de sus académicos : Nicolás Curien, Alain Costes y Bernard Daugeras. Tendremos además el honor de contar con la conferencia de Jean-Claude Raoult, quien al interior de la Academia conduce las reflexiones y las acciones alrededor de la Ciudad Inteligente y quien colabora con la Asociación de Alcaldes de  las Grandes Ciudades de Francia. Así mismo contar con  la participación de Bernard Descomp en una de nuestras mesas redondas. Gracias a todos por su participación. ¡
– UNO – Hábitat, actor mundial comprometido con las problemáticas de la ciudad aceptó dar su patrocinio. El éxito del Foro Mundial Urbano de Medellín, donde tuve el placer de participar y de comentarlo recientemente, ilustra la dinámica que esta organización impulsa en el planeta. Me siento muy honrado de acoger a uno de sus responsables, Alfonso Govela, que desde Méjico asume la coordinación de  programas concernientes al vivir juntos y al cómo la tecnología y la innovación revoluciona nuestras vidas. Que él encuentre aquí también mis agradecimientos.
– El Ministerio de la Ecología, del Desarrollo sostenible y de la Energía, nos concedió también su respaldo, honrándonos con su apoyo. Este es un estímulo que le da continuidad a esta manifestación que se ha convertido en una cita de la comunidad internacional en Paris.
Al lado de nuestros patrocinadores, tenemos tres partners mayores que contribuyen con su dinámica colaborativa al servicio del interés general :

– La Asociación Internacional para el Desarrollo Urbano (INTA),  su secretario general Michel Sudarskis y su presidente Maurice Charrier,  contribuyen a esta temática común del desarrollo sostenible de nuestras ciudades. Estoy  muy contento de contar de nuevo con mi amigo Michel Sudarskis, quien el año pasado integró el Comité Científico.
– WebTV Terre TV, presidida por el periodista de la ciencia y del medio ambiente, el infatigable Jean Yves Casgha, quien está en el origen de otra manifestación ubiquitaria en la cual tengo también el honor y el placer de participar « 24 horas sobre la Tierra » ocupándome de su hilo conductor la " Ciudad Inteligente y sostenible". Nadie se sorprenderá cuando evoco la sinergia y la imbricación de nuestras dos manifestaciones. Nuestra dinámica cruzada y nuestros soportes respectivos, públicos y gratuitos, lo reflejan plenamente, ampliando la difusión de todo nuestro trabajo de reflexión y acción. ¡Gracias Amigo Jean Yves !
– La  RATP, que gracias al trabajo y el compromiso de uno de sus brillantes responsables Rémy Feredj, nos concedió, sin vacilar, su confianza, acogiéndonos en sus bellos locales en París. Que él encuentre aquí la expresión de todo nuestro reconocimiento. ¡Gracias Rémy por tu generosidad, tu espíritu abierto y tu humor corrosivo !
En el seno del Comité Científico, desde el año pasado, tuvimos el honor de contar con la participación del Pr Sunil Dubey, quien en Sídney dirige la acción Asia del Sudeste de la asociación de las grandes metrópolis mundiales METROPOLIS. Te agradezco Sunil así como a la dirección de METROPOLIS por el apoyo.
En muy poco tiempo, digamos en un tiempo récord, hemos reunido un ecosistema muy diverso con partners nacionales e internacionales, que contribuyen también a crear este acontecimiento. Imposible citarlos a todos pero ciertamente durante mis próximas crónicas, tendremos la oportunidad de hablar de cada uno de ellos.
Francia prepara en el 2015 la Conferencia Mundial sobre el Clima, acontecimiento mayor que esperamos con impaciencia, tratándose de una cita mundial capital para el planeta.  Por esta razón deseé asociar en el seno del Comité Científico a Gilles Berhaut, una personalidad francesa muy implicada con el  medio ambiente, el desarrollo sostenible y la ecología. El coordinó la presencia francesa en la cumbre de Rio + 20 y preside la acción del Comité 21 que con su agenda impulse una acción  para que en cada ciudad se integre la preocupación ambiental en los planes de desarrollo. Él nos dará una conferencia sobre esta problemática.
Nuestro Foro teniendo lugar en París y fiel a mis convicciones  sobre la necesidad de un ecosistema planetario, me pareció indispensable contar con la presencia de un actor de proyeccion mundial que se encuentra en la convergencia de temas relacionados con las revoluciones tecnológicas, los usos y su creación de valor. El Polo mundial de Competitividad SYSTEM@TIC con Dominique Potier, director científico, también presente desde el año pasad, nos acompaña al interior de el Comité Científico. Gracias por toda su contribución.
Con esta crónica iniciamos una serie de reflexiones sobre este acontecimiento que se efectuará dentro de unas semanas en París y que busca ser más que un acontecimiento,  en miras a contribuir a la construcción de un ecosistema abierto e independiente, de alto nivel, transdisciplinario y sin fronteras.
Es en realidad un conjunto de acontecimientos, manifestaciones, sitios Web, emisiones de radio, WebTVs, escritos, que relacionan entre ellos a actores – contribuyentes, para aportar a esta reflexión y a las acciones conducentes a la construcción de un futuro que haga frente a todos los imperativos de un mundo urbanizado y en serias dificultades ante las amenazas de toda índole, ligadas a la actividad humana.
He aquí pues un paso más para construir juntos la ciudad de mañana, la ciudad viva, la ciudad del buen vivir al servicio de todos.
Le presentaré en mi próxima crónica los elementos claves del programa.
Trabajamos intensamente para ofrecerle una jornada excepcional.
El 23 de junio los esperamos. Inscríbase en línea desde ya.
París, 5 de mayo de 2014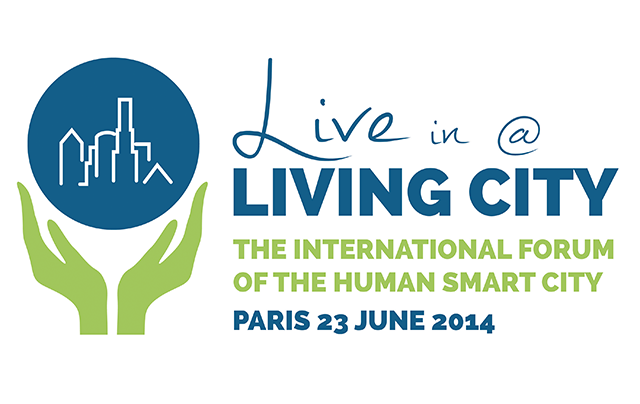 "Live in a Living City" is annual French event that invites international players to work together for the common good by sharing their thoughts and experiences, and teaming together today to build the city of tomorrow. It is a great honour for me, but also a great pleasure, to chair this forum, and its high-level international and transdisciplinary scientific committee.
This transdisciplinary event will provide an opportunity for us to discuss a range of issues touching on life in the city and the living city, and to reflect in particular on the convergence between social innovation and technological innovation.
Our goal is to reflect on developments in urban intelligence, in order to help us "live better together", in a sensitive, sustainable and welcoming city.
This international forum will be held in three languages, French, English and Spanish, with simultaneous interpretation. A website in three languages is already up and running. You can use it to register (mandatory) for the forum free of charge and to view the detailed programme.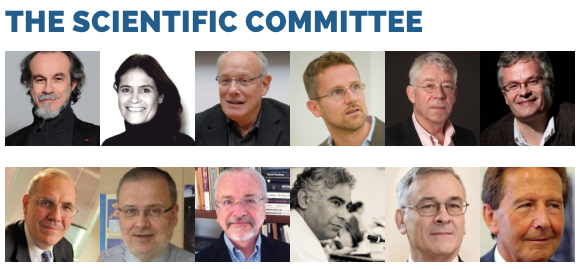 I would once again like to thank all of the members of the Scientific Committee for their efforts. They have all accepted to be interviewed about the current challenges facing the city of the future, and what a living city means to them. You can find their video interviews (in French and English) on the "Live in a Living City" website, and on my blog and partner websites. Their involvement is another example of how we are fostering continuous interaction, discussion and sharing between players around the world.
As a convinced supporter of the cross-fertilization of ideas, otherness, and open exchange, this forum brings together, from the four corners of the globe, leading figures in their fields, as members of our Scientific Committee and Organisation Committee, and as contributors to our round table discussions, workshops, and keynote speeches.
Live in a Living City will take a ubiquitous and interactive approach, with contributors appearing either in person or by telepresence.
Each session will put the spotlight on one city and together we will explore its particular context and its contribution to building the living city – open, innovative, sustainable, responsible and socially-committed – to which we are all committed. We will try to understand, through testimonies on these cities and their particular problems, the extent to which technology is grounded in the city, the way in which it is rejected (or pirated), and how it makes it easier for us to live together.
I would like to thank Carlo Ratti, director of SENSEable City from the MIT in Boston and associate founder of CARLORATTI Associatti, for his trust, support and availability.
He has honoured us with his presence on the Scientific Committee, of which he was already a member last year. He will open the forum and talk to us about the sensitive, open city and the platform city. Thank you for your support Carlo!
I would also like to thank the City of Barcelona which, very early on, lent its support to this event, even before it was awarded "European Capital of Innovation" status. It has now – justly – been awarded that title and I am proud to welcome its key players to the forum, where they will be sharing their own experiences. Thank you to Maire Xavier Trias and the whole municipal team for placing your confidence in us.
The General Secretary of the City Protocol Society and CIO of the City of Barcelona, Manel Sanroma, will also be giving a keynote speech at the forum. We're keen to continue supporting this outstanding initiative, which we hope to extend to the international ecosystem. Many thanks to Manuel for attending the forum.
This event would not have been possible without the support of our three sponsors:
– The Académie Française des Technologies, a leading player in its field, whose chairman, Gérard Roucairol, I would like to thank for agreeing to place the forum under the patronage of the Académie. I am extremely happy and proud to say that three members of the Académie have agreed to sit on the Scientific Committee: Nicolas Curien, Alain Costes and Bernard Daugeras. Thanks to all three of you.
We will also have the honour of listening to a keynote speech by Jean-Claude Raoul, who is responsible for the Smart City programme at the Académie, and particularly its partnership with the association of mayors of large French cities – the Association des Maires des Grandes Villes de France. Bernard Descomp will be taking part in one of our round table discussions.
– UN – Habitat, an international organisation for research and action on urban issues, has also accepted to support this event. The success of the World Urban Forum in Medellin, which I had the pleasure of attending and writing about in this blog, is particularly relevant, and reveals the momentum gathering behind his movement across the globe. I am also extremely honoured to welcome one of its managers, Alfonso Govela, who is responsible, in Mexico, for coordinating major programmes on "living together better" and the way in which use-centred technology and innovation are revolutionising our lives. I would like to say how grateful I am for his involvement in this event.
– the French Ministry for Ecology, Sustainable Development and Energy has also agreed to sponsor the event. It is an honour to count the ministry among our supporters. The ministry's presence will encourage us to continue our work over the coming years, and to make this forum in Paris, France, a regular event, highly appreciated by the international community.
Alongside our sponsors, we have three major partners who are using their energy and synergy for the common good:

– The International Urban Development Association (INTA) which, with its General Secretary Michel Sudarskis, and under the chairmanship of Maurice Charrier from France, will be sharing its international and cross-disciplinary vision of a subject of interest to us all – the sustainable development of our cities. I am also delighted that my friend, Michel Sudarskis, will once again be sitting on the Scientific Committee for the second year running.
– Terre TV, the web TV channel chaired by the science and environment journalist, the tireless Jean-Yves Casgha. This powerful, ubiquitous media is at the origin of another event, in which I also have the honour and pleasure of taking part, "24 heures sur la Terre", for which I will be managing the overarching theme, "Smart and Sustainable City". It will come as no surprise to hear that there is a strong synergy between these two, closely-related events, which share more than a common theme, since our intersecting dynamics and respective, public and free media reflect the complementary nature of our analysis and actions. Thank you Amigo Jean-Yves!
– Of course, the RATP, which thanks to the incredible work and commitment of one of its brilliant managers, Rémi Feredj, immediately entrusted us with the use of its beautiful premises in Paris, at the Gare de Lyon. We would like once again to express our gratitude for his efforts. Thank you Rémi for your generosity and open mindedness – and your great sense of humour!
Within a very short space of time – in record time, in fact! – we have managed to bring together a highly diverse ecosystem, with national and international partners who make a vital contribution to its success.
It would be impossible to mention them all here, but we will certainly return to each of them as we cover the event on this blog. Last year, I had the honour of including among the members of our Scientific Committee, Professor Sunil Dubey, who is responsible for the METROPOLIS World Organization South Asia in Sidney. Thank you, Sunil, and the management team at METROPOLIS, for your highly active support.
France is preparing to host the World Climate Conference in 2015 – a major event to which we are all eagerly looking forward. It is, in fact, an international event of major importance for the planet, and for which the stakes are very high. I therefore wanted to include on the Scientific Committee someone with a close interest in environmental, sustainable development and ecological issues. He coordinated the French delegation at the Rio + 20 summit and chairs the Comité 21. He also visits cities to raise awareness of the need to integrate environmental challenges into local development plans. That man is Gilles Berhaut, who will naturally be sitting on the Scientific Committee. He will also give a keynote speech on this important issue.
Our forum will be taking place in the Île-de-France, Paris, but in line with my international convictions, and to reflect the global ecosystem, it's essential that we involve a player at the leading-edge of the convergence between the revolutions in technology, uses and value creation in all its forms, and which is also driven by a global ambition. The international competitiveness cluster, SYSTEM@TIC, will therefore also be associated with this event, represented by its scientific director, Dominique Potier, who also attended the forum last year.
These are just a few of my initial thoughts on this event, which will be taking place in Paris in a few weeks time. I would like to conclude by saying, my dear readers, that we are organising more than an event – we are building an open, independent, high-level, transdisciplinary ecosystem without frontiers.
It is, in reality, a series of events, websites, radio shows, webTV productions and articles which bring together players and contributors to reflect on and take action for the future, and to meet the challenges of an urbanised world and its many problems and threats, most of which are linked to human activity.
This, then, is our aim – building together the city of the future, the living city, the city where "the good life" will also be within everyone's grasp.
In my next blog, I will outline the highlights of this year's programme.
We look forward to seeing you on 23 June… Register online !
Paris, 5 May 2014