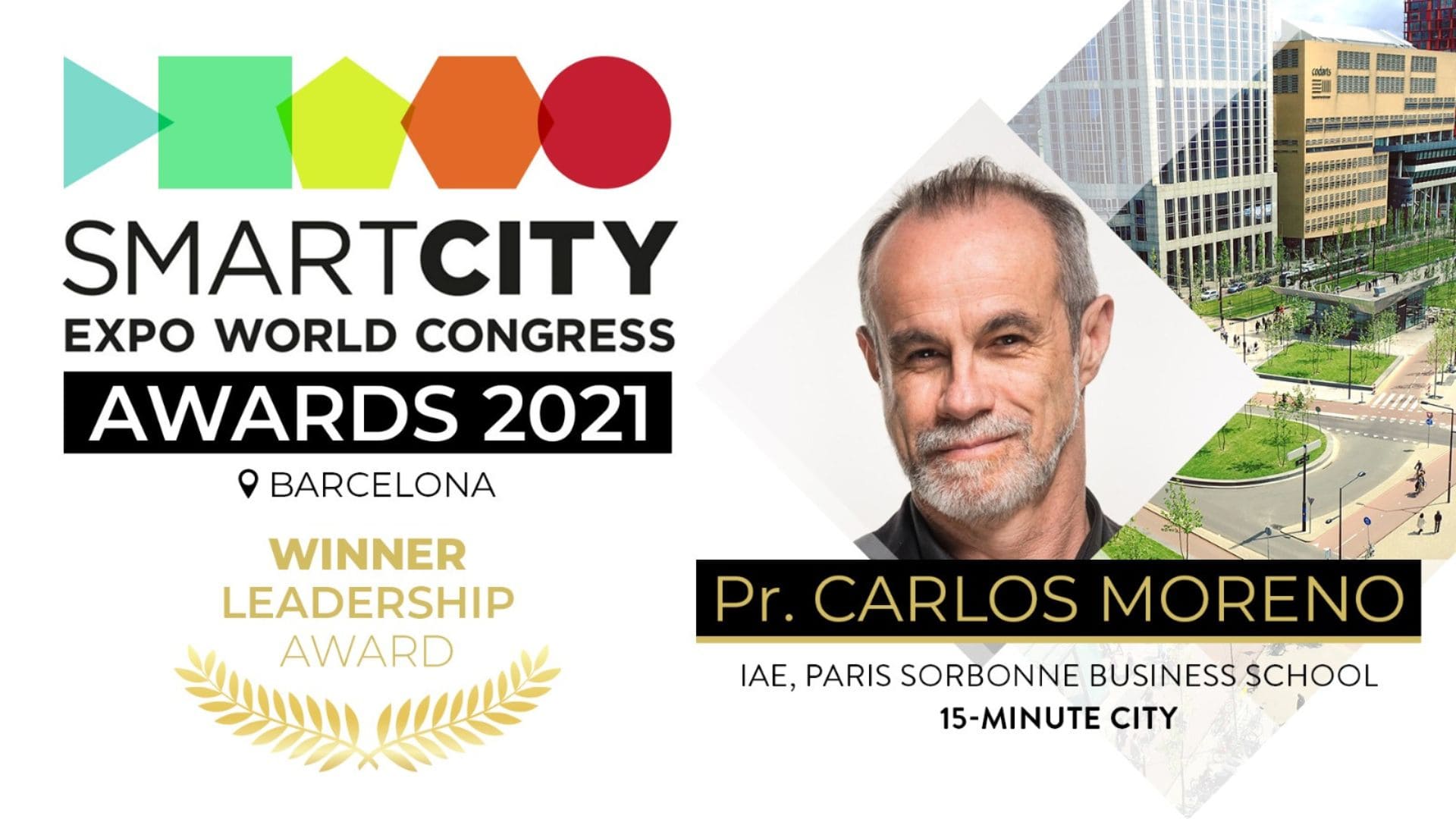 Le Professeur Carlos Moreno a remporté le Leadership Award à l'occasion des World Smart Cities Awards, organisés par le Smart City Expo World Congress. Les World Smart City Awards sont un prestigieux concours international qui vise à récompenser les projets, idées et stratégies pionniers rendant les villes du monde entier plus vivables, durables et économiquement viables. #SCEW21
Discours de remerciement
Thank you for this award. Thank you to the jury for this initiative to share it with a remarkable woman, Bene Tagliabue. This is the world we want with respect to parity.
This prize is a triple recognition of my research work on cities and my involvement in making some ideas a reality, such as the 15-minute city.
It is also a recognition of my hard-working research team at the Sorbonne University.
A recognition as well to the mayors of the world who have committed themselves to transforming their cities by adopting this idea of happy proximity. To the international organisations of mayors and in particular the C40, which is totally committed, as well as Un Habitat among others.
Finally, I would like to pay tribute to the pioneering and visionary Mayor of Paris, Anne Hidalgo, who adopted the 15-minute city for Paris, and long before the COVID pandemic. Her commitment has also contributed to the popularity of this concept worldwide.
And of course, thanks to all of you, the international community of cities, who work to dialogue, exchange, discuss and thus contribute to transforming our cities every day to make them more liveable
Merci pour ce prix. Merci au jury d'avoir pris l'initiative de le partager avec une femme remarquable, Bene Tagliabue C'est le monde que nous voulons en matière de parité.
Ce prix est une triple reconnaissance de mes travaux de recherche sur les villes et de ma participation à la concrétisation de certaines idées, comme la ville du ¼ d'heure.
C'est aussi une reconnaissance de mon équipe de recherche à la Sorbonne.
Une reconnaissance aussi aux maires du monde entier qui se sont engagés à transformer leurs villes en adoptant cette idée d'une proximité heureuse. Aux organisations internationales de maires et en particulier le C40, qui est totalement engagé, ainsi qu'UN Habitat entre autres.
Enfin, je voudrais rendre hommage à la pionnière et visionnaire Maire de Paris, Anne Hidalgo, qui a adopté la ville du ¼ d'heure pour Paris, et ce bien avant la pandémie du COVID. Son engagement a également contribué à la popularité de ce concept dans le monde entier.
Et bien sûr, merci à vous tous, la communauté internationale des villes, qui œuvrez pour dialoguer, échanger, discuter et ainsi contribuer à transformer chaque jour nos villes pour les rendre plus vivables.
Gracias por este premio. Gracias al jurado por esta iniciativa de compartirlo con una mujer extraordinaria, Bene Tagliabue. Este es el mundo que queremos con respecto a la paridad.
Este premio es un triple reconocimiento a mi trabajo de investigación sobre las ciudades y a mi implicación en hacer realidad algunas ideas, como la ciudad de 15 minutos.
También es un reconocimiento a mi esforzado equipo de investigación de la Universidad de la Sorbona.
Un reconocimiento también a los alcaldes del mundo que se han comprometido a transformar sus ciudades adoptando esta idea de proximidad feliz. A las organizaciones internacionales de alcaldes y, en particular, al C40, que está totalmente comprometido, así como a UN Habitat, entre otras.
Por último, me gustaría rendir homenaje a la pionera y visionaria alcaldesa de París, Anne Hidalgo, que adoptó la ciudad de 15 minutos para París, y mucho antes de la pandemia del COVID. Su compromiso también ha contribuido a la popularidad de este concepto en todo el mundo.
Y, por supuesto, gracias a todos ustedes, la comunidad internacional de ciudades, que trabajan para dialogar, intercambiar, debatir y contribuir así a transformar nuestras ciudades cada día para hacerlas más habitables.