Après le Green World Design Forum de Yangzhou où il nous avait accueilli, dès mon arrivée ce jeudi 30 mai à Beijing, j'ai eu l'occasion de discuter longuement avec Qi Zhan, Chairman de la Dragon Design Foundation et Directeur de l'International Design Federation. Il m'a notamment expliqué la portée du projet « La Cité du Design » à Beijing et m'a fait part de sa vision, de ses attentes et de sa volonté d'ouverture.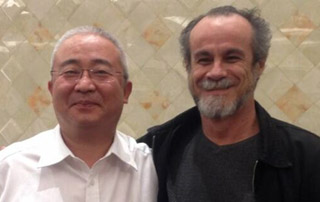 La ville de Beijing, inscrite au Patrimoine Mondial de l'Humanité en 1987, a initié en 2002 un projet de grande envergure de transformation de la zone de DAXING–YIZHUAN, au sud de la ville, autour du concept de « China Design Valley ». Ce projet fait partie du réseau des « Villes Créatives » mis en place par l'UNESCO en 2004 – St Etienne ayant été par ailleurs la première ville de France, en 2010, à avoir été labellisée Ville Créative.
Accompagnant le processus de création de la Cité du Design, le China Design Festival, qui a débuté en 2006, est un évènement international initié par la Dragon Design Foundation, m'a expliqué Qi Zhang, sur lequel il travaille depuis de nombreuses années, et qui voit aujourd'hui le jour.
Il se propose, au travers de ce Festival, d'animer et de construire un pôle de créativité de haut niveau mondial autour du Design, de la création et de l'innovation, afin de penser le design dans son rôle de contributeur à la transformation de la Ville de demain, autour des usages et des services nouveaux.
Cette stratégie, que Qi Zhang porte, doit se traduire par un renforcement de l'attractivité du tissu industriel et économique de Beijing grâce à une démarche de conception industrielle innovante. Une première expérience a déjà été mise en œuvre dans le design industriel pour l'automobile, par exemple, avec le projet BBDC Beijing Benz Daimer Chrysler Automotive Co (2005) autour du design industriel. D'après Qi Zhang, ce concept de « Design par l'innovation » constitue désormais un attracteur majeur pour regrouper des entreprises, des chercheurs, des artistes et des innovateurs dans ce Pôle d'excellence.
Pour Qi Zhang, le China Design Festival doit également être une plateforme de réflexion et d'action regroupant, de manière transverse, tous type d'acteurs du secteur. Lui-même vient du monde de l'économie et considère comme essentiels le brassage et le mélange, car ils apportent des visions différentes permettant d'enrichir l'indispensable besoin de créativité.
Le China Design Festival est actuellement en train de s'installer dans la grande zone de Daxin à Beijing. Celle-ci fait l'objet d'investissements colossaux et d'un grand projet d'aménagement territorial et économique, incluant la réalisation d'un nouvel aéroport. L'ensemble devrait être prêt, selon Qi Zhang, en 2018 et incarner un projet exemplaire, booster du développement économique et industriel et de la créativité grâce à l'essor du design traversant toute l'activité de cette zone.
Cette China Design Valley est donc un projet de très grande ampleur, qui présentera des constructions de haut niveau architectural mélangeant tradition et modernité, innovation, créativité et technologie, espaces publics et jardins, parc industriel, pépinières, incubateurs, centres de formation et ateliers de recherche, ainsi que lieux d'accueil pour chercheurs et créateurs en résidence.
La China Design Valley est ainsi au cœur d'un mouvement initié pour propulser la Chine et Beijing – en mode win-win, a-t-il insisté – au cœur de la mouvance internationale de développement du design, une discipline qu'il souhaite décloisonnée, rajeunie et ouverte à la collaboration de haut niveau. L'importance des espaces publics, la diversité des types de bâtiments et le caractère innovant des constructions incarneront, comme il l'a souligné, la volonté chinoise de tisser des collaborations autour de ce que des concepts comme ceux de Smart Cities, de Smart Publics Espaces, technologies et nouveau matériaux peuvent apporter.
Pendant ces journées, j'aurai sûrement l'occasion de continuer à échanger avec Qi Zhang sur sa vision et les projets qu'il porte. Indépendamment des projets que nous serons ou non amenés à concrétiser ensemble, il est en tous cas certain que Qi Zhang est un homme d'une grande valeur, doté d'un esprit très créatif, épris d'une démarche transversale et très ouvert à l'échange. Il possède également une grande culture et une finesse d'esprit, tout en étant, par ailleurs, d'une grande modestie. Son esprit humain et convivial font de lui un interlocuteur très plaisant… difficile donc de ne pas tomber sous le charme de sa personnalité !
Nous nous sommes quittés tard dans la nuit et nous nous sommes donnés rendez-vous le lendemain matin pour continuer à échanger. Qi Zhang est sans aucun doute quelqu'un de passionnant à suivre…
Entrevista con Qi Zhang: el Design Valley de Pekín, el gran proyecto de China
Tras el Green World Design Forum de Yangzhou, donde nos recibió, nada más llegar a Pekín, el jueves 30 de mayo, pude conversar detenidamente con Qi Zhang, presidente de la Dragon Design Foundation y director de la International Design Federation. Entre otras cosas, me explicó el alcance del proyecto "La Ciudad del Diseño" de Pekín y me explicó su visión, sus expectativas y su voluntad de apertura.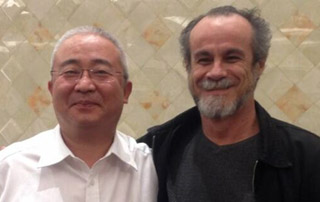 La capital china, inscrita en el Patrimonio Mundial de la Humanidad en 1987, inició en 2002 un proyecto de gran envergadura para transformar la zona de DAXING–YIZHUAN, al sur de la ciudad, en torno al concepto de "China Design Valley". Este proyecto forma parte de la red de "Ciudades Creativas" creada por la UNESCO en 2004. Cabe mencionar que St Etienne fue la primera ciudad de Francia en conseguir, en 2010, el distintivo Ciudad Creativa.
El China Design Festival, que debutó en 2006, acompaña el proceso de creación de la Ciudad del Diseño. Me explicó Qi Zhang que se trata de un evento internacional iniciado por la Dragon Design Foundation, en el que está trabajando desde hace muchos años y hoy se hace realidad.
A través de este festival, se propone construir y animar un área de creatividad de alto nivel mundial alrededor de la creación, la innovación y el diseño, cuya función contributiva a la transformación de la ciudad del mañana quiere explorar a partir de nuevos usos y servicios.
La estrategia que sostiene Qi Zhang ha de plasmarse en un mayor atractivo del tejido industrial y económico de Pekín, gracias a un innovador enfoque de concepción industrial. Con el proyecto BBDC Beijing Benz Daimer Chrysler Automotive Co (2005), por ejemplo, se ha desarrollado una primera experiencia en materia de diseño industrial automovilístico. Según Qi Zhang, este concepto de "Diseño por la innovación" goza ya de un enorme atractivo y puede agrupar a empresas, investigadores, artistas e innovadores dentro de esta área de excelencia.
Para Qi Zhang, el China Design Festival ha de ser, además, una plataforma de reflexión y acción que reúna, de forma transversal, a todo tipo de protagonistas del sector. Él mismo procede del mundo de la economía y considera que la mezcla y la diversidad son algo esencial, porque aporta visiones distintas que resultan enriquecedoras para la indispensable necesidad de creatividad.
En la actualidad, el China Design Festival se está instalando en la gran zona de Daxin, en Pekín. Este sector, que concentra enormes inversiones, está incluido en un gran proyecto de ordenación territorial y económica, que contempla la realización de un nuevo aeropuerto. Según Qi Zhang, el conjunto debería de estar acabado en 2018, constituyendo un proyecto ejemplar, potenciador del desarrollo económico e industrial y la creatividad gracias al auge que está registrando el diseño en toda la actividad de esta zona.
Este China Design Valley constituye pues un proyecto de grandísima envergadura, que incluye construcciones de alto nivel arquitectónico, combinando tradición modernidad, innovación, creatividad y tecnología, espacios públicos y jardines, parque industrial, viveros, incubadoras, centros de formación y talleres de investigación, así como residencias para investigadores y creadores.
Así pues, el China Design Valley se encuentra en el corazón de un movimiento lanzado para propulsar a China y Pekín —en modo ganador-ganador, insiste Qi Zhang— como centro neurálgico del mundo internacional del diseño, una disciplina que él imagina rejuvenecida y abierta a las colaboraciones de alto nivel. La importancia de estos espacios públicos, la diversidad de estilos de los edificios y el carácter innovador de las construcciones encarnarán, tal como él subraya, la voluntad china de tejer colaboraciones alrededor de lo que pueden aportar conceptos como las Smart Cities y los Smart Public Spaces, así como las tecnologías y los nuevos materiales.
Durante estos días tendré sin duda la oportunidad de seguir conversando con Qi Zhang sobre su visión y sus proyectos. Independientemente de los proyectos que consigamos o no llevar juntos a la práctica, es indiscutible que Qi Zhang es un hombre de una gran valía, dotado de un espíritu altamente creativo, partidario de un enfoque transversal y muy abierto al intercambio. También cuenta con una gran cultura y un espíritu muy agudo, a pesar de su gran modestia. Su humanidad y su cordialidad hacen de él un interlocutor muy agradable… y resulta prácticamente imposible no sucumbir a los encantos de su personalidad.
Nos separamos a últimas horas de la noche, y nos citamos al día siguiente para seguir conversando. Qi Zhang es sin lugar a dudas una persona apasionante…
Interview with Qi Zhang: the China Design Valley project in Beijing
Immediately after my arrival in Beijing this Thursday, 30 May, I had the opportunity to talk at length with Qi Zhan, Chairman of the Dragon Design Foundation and Director of the International Design Federation, who also welcomed us to the World Green Design Forum at Yangzhou. He explained the scope of the "City of Design" project in Beijing and shared with me his vision, expectations and his desire for openness.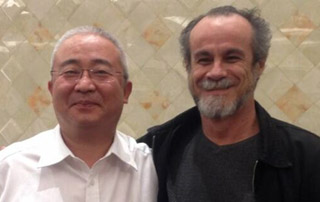 The city of Beijing, which was designated a UNESCO World Heritage Site in 1987, initiated a large-scale transformation project in 2002 centred on the "China Design Valley" concept and concerning the Daxing/Yizhuang district, south of the city. This project is part of the network of "Creative Cities" set up by UNESCO in 2004 (St Etienne was the first French city to be labelled a Creative City in 2010).
Qi Zhang explained that the China Design Festival, which began in 2006 and accompanied the City of Design creation process, is an international event initiated by the Dragon Design Foundation on which he has been working for many years, and which is now coming to fruition.
He proposes, through this Festival, to coordinate and construct a world-class creativity cluster centred on design, creation and innovation, with the objective of reflecting on design's role as a contributor to the transformation of the City of Tomorrow, and particularly on new uses and services.
This strategy, proposed by Qi Zhang, should result in enhancing the attractiveness of the industrial and economic fabric of Beijing through an innovative approach to industrial design. For example, a first experiment has already been implemented in the field of automotive industrial design, with the Beijing Benz-Daimler Chrysler Automotive Co., Ltd ("BBDC") founded in 2005. According to Qi Zhang, this concept of "Design by Innovation" already constitutes a major attractor that is drawing companies, researchers, artists and innovators to this Centre of Excellence.
For Qi Zhang, the China Design Festival must also be a platform for reflection and action involving, in a transverse manner, all types of sector participants. He himself comes from the economic world and considers intermixing and blending essential, because they provide different perspectives that enrich the vital need for creativity.
The China Design Festival is currently in the process of setting up in the vast Daxing district in Beijing. The latter has made massive investments and embarked on a major territorial and economic development project, including the construction of a new airport. According to Qi Zhang, the complex should be ready in 2018, constituting an exemplary project that should boost economic and industrial development, as well as creativity, through the increased influence of design on all of the zone's activity.
China Design Valley is thus a project of great magnitude, which will include buildings of high architectural level blending tradition and modernity, with an accent on innovation, creativity and new technology, featuring public spaces and gardens, industrial parks, enterprise zones, incubators, training centres and research workshops, as well as reception facilities for researchers and creators in residence.
China Design Valley is thus at the heart of a movement to propel China and Beijing – in win-win mode, he insisted – into the heart of the international trend towards design development, a discipline he would like to see decompartmentalised, rejuvenated and open to high-level collaboration. He stressed that the large public spaces, as well as the diverse building types and highly innovative buildings, will embody China's desire to build collaborations around such concepts as Smart Cities, Smart Public Spaces, and new materials and technologies.
In coming days, I will almost certainly have an opportunity to continue my discussions with Qi Zhang on his vision and the projects he is proposing. Irrespective of the projects that we may or may not have occasion to bring to fruition together, it is evident that Qi Zhang is a man of great worth, with a very creative mind, dedicated to a transversal approach and very open to dialogue. He is also a very cultivated man with a sharp mind, who despite these qualities is extremely modest. His friendly and convivial manner make him very pleasant to interact with; indeed, it is hard not to fall under the charm of his personality!
We parted late in the night and arranged to meet the next morning to continue our discussions. Qi Zhang is unquestionably someone to watch…