Michaël OHANA, anciennement responsable du secteur Énergie et membre du Comité de Direction d'IBM France, rejoint COFELY INEO pour prendre la direction de INEO SMART SOLUTIONS.
Ingénieur diplômé en Génie Mécanique de l'Institut Supérieur de Mécanique de Paris, avec une spécialisation Énergie de l'Ecole Centrale de Paris, il est également titulaire d'un MBA et diplômé en gestion de l'INSEAD.
Michaël OHANA vient apporter son expérience du monde de l'énergie et de monde de la technologie à la vision de COFELY INEO, fondée sur les usages, les services et l'innovation au service des citoyens.
COFELY INEO construit depuis de nombreuses années la Cité du Futur autour de sa plateforme multi-métiers et multi-usages « OPENcontrol », développée par sa filiale SINOVIA.
Aujourd'hui, COFELY INEO accélère sa stratégie en développant la marque INEO SMART SOLUTIONS, qui a pour ambition d'accueillir les solutions et services construits autour de sa plateforme.
INEO SMART SOLUTIONS se veut le centre de design de ces nouveaux services et usages, dans une vision transverse des différents métiers de la ville : énergie, éclairage public, environnement, sûreté globale, mobilité, santé et dépendance etc.
INEO SMART SOLUTIONS regroupe une équipe d'experts de ces métiers, mais surtout des designers aptes à développer un éco-système autour de la plateforme OPENcontrol.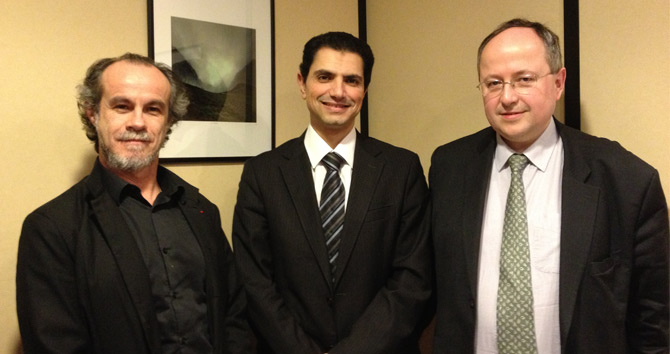 Carlos Moreno, Michaël OHANA et Thomas Peaucelle
Michaël OHANA, anteriormente responsable del área de Energía y miembro del Comité de Dirección en IBM Francia, se incorpora a COFELY INEO para asumir la dirección de INEO SMART SOLUTIONS.
Diplomado en Ingeniería Mecánica por el Instituto Superior de Mecánica de París, cursó una especialización en Energía en la Escuela Central de París y obtuvo un MBA así como un diploma de gestión en el INSEAD.
Con su experiencia del mundo de la energía y la tecnología, Michaël OHANA viene a completar la visión de COFELY INEO, basada en los usos, los servicios y la innovación dedicaba a los ciudadanos.
COFELY INEO lleva muchos años edificando la Ciudad del Futuro en torno a su plataforma multiprofesional y multiusos "OPENcontrol" desarrollada por su filial, la empresa SINOVIA.
Actualmente, la estrategia de COFELY INEO se ve potenciada por el desarrollo de la marca INEO SMART SOLUTIONS, que ambiciona albergar las soluciones y servicios desarrollados alrededor de su plataforma.
INEO SMART SOLUTIONS pretende ser el centro de diseño de esos nuevos servicios y usos, con una visión transversal de las distintas actividades de la ciudad: energía, alumbrado público, medio ambiente, seguridad global, movilidad, salud y dependencia, etc.
INEO SMART SOLUTIONS reúne a un equipo de expertos en estas actividades y, sobre todo, diseñadores capaces de desarrollar un ecosistema en torno a la plataforma OPENcontrol.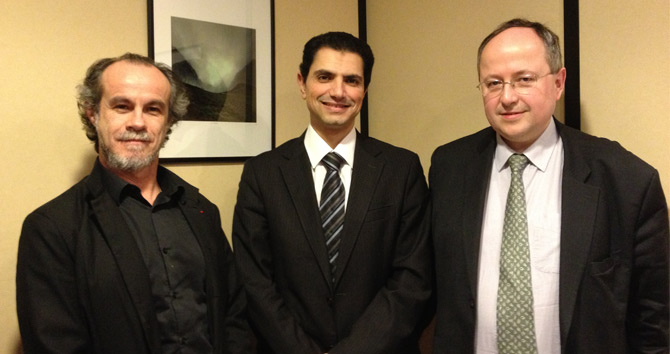 Carlos Moreno, Michaël OHANA y Thomas Peaucelle
Michaël Ohana, former Head of Energy and member of the Management Committee at IBM France, is joining COFELY INEO to take over INEO SMART SOLUTIONS.
A graduate in mechanical engineering from the Institut Supérieur de Mécanique in Paris, with a specialist qualification in energy from the Ecole Centrale de Paris, he also holds an MBA and a management diploma from INSEAD.
Michaël Ohana brings his experience in the world of energy and technology to the vision of COFELY INEO, which is based on usage, services and innovation for people.
COFELY INEO has for several years been building the City of the Future around its multi-business and multi-use platform, OPENcontrol, which was developed by its subsidiary, SINOVIA.
COFELY is currently stepping up its strategy by developing the INEO SMART SOLUTIONS brand to host solutions and services built around its platform.
INEO SMART SOLUTIONS is intended as a design centre for these new services and usages, within a cross-functional perspective that includes the whole range of activities within the city: energy, lighting, environment, overall safety, mobility, health, care services, etc.
INEO SMART SOLUTIONS brings together a team of experts in these activities, but particularly designers, to develop an ecosystem around the OPENcontrol platform.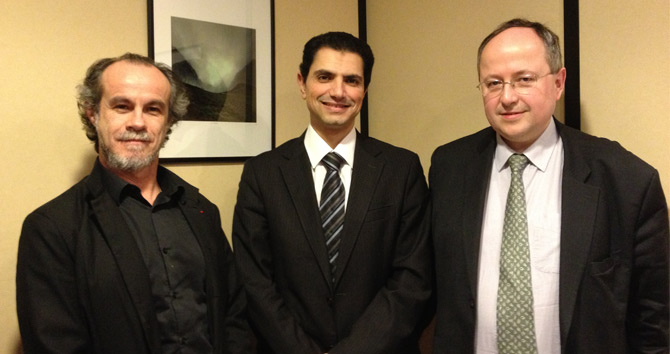 Carlos Moreno, Michaël OHANA and Thomas Peaucelle