En 2011, la coopération sino-européenne dans le domaine encore émergent de l'environnement, du développement durable, des matériaux, de la construction, des nouvelles technologies et du design a donné lieu au 1er World Green Design Forum à Lugano, en Suisse.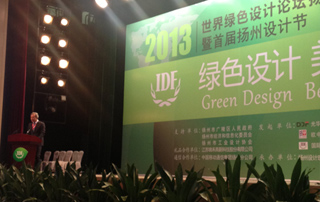 Cette année, c'est à Yangzhou que sont reçues les différentes délégations étrangères et les invités, dont je fais partie, afin d'échanger sur cette thématique en lien avec la question du développement économique et de la croissance en Chine – dont on sait combien elle impacte la problématique environnementale dans son ensemble.
La Dragon Design Foundation et l'International Design Foundation ont invité des experts internationaux pour un dialogue qui prend la forme d'une plateforme d'échanges autour de ces différentes thématiques. L'événement est placé sous les auspices par Lu Yingiang, Vice-Président de l'Assemblée Populaire de Chine et ancien Président de l'Académie chinoise des Scènes.
La première intervention européenne, après l'inauguration et les séquences officielles, fut celle de la Banque Européenne d'Investissements (BEI), qui par l'intermédiaire de son représentant en Chine, Jean-Jacques Soulacroup, a présenté sa volonté d'accompagner et de catalyser les projets de coopération sous diverses formes et de développer le co-investissement pour renforcer les innovations et les transferts de technologie.
Liu Guanzhong, Professeur de l'Académie de Design et des Arts de l'université de Tsinghua et VP honoraire de l'Association Industrielle de Design, a ensuite présenté le concept de Moderate Inhabitation et lancé un véritable cri d'alarme, d'une voix ferme, les yeux rivés sur l'auditoire – qui l'a remercié, dans un grand applaudissement, pour son engagement – au sujet de ce qu'il appelle "la dérangeante vérité" actuelle : production intensive, pollution, déchets industriels, épuisement des ressources, taux dépassés de tous les types d'indicateurs… Il s'est également interrogé sur l'actuelle perte de l'âme du design, la disparition de la conscience humaine et de la spiritualité, ainsi que la dangereuse uniformisation de la pensée autour de la consommation et la recherche du luxe, qui laisse de côté les valeurs humaines plus profondes.
Le Professeur nous a offert un plaidoyer vibrant pour revendiquer la place de l'intelligence, de la créativité et de l'innovation au sein du Design Thinking, à la convergence des sciences, de l'ingénierie et des arts – le Design Thinking étant avant tout une manière de concevoir un monde qui change et les relations nouvelles de l'homme avec son environnement, les objets, les usages et les services.
Acerca del Green World Design Forum 2013 de Yangzhou, China
En 2011, la incipiente cooperación sino-europea en el sector del medio ambiente, el desarrollo sostenible, los materiales, la construcción, las nuevas tecnologías y el diseño, dio lugar al 1er World Green Design Forum en Lugano, Suiza.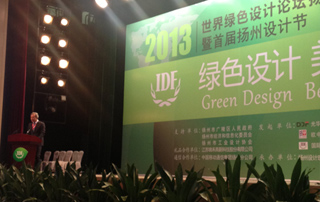 Este año es en Yangzhou donde se recibe a las diferentes delegaciones extranjeras y a los invitados, entre los que me encuentro, para cambiar opiniones sobre esta temática relacionada con el tema del desarrollo económico y el crecimiento en China, temática ésta que, como se sabe, tanto repercute en el conjunto de la problemática medioambiental.
La Dragon Design Foundation y la International Design Foundation invitaron a expertos internacionales a un diálogo bajo la forma de una plataforma de intercambios en torno a estos diferentes temas. Este evento se celebra bajo los auspicios de Lu Yongxiang, Vicepresidente de la Asamblea Popular China y expresidente de la Academia de las Artes Escénicas.
Tras la inauguración y las sesiones oficiales, la primera intervención europea fue la del Banco Europeo de Inversiones (BEI) que, por medio de su representante en China, Jean-Jacques Soulacroup, manifestó su voluntad de apoyar y fomentar de diferentes maneras los proyectos de cooperación, desarrollando las inversiones conjuntas para reforzar las innovaciones y las transferencias de tecnología.
Liu Guanzhong, Profesor de la Academia de Diseño y Artes de la Universidad de Tsinghua y Vicepresidente honorario de la Asociación Industrial de Diseño, presentó a continuación el concepto de Moderate Inhabitation, lanzando un auténtico grito de alarma, con voz firme y la mirada fija en su auditorio —que agradeció su compromiso con un gran aplauso—, sobre lo que él denomina "la molesta verdad" actual: producción intensiva, contaminación, residuos industriales, agotamiento de los recursos, todos los indicadores en rojo… También se preguntó sobre la actual pérdida de alma en el diseño, la desaparición de la conciencia humana y la espiritualidad, así como los peligros de la uniformización del pensamiento en torno al consumo y la búsqueda del lujo, que deja de lado los valores humanos más profundos.
El Profesor nos ofreció un vibrante alegato reivindicando el lugar que deben ocupar la inteligencia, la creatividad y la innovación en el Design Thinking, en la encrucijada entre las ciencias, la ingeniería y las artes– considerando ante todo el Design Thinking como una forma de concebir un mundo en proceso de cambio y las nuevas relaciones que se establecen entre el hombre y su entorno, los objetos, usos y servicios.
About the 2013 World Green Design Forum in Yangzhou, China
In 2011, Sino-European cooperation in the still emerging fields of the environment, sustainable development, green materials, green construction, new technologies and design led to the 1st World Green Design Forum in Lugano, Switzerland.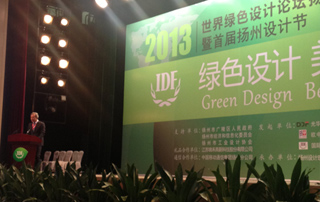 This year, the various foreign delegations and guests, including myself, met in Yangzhou for discussions on this topic in connection with the issue of economic development and growth in China, which, as we all know, impacts environmental issues as a whole.
The Dragon Design Foundation and the International Design Foundation invited a panel of international experts for discussions in the form of a dialogue platform on these various issues. The event was held under the auspices of Lu Yongxiang, Vice-Chairman of the National People's Congress of China and former President of the Chinese Academy of Sciences.
The first European speech, after the inaugural address and official announcements, was presented by Jean-Jacques Soulacroup, the representative in China of the European Investment Bank (EIB), who discussed the Bank's desire to facilitate and catalyze cooperation projects in various forms and develop co-investment to boost innovation and technology transfers.
Liu Guanzhong, a professor at the Academy of Arts & Design of Tsinghua University and honorary VP of the Industrial Design Association, then presented the concept of Moderate Inhabitation and launched a genuine cry of alarm, in a firm voice with his eyes riveted on the audience – which thanked him for his commitment with a big round of applause – concerning what he calls the "inconvenient truth" of today's world (i.e. intensive production, pollution, industrial waste, depletion of resources, etc. while all types of indicators are flashing red). He also raised concerns about the loss of soul in contemporary design, the disappearance of human awareness and spirituality, and the dangerous uniformity of thought concerning consumption and the quest for luxury, which disregards deeper human values.
The professor offered us an impassioned plea for intelligence, creativity and innovation in Design Thinking through the convergence of science, engineering and art – Design Thinking being, above all, a way of understanding the changing world and the new relationship between humans and their environment, objects, practices and services.