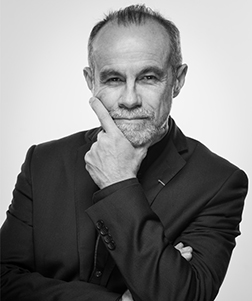 Un parcours à la croisée
de la RECHERCHE,
de l'INNOVATION et de l'INDUSTRIE
Professeur des Universités, Carlos Moreno est spécialiste du contrôle intelligent des systèmes complexes.
Animé par sa passion pour la science, le progrès et la créativité sous toutes ses formes, il œuvre pour la convergence entre les disciplines scientifiques et les acteurs de l'éco-système de l'innovation, des industries aux start-up, en plaçant la transversalité au cœur de sa démarche.
Après avoir mené sa start-up Sinovia au succès et avoir été Conseiller scientifique du Président de ENGIE INEO, ex-Groupe GDF SUEZ, il continue aujourd'hui à apporter à l'écosystème, et dans le monde entier, sa vision stratégique, son expertise scientifique et sa réputation internationale autour de la disruption, l'innovation et la création de valeur, en particulier dans le domaine de la ville intelligente et humaine.
En avril 2010, il a été promu Chevalier de l'Ordre de la Légion d'Honneur.
Carlos Moreno es Catedrático y especialista en control inteligente de sistemas complejos.
Le apasionan la ciencia, el progreso y la creatividad en todos sus aspectos, lo que le conduce a trabajar en pro de la convergencia entre disciplinas científicas y actores del ecosistema de la innovación, desde las industrias hasta las start-up, poniendo siempre el acento en la transversalidad.
Después de haber llevado al éxito su start up SINOVIA y de ser consejero científico del Presidente de ENGIE INEO, exGrupo GDFSUEZ, continua hoy a aportar al eco sistema, en Francia y en el mundo entero, su visión estratégica, su capacidad científica y su reputación internacional alrededor de la disrupción, la innovación y la creación de valor, en particular en el área de la ciudad inteligente y humana.
En abril de 2010, fue promovido caballero de la Orden Nacional de la Legión de Honor de Francia.
Carlos Moreno is a Senior University Professor specialised in the intelligent control of complex systems.
Deeply committed to science, progress and creativity in all its forms, Mr Moreno strives to bring together scientific disciplines and professionals in the innovation ecosystem —from industry to start-ups —with a particular focus on a cross-disciplinary approach.
After leading his start-up Sinovia to success, he was Scientific Adviser to the Chief Executive Officer of ENGIE INEO, ex-GDF SUEZ Group, and he provides on-going support to leaders of value-creating innovation.
He was named Chevalier de la Légion d'honneur in April 2010.
Interventions de Carlos Moreno dans le monde