As part of my weekly contributions on the topic of the Living City and my partnership with the Tribune on behalf of the Forum for Connected and Empowering Cities, I had the idea of offering a series of articles that will each focus on a selected world city. The goal of these articles is to identify some best practices that could generate ideas and inspiration regarding various aspects of the Living City: resilience, social inclusion, the sharing economy, sustainable development and resource management, new business models and so on. This week, after Medellin and Barcelona, two cities which were invited to take part in the Forum for Connected and Empowered Cities in Bordeaux, we're going to look at Bristol – European Green Capital 2015.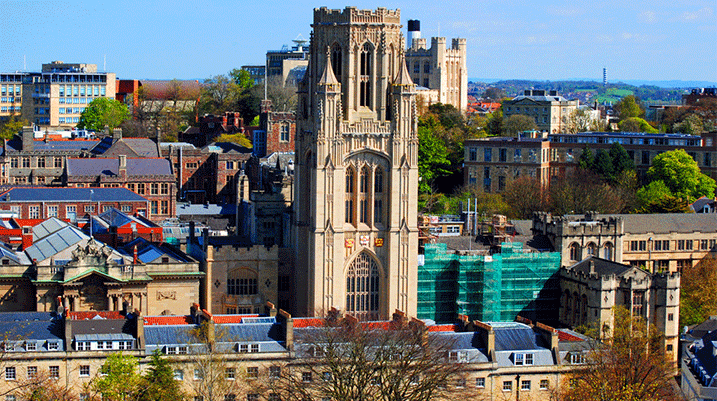 On 14 June 2013, Bristol, the UK's sixth largest city, was voted the European Green Capital 2015 ahead of Brussels (Belgium), Glasgow (United Kingdom) and Ljubljana (Slovenia). Awarded by a panel of European experts,
this title
, created in 2006 on the initiative of Jüri Ratas, former mayor of Tallin in Estonia, is presented to European cities which have made outstanding progress in the field of sustainable development.
Bristol, the biggest city in southwest England, has 426,100 inhabitants. Its ambitious environmental programme has already significantly improved the quality of life of its citizens. The figures speak for themselves: around one resident in five walks to work; more than 90% of the population lives less than 300 metres from a green area; and the city has four urban farms, eight nature reserves and 450 parks.
The municipal authority has also invested in an energy efficiency programme which has already proved to be highly successful. Households in Bristol now consume less energy than in any other British city. Residents have cut their annual heating bills by £150 since 2005. Energy consumption has been reduced by 11% in the transport sector and 26% in the industrial and commercial sector; domestic consumption has been cut by 21%. The city now plans to reduce its energy consumption by a further 25% between now and 2020, including by investing in renewable energies and the energy mix (wind power, photovoltaic, biogas and thermal energy). The city is also planning to invest £140 million to bring thousands of homes into line with environmental standards, double the proportion of solar energy in the system, and set up a high-performance urban heating network.
Alongside these substantive measures, Bristol has made major improvements to its urban transport network, notably by developing a low-emission MetroBus system, implementing alternative transport solutions, reducing road congestion and improving passenger safety. The city has also created an extensive network of cycle paths. As a result, the number of people using the network has doubled in recent years and Bristol hopes to double it again between now and 2020. This rate is much higher than the country's other major cities and three and a half times higher than the national average.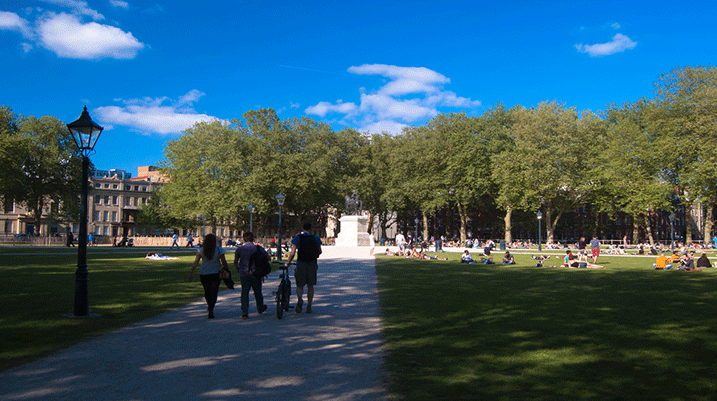 However, the city was not named European Green Capital solely on account of its environmental policies. European experts were above all impressed by the way in which Bristol has successfully regenerated urban areas, renovated urban land and improved whole neighbourhoods. In 2010, the city began redeveloping Knowle West, a deprived neighbourhood to the south of the city with poor transport links, far from employment zones. Since the closure of a tobacco factory in 1990, which employed 5,000 people, the neighbourhood experienced more than its fair share of social problems. A low-density development of semi-detached and terraced housing, Knowle West was unsuitable for the construction of new schools, crèches and bus stops, requiring residents to work to the north of the city, incurring long journey times. The town hall implemented a regeneration programme in conjunction with residents, who were asked to identify blocks in need of densification and potentially attractive sites.
In addition to this ambitious policy, Bristol has also worked hard to enhance its appeal as a business centre. It has achieved this, on the one hand, by redeveloping its port – renovating its quaysides and turning it into a top attraction for the eight million tourists who visit the city every year. The Bristol Harbour Festival, which stages a varied line-up of concerts, shows and events, also attracts more than 250,000 visitors a year, helping revitalise this neighbourhood where sea and land, natural and urban, business and leisure meet. Accommodating 500 boats, the port has also been developed as a haven for a wide variety of wildlife and plants. More recently, the city has harnessed the port's tidal energy resources using innovative technology. On the other hand, the city has also invested in the green economy: while the rest of the country was feeling the pinch of the recession, the green economy sector reported a growth rate of 4.7% in 2012. There are more than 1,000 companies in Bristol and other areas in the west of the country supplying environmental products and services. These businesses employ more than 9,000 people in Bristol alone.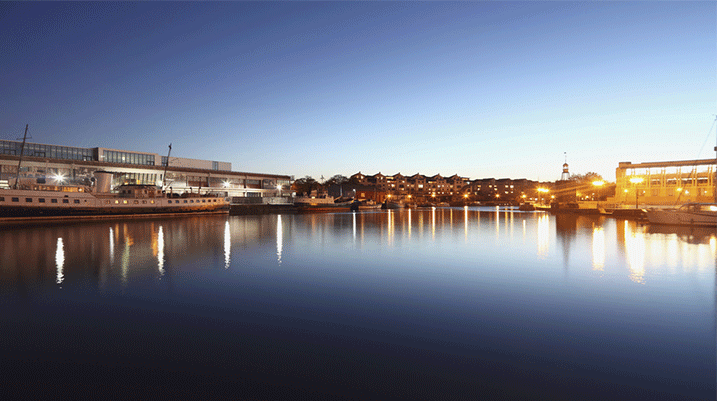 What makes this model particularly interesting is the fact that the city went to great lengths to involve residents in decision-making and to foster social links. Believing that residents should play a central role in the transformation of their own city, the town hall created two administrative bodies which now work hand-in-hand with Bristol City Council: the Green Capital Partnership, set up in 2007, has 700 members (organisations, companies – big and small, and residential associations) and Bristol 2015 Ltd, created after the city was named European Green City, which helps identify additional resources.
The city's innovative communications initiatives, which are mainly based on social networks, encourage residents to play an active role in improving their city's quality of life. The city has come up with the slogan "Laboratory for Change" and launched a series of awareness-raising talks designed to involve all local people in the changes affecting their city. Other interesting civic initiatives designed to enhance community life include Bristol 2015 Lab, which organises free activities for families on the quayside of the port every year, the cooperative project Neighbourly.com, which cuts food waste by linking up producers of food surpluses with organisations that distribute food to the underprivileged, and the One Tree Per Child project, which will enable 36,000 school children in Bristol to each plant a tree for the city.
In 2015, Bristol will mark its year as Europe's green capital with a series of events including the Green Capital Digital Challenge, the Green Tech Festival and the Festival of the Future City to celebrate its leadership in urban, green and creative technologies. These events offer residents a great opportunity to find out more about the living city of the future – the sort of city we want to see flourish around the world!
En el ámbito de mis contribuciones semanales sobre el tema de la Ciudad Viva y de mi colaboración con la Tribuna para
el Foro de las Metrópolis Ciudadanas y Conectadas
, deseé proponer una serie de artículos que hacen un focus sobre una ciudad del mundo. El objetivo : descifrar buenas prácticas que podrán constituir una fuente de reflexión y de inspiración en diversas áreas de la Ciudad Viva : resiliencia, inclusión social, economía del compartir, desarrollo sostenible y manejo de los recursos, nuevos modelos de negocios etc. Esta semana, después de Medellin y Barcelona, ciudades invitadas a la sesión del
Foro de las Metrópolis Ciudadanas y Conectadas de Burdeos
, nos interesamos por Bristol, que ha sido elegida capital verde de Europa 2015.
El 14 de junio de 2013, Bristol, la sexta ciudad de Gran Bretaña, fué elegida capital verde de Europa 2015 delante de Bruselas (Bélgica), Glasgow (Gran Bretaña) y Ljubljana (Eslovenia). Designada por un panel de expertos europeos, este título, creado en 2006 a instancias de Jüri Ratas, el antiguo alcalde de Tallin en Estonia, recompensa los esfuerzos de una colectividad en materia de desarrollo sostenible.
Con sus 426 100 habitantes, la ciudad más grande del sudoeste de Inglaterra supo distinguirse en efecto por un conjunto de condiciones medioambientales ambiciosas, que contribuyeron fuertemente a mejorar la calidad de vida de los habitantes. Las cifras hablan de ellos mismas : en Bristol, cerca de un residente sobre cinco se va a pie a su trabajo ; más del 90 % de la población vive a menos de 300 metros de un espacio verde ; la ciudad cuenta 4 granjas urbanas, 8 reservas naturales y 450 parques.
La municipalidad invirtió en un programa de eficacia energética ambiciosa que ha dado sus frutos. Bristol es hoy la ciudad del Reino Unido que consume la menos energía por casa. Los habitantes ahorran así cerca de 150 £ por persona y al año de su factura de calefacción desde el 2005. El consumo de energía ha sido reducido del 11 % en el sector de los transportes, del 26 % en el sector de la industria y de los comercios y del 21 % en cuanto al consumo doméstico. La ciudad continua sus compromisos con la ambición de ahorrar todavía el 25 % de energía de 2020, particularmente invistiendo en las energías renovables y el mix energético (eólica, solar, biogaz, térmica). Un plan de inversión de £140M integra por otra parte la conformidad de millares de casas con las normas medioambientales, una duplicación del recurso a la energía solar y la creación de una red urbana ultracompetitiva de calor.
En paralelo de estas acciones de fondo, Bristol invirtió masivamente en el mejoramiento de su sistema de transporte urbano, con, particularmente, el desarrollo de un sistema de MétroBus a débil nivel de emisiones, más múltiples proyectos destinados a proporcionar soluciones alternativas de transporte, reducir la congestión en las rutas y asegurar la seguridad de los pasajeros. Una política muy activa en materia de pistas para los ciclistas también ha sido puesta en ejecución. Balance : el número de usuarios ha sido multiplicado por dos durante los últimos años y Bristol ambiciona de doblarlo de nuevo de aquí al 2020. Esta cifra es mucho más alta que en otras grandes ciudades del país y representa tres veces el promedio nacional.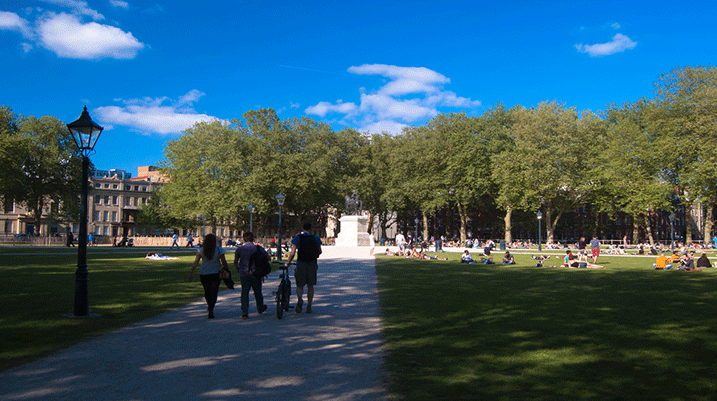 Pero no son únicamente estos esfuerzos a favor del medio ambiente lo que el premio de la capital verde europea ha recompensado. Los expertos europeos han reconocido ante todo Bristol por su política de renovación urbana, de reconquistas de baldíos y de re dinamización de los barrios. En 2010, la ciudad desarrolló particularmente la reconstitución de Knowle West, los barrios del sur, muy pobres, mal servidos en transporte y alejados de las zonas de empleo. Desde el cierre de una manufactura de tabaco en 1990, que empleaba a 5000 personas, el barrio acumulaba los problemas sociales. Compuesto de pequeñas casas de vecindario, Knowle West presentaba además un exceso baja densidad de habitación impidiendo crear nuevas escuelas, guarderías infantiles o paradas de autobús – lo que forzaba a los habitantes a ir a trabajar en el norte de la ciudad con tiempos de trayectos muy largos. Para redinamizar el barrio, el ayuntamiento concibió un programa en concertación estrecha con los habitantes, que han sido llamados participar en la identificación de los islotes a densifcar identificando los sitios potenciales de atractividad.
En complemento de esta política ambiciosa, Bristol se esforzó por reforzar la atractividad económica de su territorio. Por una parte, comprometiendo una revitalización importante de su puerto. Los muelles han sido rehabilitados y constituyen hoy una atracción faro para los ocho millones de turistas que visitan la ciudad cada año. El Bristol Harbourg Festival, rico en conciertos, espectáculos y acontecimientos en todo género, atrae también a más de 250 000 visitantes al año y contribuye a la vitalidad de este espacio punto de encuentro del mar y de la tierra, de los territorios naturales y urbanos, de las actividades económicas y de diversión. El puerto, que alberga 500 barcos, cuenta además con una fauna y una flora rica y variada gracias a las acciones de protección que han sido desarrolladas. Última iniciativa de la ciudad: el financiamiento de una tecnología innovante destinada a explotar los recursos de energías marémotrices en el puerto. Por otra parte, invistiendo en la economía verde : mientras que el país atraviesa una fase de recesión, el sector de la economía verde registró un crecimiento del 4,7 % en 2012. Más de 1000 empresas, implantadas a Bristol o al oeste del país, proporcionan así productos o servicios a vocación medioambiental. A Bristol, ellas emplean a más de 9000 personas.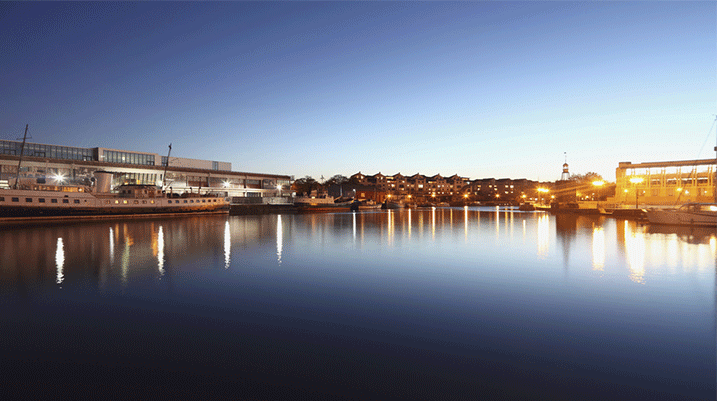 El conjunto de estas acciones han sido llevadas a cabo por la ciudad en una perspectiva de participación ciudadana y de implicación social que hacen un modelo particularmente interesante. Considerando que los habitantes tienen un papel protagonista en la transformación de su ciudad, el ayuntamiento ha creado dos entidades administrativas que trabajan ahora en estrecha concertación con el Bristol City Council : el Green Capital Partnership, creado en 2007, que reagrupa más de 700 organizaciones (asociaciones, empresarios de todo tipo, colectivos de habitantes) y la Bristol 2015 Ldt, creada después de la obtención del título de capital verde europea, que se encarga de la colecta de recursos suplementarios.
La ciudad también llevó acciones innovadoras de comunicación, apoyándose en las redes sociales, para incitar a los ciudadanos a participar activamente en el mejoramiento de la calidad de la vida en su ciudad. El eslogan " Laboratory for Change " ha sido lanzado y diversas conferencias y acciones específicas han sido difundidas para sensibilizar e implicar a todos los habitantes. Podemos citar interesantes iniciativas ciudadanas, destinadas a reforzar el bien vivir juntos, como la Bristol 2015 Lab, que les proponen numerosas actividades gratuitas a las familias en los muelles del puerto cada año, el proyecto colaborativo Neighbourly.com, destinado a limitar el despilfarro alimentario poniendo en relación las industrias alimentarias que disponen de demasía y las asociaciones susceptibles de volverlas a distribuir, o el proyecto One Tree Per Child, que va a permitirles a los 36 000 alumnos de Bristol de plantar cada uno un árbol para la ciudad.
En 2015, Bristol festejará orgullosamente sus colores de capital verde europea, con numerosos eventos como el Green Capital Digital Trofeo, el Green Tech Festival o el Festival of the Future City para subrayar su actividad pionera en materia de tecnologías urbanas, verdes y creativas. ¡Estas citas y su programación las recomiendo a todos los lectores y ciudadanos amantes de la ciudad viva de mañana , que activamente con nuestro accionar cotidiano contribuimos a desarrollar y a difundir en el ámbito internacional!
Le 14 juin 2013, Bristol, sixième ville de Grande-Bretagne, a été élue capitale verte de l'Europe 2015 devant Bruxelles (Belgique), Glasgow (Grande-Bretagne) et Ljubljana (Slovénie). Décerné par un panel d'experts européens,
ce titre
, créé en 2006 à l'initiative de Jüri Ratas, l'ancien Maire de Tallin en Estonie, récompense les efforts d'une collectivité en matière de développement durable.
Avec ses 426 100 habitants, la plus grande cité du sud-ouest de l'Angleterre a en effet su se distinguer par un cahier des charges environnemental ambitieux, qui a déjà fortement contribué à améliorer la qualité de vie des habitants. Les chiffres parlent d'eux-mêmes : à Bristol, près d'un résident sur cinq se rend à pied à son travail ; plus de 90% de la population vit à moins de 300 mètres d'un espace vert ; la ville compte 4 fermes urbaines, 8 réserves naturelles et 450 parcs.
La municipalité a investi dans un programme d'efficacité énergétique ambitieux qui a porté ses fruits. Bristol est aujourd'hui la ville du Royaume-Uni qui consomme le moins d'énergie par ménage. Les habitants économisent ainsi environ £150 par personne et par an sur leur facture de chauffage depuis 2005. La consommation d'énergie a été réduite de 11% dans le secteur des transports, de 26% dans le secteur de l'industrie et des commerces et de 21% en ce qui concerne la consommation domestique. La ville poursuit ses engagements avec l'ambition d'économiser encore 25% d'énergie d'ici 2020, notamment en investissant dans les énergies renouvelables et le mix énergétique (éolien, photovolatïque, biogaz, thermique). Un plan d'investissement de £140M prévoit par ailleurs la mise en conformité de milliers de maisons aux normes environnementales, un doublement du recours à l'énergie solaire et la mise en place d'un réseau de chaleur urbain ultra-performant.
En parallèle de ces actions de fond, Bristol a investi massivement dans l'amélioration de son sytème de transport urbain, avec, notamment, le développement d'un système de MétroBus à faible niveau d'émissions et de multiples projets destinés à fournir des solutions de transport alternatives, réduire la congestion sur les routes et assurer la sécurité des passagers. Une politique très active en matière de pistes cyclables a également été mise en œuvre. Bilan : le nombre d'usagers a été multiplié par deux au cours des dernières années et Bristol ambitionne de le doubler de nouveau d'ici 2020. Ce nombre est par ailleurs nettement plus élévé que dans les autres grandes villes du pays et représente trois fois et demi la moyenne nationale.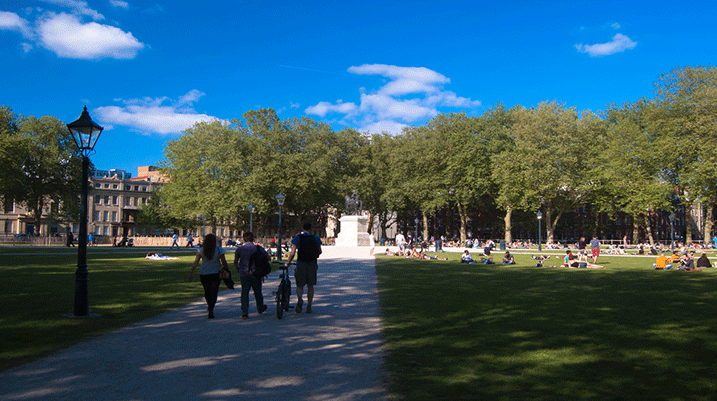 Mais ce ne sont pas uniquement ces efforts en faveur de l'environnement que le prix de la capitale verte européenne sont venus récompenser. Les experts européens ont aussi et surtout reconnu Bristol pour sa politique de renouvellement urbain, de reconquêtes de friches et de redynamisation des quartiers. En 2010, la ville a notamment engagé la requalification de Knowle West, les quartiers sud, très déshérités, mal desservis et éloignés des zones d'emploi. Depuis la fermeture d'une manufacture de tabac en 1990, qui employait 5000 personnes, le quartier accumulait les problèmes sociaux. Composé de petites maisons accolées, Knowle West présentait en outre d'une trop faible densité de bâti pour créer de nouvelles écoles, crèches ou arrêts de bus – ce qui contraignait les habitants à aller travailler au nord de la ville avec des temps de parcours très longs. Pour redynamiser le quartier, la mairie a conçu un programme en étroite concertation avec les habitants, qui ont été appelés à participer à l'identification des îlots à densifier et des sites potentiels d'attractivité.
En complément de cette politique ambitieuse, Bristol s'est employée à renforcer l'attractivité économique de son territoire. D'une part, en engageant une importante revitalisation de son port. Les quais ont été réhabilités et constituent aujourd'hui une attraction phare pour les huit millions de touristes qui visitent la ville chaque année. Le Bristol Harbourg Festival, riche de multiples concerts, spectacles et événements en tous genres, attire également plus de 250 000 visiteurs par an et contribue à la vitalité de cet espace à la croisée de la mer et de la terre, des territoires naturels et urbains, des activités économiques et de loisir. Le port, qui abrite 500 bateaux, compte en outre une faune et une flore riche et variée grâce aux actions de protection qui ont été mises en place. Dernière initiative de la ville : le financement d'une technologie innovante destinée à exploiter les ressources d'énergies marémotrices dans le port. D'autre part, en investissant dans l'économie verte : alors que la pays traverse une phase de récession, le secteur de l'économie verte a enregistré une croissance de 4,7% en 2012. Plus de 1000 entreprises, implantées à Bristol ou dans l'ouest du pays, fournissent ainsi des produits ou des services à vocation environnementale. A Bristol, elles emploient plus de 9000 personnes.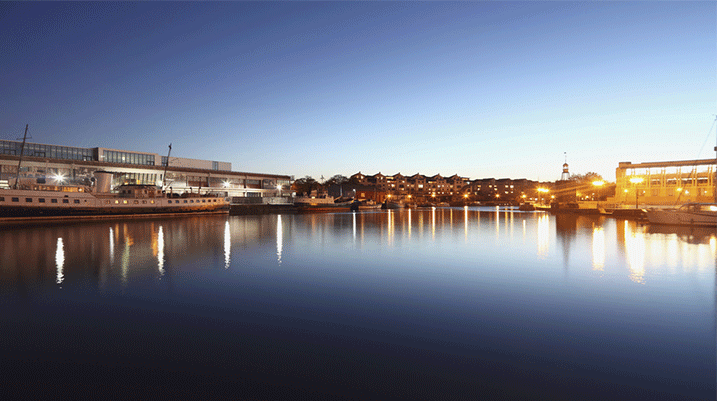 L'ensemble de ces actions a été mené par la ville dans une perspective de participation citoyenne et d'implication sociale qui en font un modèle particulièrement intéressant. Considérant que les habitants ont un rôle majeur à jouer dans la transformation de leur ville, la mairie a intié la création de deux entités administratives qui travaillent désormais main dans la main avec le Bristol City Council : le Green Capital Partnership, créé en 2007, qui regroupe plus de 700 organisations (associations, entreprises de toutes tailles, collectifs d'habitants) et le Bristol 2015 Ldt, créé après la remise du titre de capitale verte européenne, qui œuvre à la collecte de ressources supplémentaires.
La ville a également mené des actions de communication novatrices, en s'appuyant sur les réseaux sociaux, pour inciter les citoyens à participer activement à l'amélioration de la qualité de la vie dans leur ville. Le slogan « Laboratory for Change » a été lancé et des conférences ciblées sont diffusées pour sensibiliser et impliquer tous les habitants. Citons encore d'intéressantes initiatives citoyennes, destinées à renforcer le bien vivre-ensemble, comme le Bristol 2015 Lab, qui propose de nombreuses activités gratuites aux familles sur les quais du port chaque année, le projet collaboratif Neighbourly.com, destiné à limiter le gaspillage alimentaire en mettant en relation les industries alimentaires disposant de surplus et les associations susceptibles de les redistribuer, ou encore le projet One Tree Per Child, qui va permettre aux 36 000 écoliers de Bristol de planter chacun un arbre pour la ville.
En 2015, Bristol portera fièrement ses couleurs de capitale verte, avec de nombreux événements comme le Green Capital Digital Challenge, le Green Tech Festival ou le Festival of the Future City destinés à célébrer son leadership en matière de technologies urbaines, vertes et créatives. Autant de rendez-vous à ne pas manquer pour les citoyens curieux de la ville vivante de demain – celle que nous appelons activement de nos vœux sur la scène internationale !