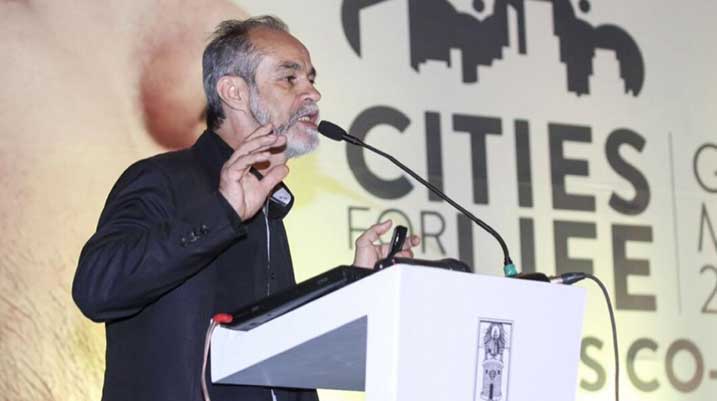 I'm back in Paris after attending the Cities for Life 2015 conference in Medellin, a very high-level international event whose theme was "Let's co-create"! This global meeting attracted VIPs and decision-makers from around the world. 100 government representatives, 120 cities, and 60 mayors travelled to the event to listen and contribute to the parallel sessions and debates on six key topics, each drawing massive attention: mobility, urban planning and design, the environment, governance, security, and social development.
More than 100 internationally renowned speakers were also present, including Carlo Ratti, Director of the MIT SENSEable City Lab; Pilar Conesa, curator of the Smart City World Expo; Michel Sudarskis, Secretary General of INTA; and journalist and author Francis Pisani. Personally, I was honoured to open the second day of the conference with a keynote entitled "What kind of urban intelligence in our changing world?".
Medellin, which hosted the conference this year, became a symbol of the living city for the entire international scene. In just 15 years, the city has developed its resilience and fleshed out a new paradigm based on social innovation and urban intelligence. Medellin has proven to be a pioneer in its choices, acting with sincerity, hope, and trust rather than simply to satisfy political interests: the city itself continued to sponsor the transformation program through multiple administrations.
The vision driving this profound transformation is the same one that people like Carlo Ratti and I hope to see expanded to all the world's metropolises, a vision that takes advantage of today's ubiquitous technology to make citizens the focus of its urban policies.
The 19th century was the era of empires and the 20th was ruled by nations. There is no longer any question that the 21st century is the era of cities.
The sheer size, economic and political importance, and role in disseminating socio-cultural trends of megalopolises and metropolises in today's highly urbanised world gives us reason to question the ways our cities are transforming, particularly when it comes to quality of life in urban spaces.
In parallel, new technologies are making a deep and lasting impression on the daily lives of individuals.
The breathtaking power and capacity of the technological and digital revolutions, and ubiquitous access to the internet of things to create new uses and services, are extraordinary tools. At the same time, our cities have never been so fragile. At a time of hyper connectivity, we must strengthen social bonds so that technology does not escape our control and end up pushing us further away from one another.
Our challenge is to develop dynamic regional ecosystems that provide fertile ground for new ways of building a city and new paradigms.
In a world in crisis, how can we overcome major challenges to build the cities of tomorrow: human, responsible, united, resilient, connected, and open?
Can we treat our cities as living labs, places where we can work to anticipate the next disruptions?
From north to south and east to west across our planet, cities are becoming the heart of our lives and raising questions about our future.
In reinventing the city, our living cities approach focuses on the convergence of 3 major factors of change—social inclusion, rethinking urban infrastructures, and helping users benefit from the advances of recent technological revolutions, including digital technologies.
The Cities for Life platform, a unique tool for co-creation
The conference also served as an opportunity to launch a unique platform for the co-creation of innovative urban projects called the Cities for Life – Global Platform 2015 . While the current consensus is that there is no such thing as the City per se, but only cities, each set apart by its own identity, history, and culture, it is still true that every metropolis on the planet faces the same problems. In my opinion, the city of tomorrow has five challenges to meet: environmental, cultural, economic, social, and resiliency-related. That's why a platform like this, on an international scale, makes perfect sense. It will enable us not only to share best practices in these areas, but also to involve civil society in creating innovative urban solutions. Citizens from around the world are invited to meet the major urban challenges of today and tomorrow—how can we motivate citizens to embrace change in order to better protect the environment? What strategies can we adopt to foster efficient mobility? Etc. Meanwhile, there is no question that governance in each city plays a key role in engaging its citizens to help build their city, and I consider this type of open platform to be a good example of a motivational tool.
Preparing for Habitat III
A parallel session of Cities for Life was devoted to preparing for the United Nations Habitat III conference, which will take place in Quito in October 2016. This initial brainstorming session was the first in a series of 10 organised by INTA and the Live in a Living City Forum, which I chair; future sessions will take place in St. Denis, Reunion Island; Santiago, Chile; Paris, Puebla, Cotonou, Grenoble, Jakarta, Fukoka, and Taipei. The first session drew international experts and VIPs including former Quito mayor Augusto Barrero, Esteve Amirall of ESADE Barcelona, Kerstin Torseke from Malmö, Fernando Nunes from Lisbon, and Smart Citizen specialist Antoni Gutiérrez-Rubi. Between now and October 2016, this task force will enable us to make a unique contribution to the global process of co-creating tomorrow cities by emphasizing versatility of use and citizen participation.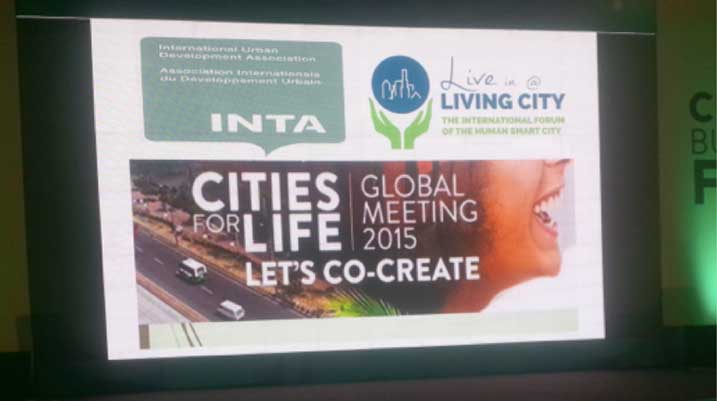 Cities for Life 2016 in Paris
Paris has been selected by the organizing committee to host the next Cities for Life conference in 2016. This is a golden opportunity for the French capital city. With such key events as COP 21, Cities for Life 2016, and Habitat III in the works, the coming months will be busy ones for the living cities community. More than ever, we must be tireless in our efforts all this year as we strive to increase legitimacy and recognition for our approach. The vision of a city for life, one whose focus is on people and citizens, is currently becoming a major avenue for urban renewal worldwide—it's up to us to maintain our commitment!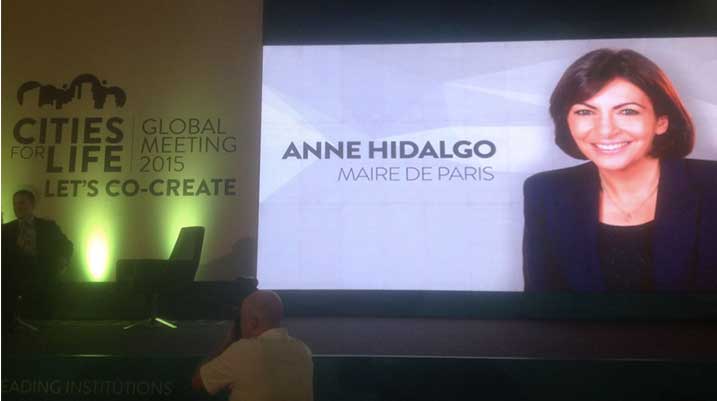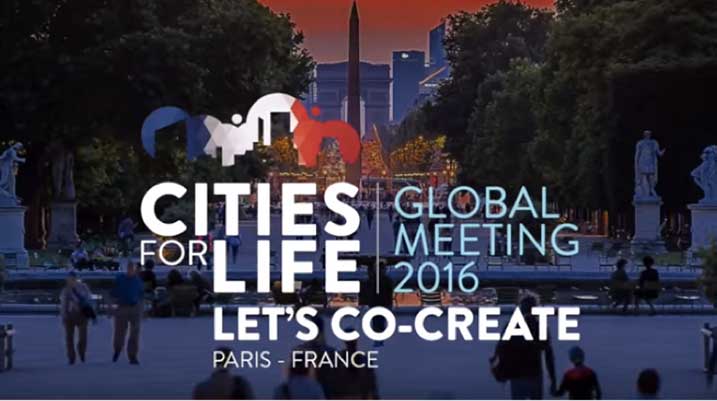 Personally, I look forward to getting involved in the international scene once again this year to help build better cities for tomorrow.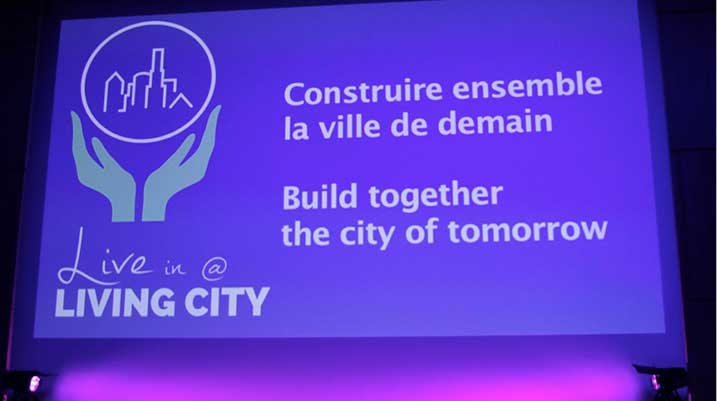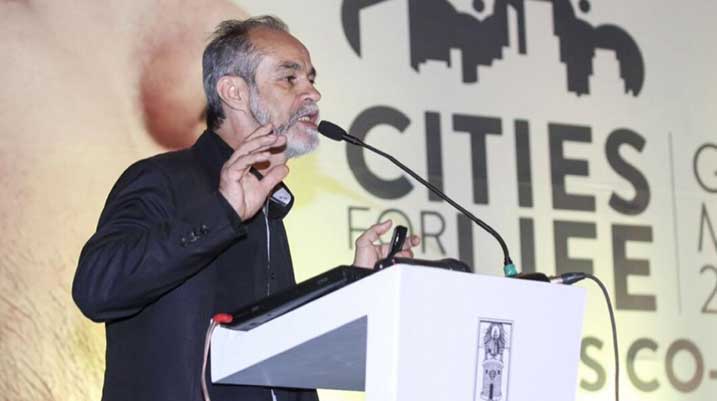 Ya estoy de vuelta en París tras haber participado en la conferencia Cities for Life 2015 en Medellín, un evento de gran repercusión internacional bajo el lema «Let's co-create!». Esta Global Meeting ha reunido a personas y actores decisivos de todo el mundo: 100 delegados gubernamentales, 120 ciudades y 60 alcaldes se han desplazado a Medellín para escuchar y participar en distintos debates y sesiones paralelas organizadas en torno a estas seis cruciales temáticas: movilidad, diseño y planificación urbanos, medio ambiente, gobernanza, seguridad y desarrollo social.
A la cita también acudieron más de un centenar de ponentes de renombre internacional, como por ejemplo Carlo Ratti, Director del SENSEable City Lab del MIT, Pilar Conesa, comisaria de la exposición Smart City World Expo, Michel Sudarskis, Secretario General de INTA o el periodista y escritor Francis Pisani. Por mi parte, he tenido el gran honor de inaugurar el segundo día con un discurso de apertura titulado «What kind of urban intelligence in our changing world ?».
Medellín -ciudad anfitriona de esta edición- se ha convertido en el símbolo representativo de la ciudad viva para todos, ante la atenta mirada de la comunidad internacional implicada. En quince años, Medellín ha demostrado su capacidad de adaptación y creación de un nuevo modelo, fundado en la innovación social y en la inteligencia urbana. Medellín ha tomado la delantera en aquello por lo que ha apostado con sinceridad, esperanza y confianza, dejando a un lado los intereses políticos, ya que el proceso de transformación que ha experimentado la ciudad ha abarcado varios mandatos.
La visión que ha presidido esta profunda transformación es la que el reputado Carlo Ratti, o yo mismo, deseamos reproducir en todas las metrópolis del mundo entero: una visión que coloca a los ciudadanos en el centro de las políticas urbanas, valiéndose de esa gran lanzadera que son las nuevas tecnologías hoy en día tan omnipresentes.
Si el siglo XIX fue el siglo de los imperios y el XX el de las naciones, el siglo XXI es, sin lugar a dudas, el siglo de las ciudades.
Con solo considerar el tamaño, el peso económico, la política o las tendencias socioculturales que transmiten, la importancia de las megalópolis y metrópolis muy urbanizadas, nos lleva a interrogarnos sobre la transformación de nuestras ciudades y, en particular, sobre la calidad de vida en los espacios urbanos por todo el mundo.
A esto hay que añadir la huella indeleble que las nuevas tecnologías dejan en la vida cotidiana de los ciudadanos del mundo.
El poder y la capacidad vertiginosa de la revolución tecnológica, de la era digital, de la accesibilidad desde cualquier punto y del Internet de las cosas para crear nuevos usos y servicios es una baza muy favorable. Al mismo tiempo, es cierto que nuestras ciudades nunca habían sido tan frágiles como lo son ahora. En la era de la hiperconectividad, nosotros tenemos la obligación de reforzar el vínculo social para que la tecnología no se convierta en un factor que nos supere y nos aleje del mundo físico.
Nuestro reto consiste en desarrollar en el núcleo de los territorios ecosistemas dinámicos donde se inventen nuevas maneras de construir la ciudad y donde se elaboren nuevos modelos.
En un mundo en crisis, con grandes retos por afrontar, ¿cómo podemos construir la ciudad del mañana, una ciudad humana, ciudadana, solidaria, amoldable, conectada y abierta?
¿Podemos convertir a nuestras ciudades en living labs a cielo abierto donde podamos trabajar para anticipar las próximas rupturas?
En cualquier latitud del planeta, las ciudades ocupan el centro de nuestra vida y nos hacen platearnos nuestro porvenir.
Para reinventar la ciudad, nuestra reflexión en torno a la ciudad viva plantea dar relevancia a 3 ejes principales conjuntos, a saber, la inclusión social, el replanteamiento de las infraestructuras urbanas y un uso social de las innovaciones producto de la revolución tecnológica, dentro de la cual se incluye la digital.
La plataforma Cities for Life: una herramienta original o de co-construcción
A tenor del contenido de esta conferencia, la cita ha servido de ocasión idónea para presentar una innovadora plataforma original de co-construcción de proyectos urbanos bautizados como «Cities for Life – Global Platform 2015». Si estamos todos de acuerdo en afirmar que no hay Ciudad en sí, sino ciudades que se distinguen por una identidad, una historia o cultura propias, también lo estamos en que todas las metrópolis del globo deben afrontar una problemática parecida. En mi opinión, una ciudad del mañana tiene que afrontar cinco retos: el medioambiental, el cultural, el económico, el social y el de la capacidad de adaptación. Por estos cinco motivos, tiene sentido implantar una plataforma de envergadura internacional, que permita compartir las mejores prácticas con respecto a estos temas, pero que también ayude a que la sociedad civil participe en la creación de soluciones urbanas innovadoras. Se invita a todos los ciudadanos del mundo a afrontar los grandes retos urbanos de hoy y de mañana: ¿cómo incitar a los ciudadanos al cambio con el fin de proteger mejor el medio ambiente? ¿Qué estrategia se necesita para poner en marcha una movilidad eficaz? Se da por sentado que las autoridades gobernantes de cada ciudad tienen un papel ejemplar que desempeñar para que los ciudadanos se impliquen en la co-construcción de su ciudad y, por tanto, me parece que este tipo de plataformas abiertas son una buena medida exhortativa.
Ponemos rumbo a Habitat III
Por otro lado, se dedicó una sesión paralela de Cities for Life a la preparación de la conferencia Habitat III auspiciada por las Naciones Unidas que se celebrará en Quito en octubre de 2016. Con esta primera sesión de reflexión se ha inaugurado una serie de 10 sesiones organizadas por INTA y el foro Live in a living city, que yo mismo presido y que se celebrarán en St Denis, capital de la isla Reunión, Santiago de Chile, París, Grenoble, Yakarta, Fukuoka y Taipéi. En ella se dieron cita expertos internacionales y personasinfluyentes como Augusto Barrero, antiguo alcalde de Quito, Esteve Amirall del ESADE, Barcelona, Kerstin Torseke de Malmö, Fernando Nunes de Lisboa, Antoni Gutiérrez-Rubi, especialista de la visión SmartCitizen. Con este grupo operativo formado tendremos lo necesario, de aquí a octubre de 2016, para contribuir de manera original al proceso de co-construcción global de la ciudad del mañana y dar relevancia a la transversalidad de usos y participación ciudadana.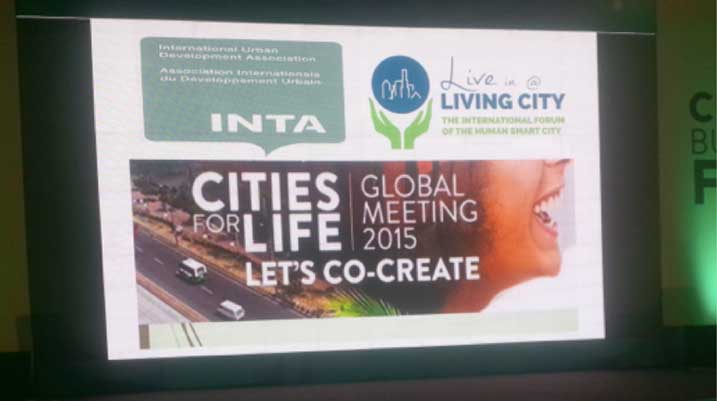 Cities for Life 2016 en París
El Comité de la organización ha nombrado a París como sede anfitriona de la próxima edición de la conferencia Cities for Life en 2016. Esto supone una excelente oportunidad para la capital francesa. Los próximos meses van a ser ajetreados para la comunidad de la ciudad viva, con citas clave como la COP 21, Cities for Life 2016 y Habitat III. Cabe recordar que ahora más que nunca, nuestros esfuerzos deben hacerse de manera continua a lo largo del año, con el fin de se amplíe la legitimidad y cobre mayor reconocimiento nuestro enfoque. La visión de una ciudad para vivir que ponga a lo humano y lo ciudadano en el punto de mira está a punto de convertirse en uno de los principales ejes de renovación urbanística en el mundo entero. De nosotros depende el adoptar este compromiso.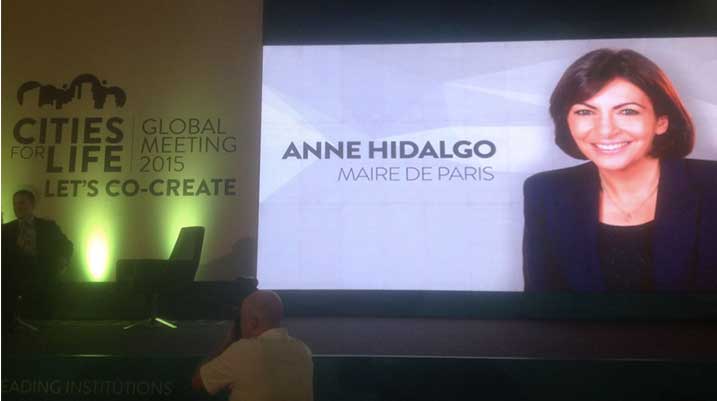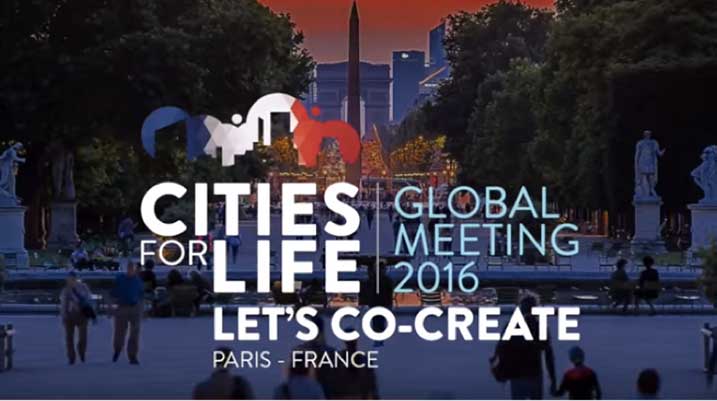 En lo que a mí respecta, este año volveré a consagrarme, con empeño y proyección internacional para aportar mi granito de arena, a la co-construcción de una ciudad mejor para el mañana.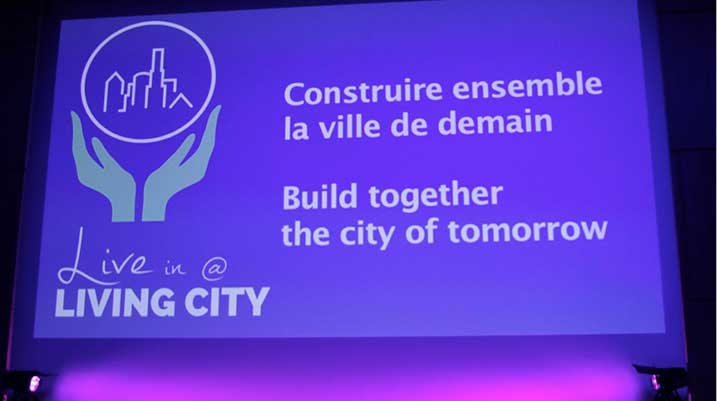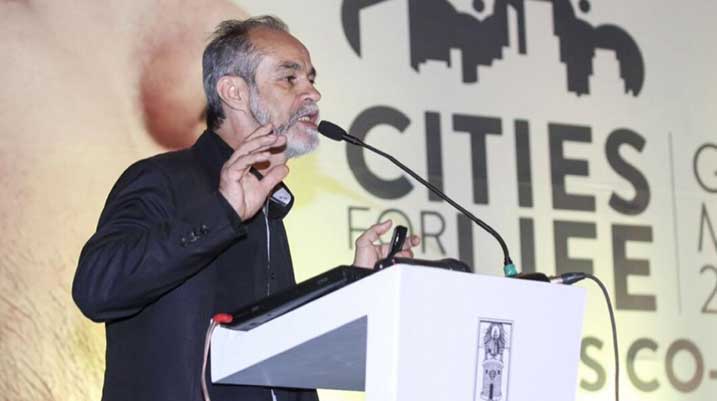 Me voici de retour à Paris après avoir participé à la conférence Cities for Life 2015 à Medellin, un événement de très haut niveau international placé sous le leitmotiv « Let's co-create ! ». Ce Global Meeting a réuni des personnalités et acteurs du monde entier : 100 délégués gouvernementaux, 120 villes et 60 maires ont fait le déplacement pour écouter et prendre part aux différents débats et séances parallèles organisés autour de six thématiques-clés et suivies massivement : la mobilité, le design et le planning urbains, l'environnement, la gouvernance, la sécurité et le développement social.
Plus d'une centaine de speakers de renommée internationale étaient également présents, parmi lesquels Carlo Ratti, Directeur du SENSEable City Lab du MIT, Pilar Conesa, curator de Smart City World Expo, Michel Sudarskis, Secrétaire Général de l'INTA, ou encore le journaliste et auteur Francis Pisani. J'ai eu pour ma part le grand plaisir d'introduire la seconde journée de la conférence avec un keynote intitulé « What kind of urban intelligence in our changing world ? ».
Medellin, qui organisait cette année la conférence, est devenue un symbole de la ville vivante pour tous sur la scène internationale. En une quinzaine d'années, elle a construit sa résilience et élaboré un paradigme nouveau, fondé sur l'innovation sociale et l'intelligence urbaine. Medellin s'est révélée pionnière en ce qu'elle a mis en avant avec sincérité l'espoir et la confiance, par-delà les intérêts politiciens puisque le programme de transformation a été porté par la ville sur plusieurs mandats.
La vision qui a présidé à cette profonde transformation est celle que des personnalités comme Carlo Ratti ou moi-même souhaitons aujourd'hui porter dans toutes les métropoles du globe : une vision qui place les citoyens au centre des politiques urbaines, en s'appuyant sur ce nouveau puissant levier qu'est la technologie ubiquitaire.
Le XIXème siècle a été celui des empires, le XXèmesiècle celui des Nations, le XXIème siècle est à n'en plus douter celui des villes.
Rien qu'à regarder la taille, le poids économique, politique et les tendances socio-culturelles qu'elles véhiculent, l'importance des mégalopoles, métropoles dans un mode fortement urbanisé, nous amène, partout dans le monde, à nous interroger sur la transformation de nos villes et en particulier concernant la qualité de vie au sein d'espaces urbains.
Parallèlement les nouvelles technologies impriment profondément et durablement leur marque dans la vie quotidienne de chacun.
La puissance et capacités vertigineuses des révolutions technologiques, du numérique, de l'ubiquité, de l'internet des objets, pour créer des nouveaux usages et services est un levier extraordinaire. En même temps, jamais nos villes n'ont jamais été aussi fragiles. A l'ère de l'hyper-connectivité, nous avons l'impératif de renforcer le lien social, pour que la technologie ne devienne pas un facteur qui nous dépasse en nous éloignant les uns des autres.
Notre challenge est de développer au cœur des territoires des écosystèmes dynamiques où s'inventent de nouvelles manières de construire la ville et où s'élaborent de nouveaux paradigmes.
Comment dans un monde en crise, face aux grands défis pour construire la ville de demain, humaine, citoyenne, solidaire, résiliente, connectée et ouverte ?
Peut-on faire de nos villes des living labs à ciel ouvert, où nous puissions travailler pour anticiper les prochaines ruptures ?
Du nord au sud, de l'est à l'ouest de la planète, les villes deviennent le cœur de nos vies nous interrogeant sur notre devenir.
Notre réflexion autour de la ville vivante propose de privilégier, pour réinventer la ville, la convergence des 3 axes majeurs de changement, l'inclusion sociale, repenser les infrastructures urbaines et de mettre au service des usages les apports des révolutions technologiques et parmi elle le numérique.
La plateforme Cities for Life, un outil original de co-construction
La tenue de cette conférence a par ailleurs été l'occasion de lancer une plateforme originale de co-construction de projets urbains innovants, baptisée « Cities for Life – Global Platform 2015 ». Si nous sommes désormais tous d'accord pour dire qu'il n'y a pas de Ville en soi, mais seulement des villes qui se distinguent toutes par une identité, une histoire, une culture propres, il n'en demeure pas moins que toutes les métropoles du globe doivent aujourd'hui faire face à des problématiques identiques. Il s'agit selon moi des cinq défis de la ville de demain : environnemental, culturel, économique, social et de résilience. C'est pourquoi une telle plateforme d'envergure internatoonale fait tout à fait sens. Elle va permettre de partager les melleures pratiques sur ces sujets, mais aussi de faire participer la société civile à la création de solutions urbaines innovantes. Les citoyens du monde entier sont invités à relever les grands défis urbains d'aujourd'hui et de demain : comment inciter les citoyens au changement afin de mieux protéger l'environnement ? Quelle stratégie pour mettre en œuvre une mobilité efficace ? etc. Il est par ailleurs acquis que la gouvernance de chaque ville a un rôle majeur à jouer pour les citoyens s'investissent dans la co-construction de leur ville et ce genre de plateformes ouvertes me paraît un bon exemple d'outil incitatif.
En route pour Habitat III
Une session parallèle de Cities for Life a par ailleurs été consacrée à la préparation de la conférence Habitat III des Nations Unies qui aura lieu à Quito en octobre 2016. Cette première séance de réflexion était la première d'une série de 10 sessions organisées par INTA et le Forum Live in a Living City que je préside et qui auront ensuite lieu à St Denis de la Réunion, Santiago du Chili, Paris, Puebla, Cotonou, Grenoble, Jakarta, Fukuoka et Taipei. Elle a réuni de grands experts internationaux et des personnalités comme Augusto Barrero, ancien maire de Quito, Esteve Amirall d'ESADE, Barcelone, Kerstin Torseke de Malmö, Fernando Nunes de Lisbonne, Antoni Gutiérrez-Rubi, spécialiste de la vision SmartCitizen. La task force ainsi constituée va nous permettre, d'ici octobre 2016, de contribuer de façon originale au processus de co-construction global de la ville de demain en mettant en avant la transversalité des usages et la participation citoyenne.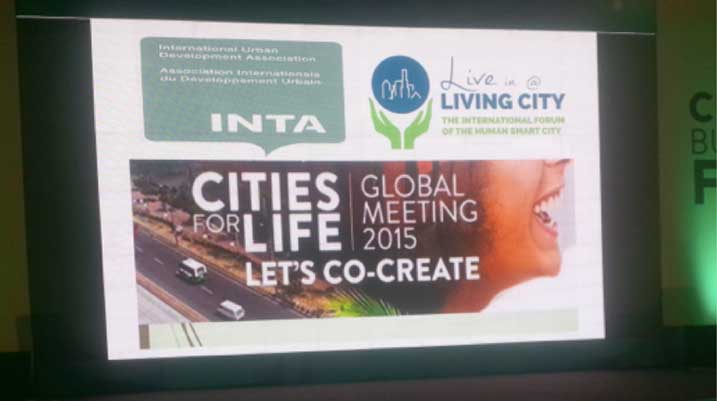 Cities for Life 2016 à Paris
La candidature de Paris pour accueillir la prochaine édition de la conférence Cities for Life, en 2016, a été retenue par la comité d'organisation. C'est là une belle opportunité pour la capitale française. Les mois prochains s'annoncent donc intenses pour la communauté de la ville vivante, avec les échéances-clés de la COP 21, Cities for Life 2016 et Habitat III. Rappelons que plus que jamais, nos efforts doivent s'exercer de façon continue, tout au long de l'année, afin de faire grandir la légitimité et la reconnaissance de notre approche. La vision d'une ville pour la vie, qui place l'humain et le citoyen en son cœur, est actuellement en passe de devenir un axe majeur de rénovation urbaine de par le monde – à nous de poursuivre notre engagement !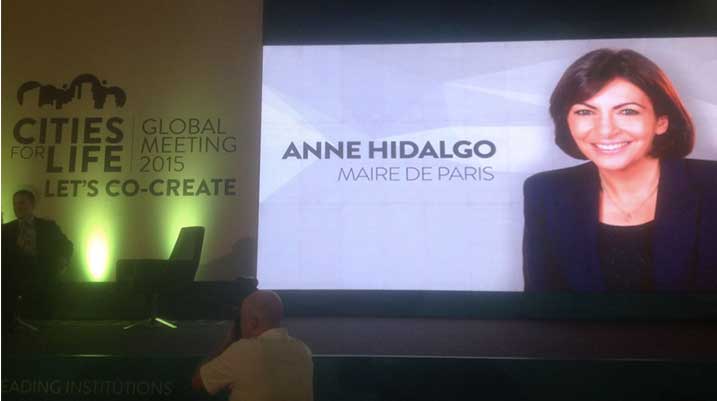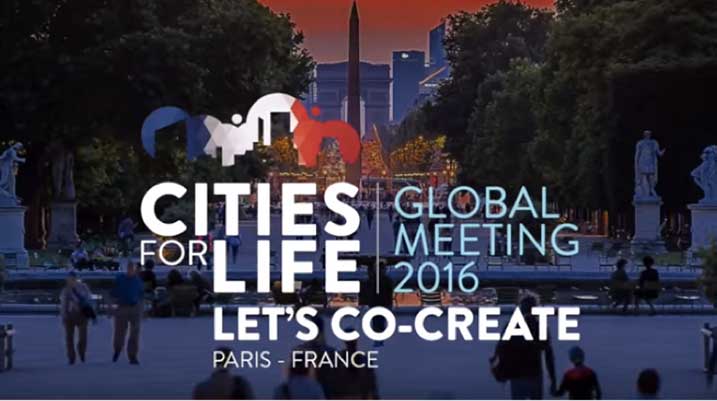 Pour ma part, c'est avec plaisir que je m'investirai de nouveau cette année sur la scène internationale afin d'apporter ma contribution à la co-construction d'une ville meilleure pour demain.