Prof. Carlos Moreno's weekly op-ed will focus today on his participation in the 38th Annual INTA Meeting and the International Council for Urban Development, both of which took place in Tallinn.
Dear readers,
I wanted to write to you to tell you about my recent attendance of the 38th annual congress of the International Newtown Association (INTA), as well as its preliminary session – the World Urban Development Council. While I was there, I also had the honour of being co-opted onto the INTA's Scientific Board.
The event was held in Tallinn – the capital of Estonia – and brought together 169 people from 25 different countries. The debates that took place over the course of the congress looked at ways of building future cities that are easier to live in, fairer and more inclusive. The whole concept is underpinned by three key areas:
– Technology… and in particular, the solutions that Smart Cities will bring to urban development in order to make them more intelligent and sustainable.
– Social considerations… specifically, the role that citizens play in their cities, not simply as customers or consumers, but also as key players, helping to guide the future of their cities.
– Territorial considerations, which involve relationships between State and local authorities, as well as the relationships between cities. The congress also looked at growing metropolisation and governance issues.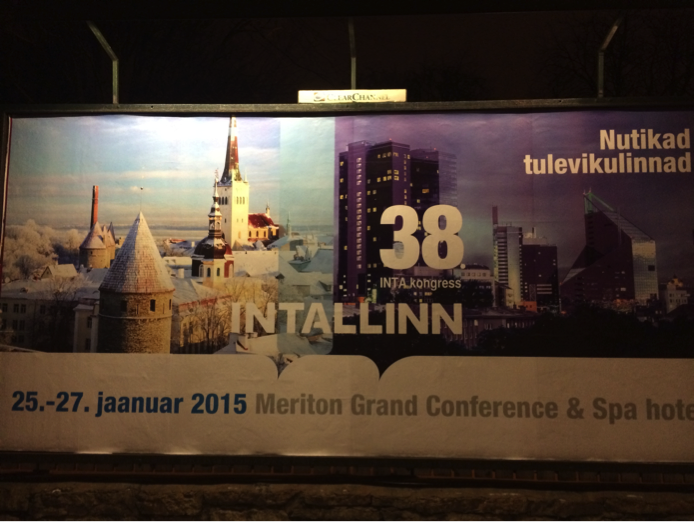 It's quite certain that Tallinn is an exceptional capital that anyone who is interested in the cities of tomorrow should visit. The whole international community paid tribute to Tallinn for the innovative approach it has adopted which combines urban development, protecting the environment and technological progress… and all in service of the people who live within it. Tallinn has already been awarded numerous prizes and was the European Capital of Culture in 2011. The town is also behind the Green Capital of Europe award which is given every year by the European Commission.
But Tallinn's most distinctive feature has to be the way in which it incorporates an urban intelligence economic model into its transport structure. Following a local referendum, it was decided to make public transport free for the residents of Tallinn. Two years into the experiment, it would appear that the challenge has paid off – the town's population has increased, but the number of cars on the roads has fallen considerably. In addition to the immediate impact that this has had on the environment, the initiative has also had more long-term benefits: it has helped revitalise the local economy and led to an increase in the number of green spaces in the town.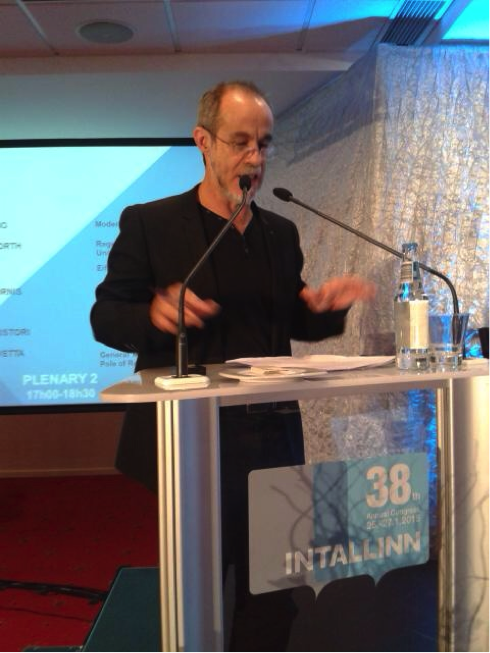 The various innovations that Tallinn has seen are part of a wider transformation strategy that is currently being deployed throughout Estonia. The country – one of the EU's smaller states that is not often talked about – is trying out a new type of government: e-government. This involves harnessing the benefits of digital technologies for the country's citizens, incorporating them into their daily lives so as to make certain admin tasks easier. For example, Estonia is the only country in which motorists no longer have to show their drivers' licenses in the event of their being stopped. They simply have to give their ID numbers to the authorities, and then they can access all of their official documents.
Estonia is far from being on its own in this regard. The way in which it is developing by making digital technologies ubiquitous and its widespread use of new technologies are typical features of the 21st-century which can be found in many other cities. Towns and cities have become "global cities" or "world cities" and their boundaries are no longer congruent with their geographical borders. The demographic and socio-economic weight of some metropolises is such that they can exert their own political and cultural influence. And in so doing, they gradually become dissociated from the countries of which they are a part.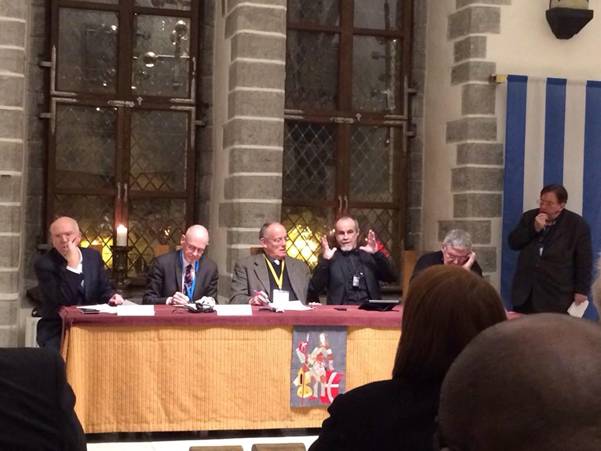 Furthermore, the ways in which these towns and cities interact have changed. Most of their transactions are with other towns and cities – not, contrary to what one might think – with the country as a whole (they function as numerous nodes of cross-border development).
During the congress, representatives of a number of towns and cities shared their experiences, confirming these observations. Tallin, Helsinki and Malmö in particular – three northern European cities – have introduced cooperation and e-cooperation initiatives. In Tel Aviv, the Start-up City alone accounts for 54% of the whole of Israel's GDP and has a special relationship with San Francisco. There is a similar model in place in Ecuador, which is interested in applying new socio-economic models to the country as a whole. It wanted to draw on its traditional Indian culture and incorporate the principles of the circular economy into its urban development. This vision of the city has been given the name "Buen Vivir" ("Live Well" in English) and has resulted in the creation of a whole new kind of town. The town in question is Yachay, a town designed entirely by city planners who want to create a town that will serve as a leading light in urban development for the rest of Latin America.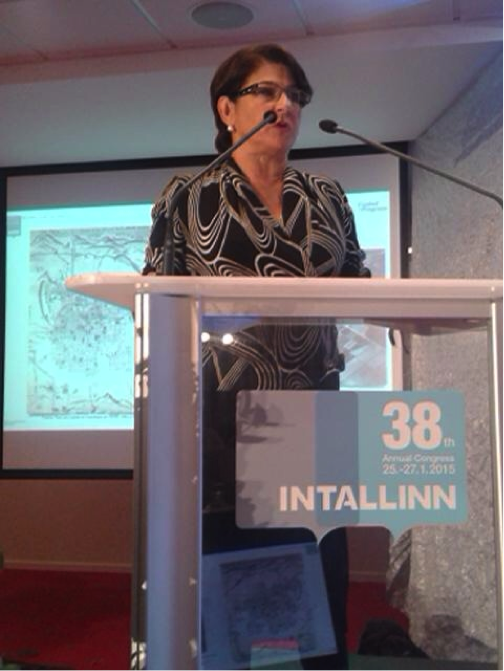 The president of urban development, the environment and ecology in Puebla (Mexico) spoke at the congress about the way in which her own town is developing, drawing on its history, as well as on its cultural, socio-economic and behavioural characteristics. The inequality from which Puebla used to suffer led to it considering new avenues for development. The result was its own vision of the Smart City. Moreover, Puebla will be hosting Latin America's next Smart City Expo Congress in February 2016.
Africa is a major challenge for humanity. The rapid demographic and urban development it has seen serve as a reminder that, in addition to being a source of technical and technological innovation, urban intelligence should set out to tackle a number of major social issues. The experiences of people in Africa emphasise the need to give priority to the following four key areas:
– making quality of life central to urban projects, ensuring that first and foremost they are about people,
– reducing consumption of natural resources and integrating this policy into the various urban functions,
– developing an actual territorial system of governance that is democratic, open and transparent,
– developing procedures that are adapted to local cultures and contexts.
A number of towns and cities in Asia and the Pacific region serve as evidence that urban development occurring too fast can have harmful effects – particularly in relation to infrastructure. This can be seen in Indonesia, Malaysia, Singapore, Thailand, Taiwan, China, Korea and in Japan in particular. The authorities of Asian towns and cities therefore find themselves up against a major challenge. Not only do they have to tackle congestion and pollution: they also have to ask themselves questions about the values that are guiding this urban development.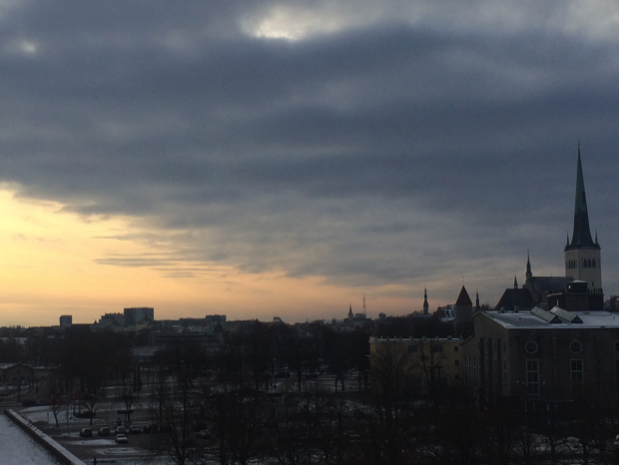 Are there alternative economic models for the town? We still have not found an answer to this question. But even if there is no definitive answer, talking about it – as we did at the World Urban Development Council and at INTA38 – is already a good start.
Finally, the analysis carried out at the INTA38 congress on the way in which space is used in 30 European cities shows that intensively using public spaces (green spaces, water-covered zones, pedestrian zones, cycle lanes, protected zones, etc.) has a direct impact on quality of life for urban dwellers. We are also tending towards a hybridisation of towns and cities. Indeed, the boundaries between actual and virtual spaces are becoming blurred.

By way of a conclusion, it seems quite clear to me that we should continue to challenge conventional ideas about our urban environment, about the services associated with it, about its economic growth and about the role played by property in towns. If we want our towns and cities to change, we ourselves have to drive this change.
I was also delighted to have been invited to present "Live in a Living City" – my International Human Smart City Forum – to the INTA's Governing Board It has been decided to set up a strategic partnership with the INTA. This means that the "Live in a Living City" Forum will become a member of the INTA. We are considering a shared schedule for a series of events which will form part of preparations for the world Habitat III conference and the major World Urban Forum which will be held Quito in October 2016. A number of other strategic partnerships have also recently been set up in France. Thus a new era is being heralded for the "Live in a Living City" Forum and for Smart Cities. I'm sure I will have the opportunity to re-examine these changes very soon.
Until next week,
Paris, 3 February 2015
Chers lecteurs,
Je vous écris pour vous informer de ma récente participation au 38ème Congrès annuel de l'Association internationale pour le Développement Urbain (INTA) ainsi qu'à sa session préliminaire, le Conseil Mondial pour le Développement Urbain, que j'ai co-animé. J'ai également eu l'honneur d'être coopté au Conseil Scientifique de l'INTA.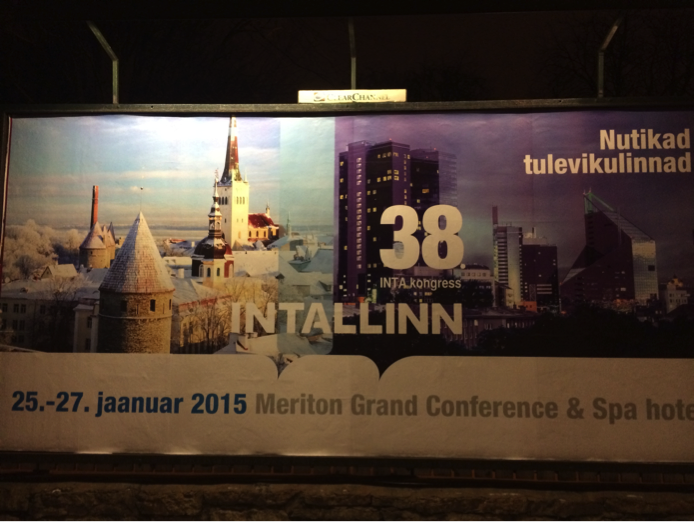 Cet événement, qui s'est tenu à Tallinn, capitale de l'Estonie, a réuni 169 personnes venant de 25 pays différents. Son fil conducteur était la construction d'une ville de demain qui soit plus vivable, plus équitable et plus inclusive. Cette vision reposait sur trois axes :
– La technologie et notamment les solutions qu'apportent les Smart Cities au développement urbain, afin de le rendre plus durable et intelligent.
– Le social et plus particulièrement la place qu'occupe le citoyen dans sa ville, non pas seulement en tant que client ou consommateur mais aussi en tant qu'acteur et coproducteur de l'avenir de sa ville.
– Le territorial qui porte sur les relations entre l'État et les collectivités territoriales ainsi que sur les relations qu'entretiennent les villes entre elles. La métropolisation croissante du territoire et les enjeux de gouvernance furent également traités.
Nul doute que Tallinn est une capitale exceptionnelle qui mérite d'être visitée par tous ceux qui s'intéressent à la ville de demain. L'ensemble de la communauté internationale a salué Tallinn pour sa démarche innovante qui associe développement urbain, protection de l'environnement et progrès technologique. Le tout au service du citoyen. Récompensée par de nombreux prix, Tallinn a été capitale européenne de la culture en 2011. La ville est également à l'origine du prix de la capitale verte de l'Europe qui est décerné chaque année par la Commission européenne.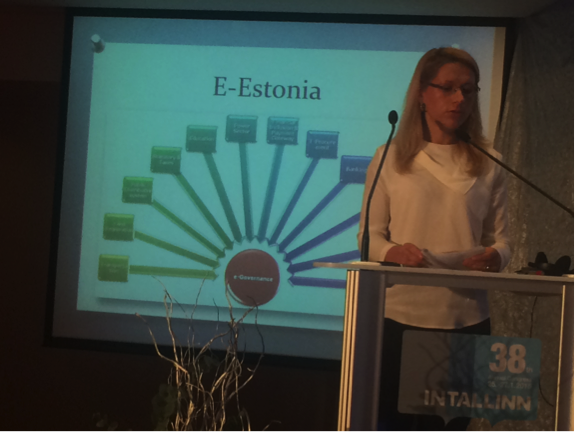 Mais ce qui fait la particularité de Tallinn, c'est surtout la mise en place d'un modèle économique d'intelligence urbaine dans le domaine de la mobilité. Suite à un référendum local, la décision fut prise de rendre les transports en commun gratuits pour les habitants de la ville. Deux ans plus tard, le défi a été gagné puisque le nombre d'habitants a augmenté tandis que le nombre de voitures sur les routes a considérablement baissé. Au-delà de l'impact immédiat pour l'environnement, cette mesure a également eu des conséquences à plus long terme puisqu'elle a contribué à la revitalisation de l'économie locale et à l'augmentation des espaces verts.
Les innovations qui ont vu le jour à Tallinn s'inscrivent dans une logique de transformation plus large, actuellement mis en oeuvre à l'échelle nationale. L'Estonie, petit pays européen qui fait habituellement peu parler de lui, mise sur un gouvernement d'un genre nouveau : l'e-gouvernement. Il s'agit de mettre le digital au service des citoyens, en l'intégrant dans leur quotidien de manière à leur faciliter certaines tâches administratives. Par exemple, l'Estonie est le seul pays où les automobilistes n'ont plus l'obligation de montrer leur permis de conduire en cas de contrôle. Il leur suffit de fournir leur numéro d'identification électronique aux autorités qui accèdent ainsi à l'ensemble de leur documentation officielle.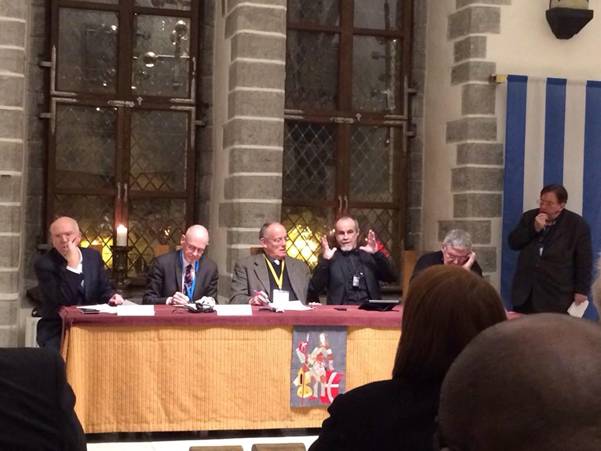 L'Estonie est loin d'être un cas isolé. Son développement par l'ubiquité numérique et son utilisation massive des nouvelles technologies sont des caractéristiques propres au XXIe siècle que l'on retrouve dans bon nombre d'autres villes. Ces villes sont devenues des « villes globales » ou « villes mondes » et ne se limitent désormais plus à leurs frontières géographiques. Le poids démographique et socio-économique de certaines métropoles leur permet d'exercer une influence politique et un rayonnement culturel propres. Elles se dissocient ainsi progressivement du territoire national dans lequel elles s'inscrivent.
De plus, la nature des échanges qu'effectuent ces villes a évolué. La majorité de leurs transactions se font avec d'autres villes et non avec l'ensemble du territoire national comme on pourrait le croire. (Ces villes constituent autant de points de développement transfrontaliers).
Lors du Congrès, les témoignages des représentants de certaines villes sont venus appuyer ces observations. C'est notamment le cas de Tallinn, Helsinki et Malmö, trois villes du nord de l'Europe qui ont mis en place des mesures de coopération et d'e-coopération. A Tel Aviv, la "Startup City" représente à elle seule 54% du PIB de l'Etat d'Israël et entretient des relations privilégiées avec la ville de San Francisco. C'est aussi le cas de l'Equateur, qui souhaite appliquer de nouveaux modèles socio–économiques à son territoire. Sa volonté était de puiser dans sa culture traditionnelle indienne et d'intégrer les principes de l'économie circulaire à son développement urbain. Cette vision de la ville a été baptisée « Buen Vivir » (« Bien Vivre » en français) et a donné lieu à la création d'une ville d'un genre nouveau. Il s'agit de Yachay, une ville entièrement conçue par des urbanistes, qui ambitionne de devenir une référence en matière d'urbanisme pour le reste de l'Amérique Latine.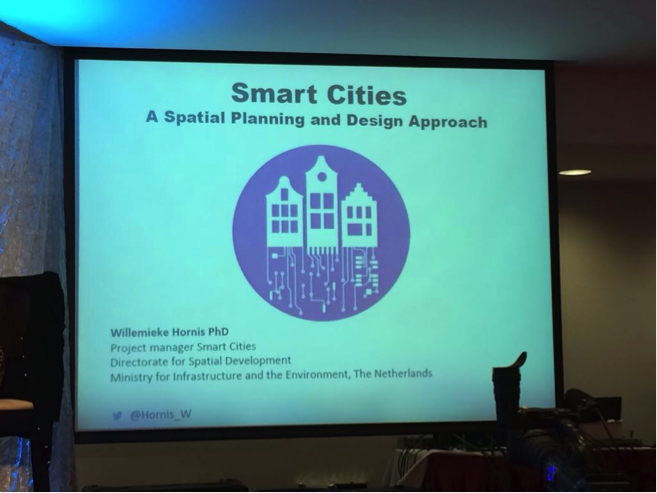 La Présidente du développement urbain, de l'environnement et de l'écologie de Puebla, au Mexique est intervenue au cours du Congrès pour parler du développement de sa propre ville en puisant dans son histoire ainsi que dans ses caractéristiques culturelles, socio-économiques et comportementales. Les inégalités qui y régnaient ont poussé la ville de Puebla à chercher de nouvelles voies. Elle a ainsi conçue une vision de la Smart City qui lui était propre. D'ailleurs, Puebla accueillera la prochaine Smart City Expo Congress d'Amérique Latine en février 2016.
L'Afrique représente un défi important pour l'humanité. Son rapide développement démographique et urbain nous rappelle qu'avant d'être source d'innovations techniques et technologiques, l'intelligence urbaine devrait se donner pour mission de résoudre certains grands enjeux sociaux. Les témoignages qui nous viennent de ce continent renforcent le besoin d'accorder la priorité à ces quatre lignes d'action :
– privilégier la qualité de la vie au cœur du projet urbain en mettant l'homme au centre,
– réduire la consommation de ressources naturelles et intégrer cette démarche dans les différentes fonctions urbaines
– développer une réelle gouvernance territoriale, démocratique, ouverte et transparente
– développer des processus adaptés aux cultures et aux contextes locaux
Les villes d'Asie et du Pacifique montrent qu'un développement urbain à un rythme trop accéléré peut avoir des conséquences néfastes, notamment en ce qui concerne les infrastructures. C'est le cas de l'Indonésie, de la Malaisie, de Singapour, de la Thaïlande, de Taiwan, de la Chine, de la Corée et surtout du Japon. Les autorités des villes en Asie doivent ainsi faire face à un défi d'envergure : il ne s'agit pas seulement de lutter contre la congestion et la pollution mais également de s'interroger sur les valeurs qui dirigent ce développement urbain.
Y a-t-il d'autres modèles économiques alternatifs pour la ville ? La question est encore ouverte. Même s'il n'existe pas de réponse définitive, le fait d'en discuter comme cela a été fait lors du Conseil Mondial du Développement Urbain et dans le cadre d'INTA38 est déjà un bon début.
Enfin, l'analyse apportée lors de ce Congrès sur la dimension spatiale de 30 villes européennes montre que l'utilisation intensive des espaces publics (espaces verts, zones d'eau, zones pédestres, cyclables et protégées, etc.) impacte directement la qualité de vie des citadins. Nous allons également vers une hybridation de la ville. En effet, les frontières entre espaces réels et espaces virtuels s'estompent.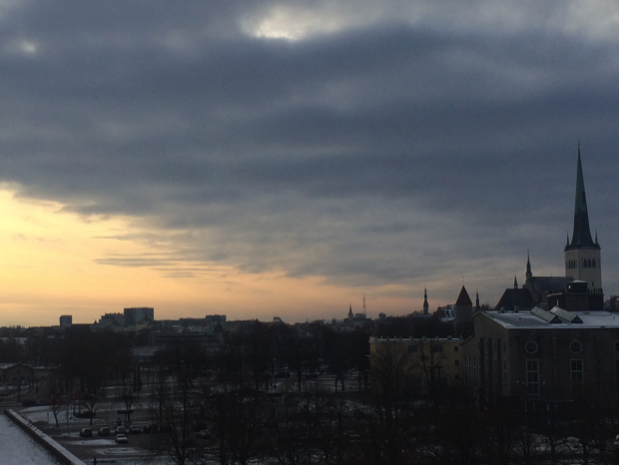 En guise de conclusion, il me semble clair qu'il faut continuer à remettre en question les idées conventionnelles que nous possédons sur notre environnement urbain, sur les services qui lui sont associés, sur sa croissance économique et sur la place qu'occupe la propriété en son sein. Si nous voulons que nos villes changent, nous devons nous même devenir acteurs de ce changement.
Ce fut également un grand plaisir d'avoir été invité à présenter mon Forum International de la Smart City Humaine "Live in à Living City" au Conseil d'Administration de l'INTA. La décision a été prise de créer un partenariat stratégique avec l'INTA. Le Forum "Live in a Living City" deviendra ainsi membre de l'INTA. Nous envisageons un calendrier commun pour une série d'événements qui s'inscriront dans la préparation de la conférence mondiale UN HABITAT III et le grand Forum Mondial Urbain qui se tiendra à Quito en octobre 2016. D'autres partenariats stratégiques ont également récemment été mis en place en France. Une nouvelle ère s'ouvre ainsi pour le Forum "Live in a Living City" et pour les Smart Cities. J'aurais sûrement l'occasion de revenir sur ces changements très prochainement.
A la semaine prochaine,
Paris, le 3 février 2015
[rev_slider Tallinn]
Vengo hoy para contarles de lo que fue nuestra gran cita anual del Desarrollo Urbano y Sostenible, con el Congreso anual de la Asociación Internacional para el Desarrollo Urbano, INTA. Se trata dela 38ava edición de este evento que dio cita en la capital de Estonia, Tallin, a 169 personas de 25 países diferentes, de distintos lugares del mundo y de la cual he tenido el honor de formar parte de su Consejo Científico.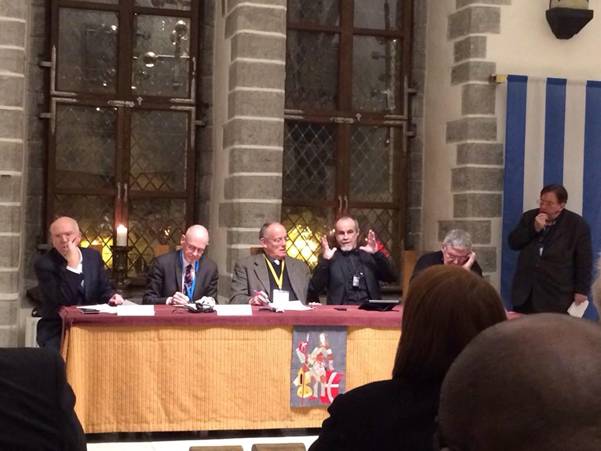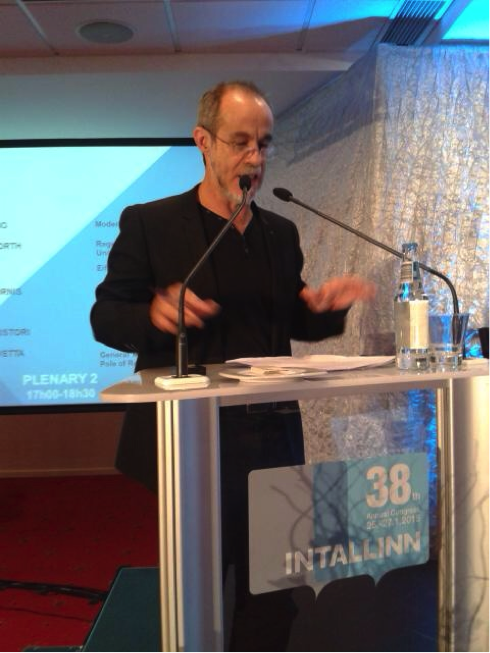 Difícil de resumir en pocas líneas la riqueza de este evento. Podemos decir que el hilo conductor concierne a nuestra preocupación cotidiana en la construcción del futuro de nuestras ciudades. El congreso del INTA38 dio lugar igualmente a una reunión de un Consejo Internacional del Desarrollo Urbano, como foro de debate abierto sobre esta crucial temática alrededor de tres temas convergentes ligados a la innovación:
– Tecnológica, y en ella la Smart Cities, y el conjunto de herramientas para colocarlas al servicio de un desarrollo urbano, durable e inteligente.
– Social, y cómo el ciudadano se relaciona con su ciudad, cliente en los servicios, consumidor, y cómo éste se erige cada vez más como un co-productor de su futuro urbano.
– Territorial, y en ella, las relaciones entre el Estado y las ciudades y aglomeraciones, la metropolización cada vez más importante, la gobernanza y las relaciones de las ciudades entre ellas.
TALLIN
La ciudad que acogió los trabajos, Tallin, es sin lugar a dudas una capital de interés excepcional que debe ser visitada por todos aquellos que nos interesamos a esta triple convergencia. Recompensada con múltiples premios, recientemente premio 2014 del turismo, capital europea de la cultura y al origen del premio capital verde de Europa.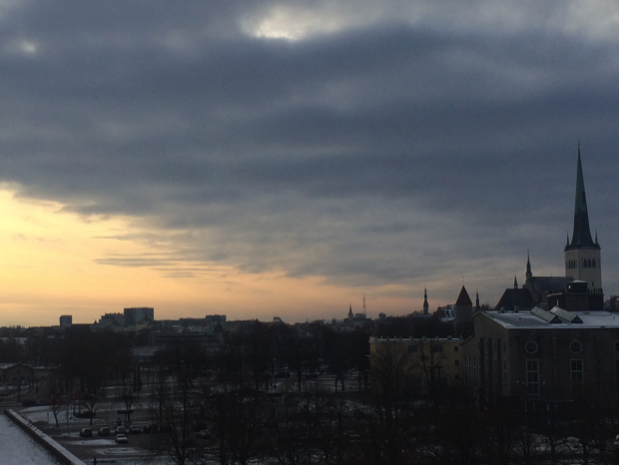 Tallin tiene hoy en día un reconocimiento unánime por su relación inteligente entre el desarrollo urbano, la protección del medio ambiente, su capacidad a traducir los progresos de las tecnologías de la información y de la comunicación en innovación social centrada alrededor del ciudadano usuario y co-productor de la ciudad y de su territorio.
Estonia es un pequeño país de Europa que ha hecho realidad el E-GOBIERNO, con la utilización masiva de Internet para la vida cotidiana de sus habitantes, 24h/24h y 7 días/7. Todos los aspectos de la vida administrativa son parte de una lógica en la cual se privilegia los servicios electrónicos. Única capital en la que el automovilista, por ejemplo, no está obligado a tener con él su licencia de conducir, pues simplemente en caso de control, con su número de identificación electrónica, las autoridades acceden al conjunto de su identidad.
Tallin se distingue por ser una ciudad que ha innovado en el modelo económico de la inteligencia urbana, en particular en el área de la MOVILIDAD. El transporte urbano en su conjunto es gratuito para los residentes. Propuesto por el Alcalde y sus equipos, la decisión fue tomada por un referéndum ciudadano, herramienta de uso corriente. Basado en criterios de atracción socio territorial, el desafío dos años después ha sido ganado, pues Tallin ha aumentado considerablemente el numero de residentes, con el consiguiente incremento de sus recetas en impuestos locales, mas la limitación del uso de vehículos y el efecto sistémico en materia de economía local, de proximidad, de salud y de aumento de espacios públicos y verdes.
INTA38
En el marco del INTA38 tomó relevancia igualmente esta característica propia del siglo XXI, las ciudades no coinciden más con el territorio geográfico. La cartografía territorial y la inclusión social-ciudadana desbordan el hecho de pertenecer a un país por el peso propio de la ciudad y sus características intrínsecas en crecimiento económico, influencia política y difusión cultural.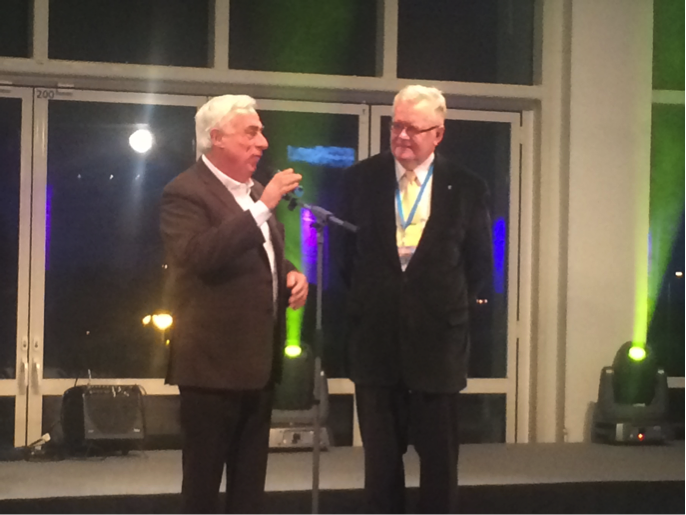 En un mundo urbanizado en el que el PIB de las ciudades es ya en muchas ocasiones mayor que el PIB de países, los nuevos anillos de regulación inter-ciudades ofrecen otros desarrollos en estas nuevas geografías urbanas difusas, que se crean y que se convierten en polos de desarrollo transfronterizos. Y esto lo pudimos apreciar claramente en INTA38 a través de los testimonios de las distintas ciudades presentes venidas del mundo entero.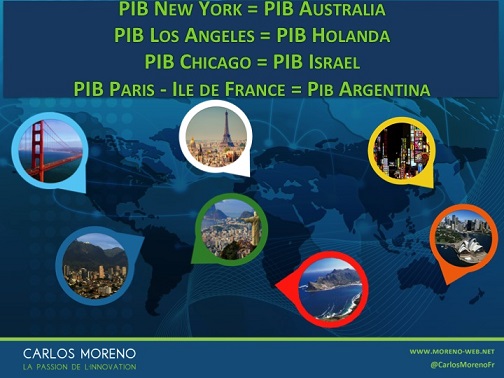 El caso por ejemplo de esta zona geográfica del NORTE DE EUROPA, en la que se construyen relaciones privilegiadas de cooperación y de E-cooperación entre Tallin, Helsinki, Malmö por ejemplo. En otras partes del mundo, por ejemplo Tel Aviv, Start Up City por ejemplo que ella sola representa 54% del PIB de estado de Israel y las relaciones privilegiadas con San Francisco y su Start Up territorio.
El caso igualmente significativo de territorios de exploración de nuevos modelos socio-económicos, como es el caso de ECUADOR, quien inscribiendo en su constitución un modo de desarrollo retomando las bases de la economía circular de su tradición cultural indígena, propone el "Buen Vivir". La búsqueda de una transición hacia otros modelos productivos aporta una respuesta urbana hacia las ciudades del conocimiento de la cual, Ciudad Yachay, una ciudad nueva ejemplo de este proceso, es una concretización de esta sui generis experiencia en este continente.
Una brillante presentación de la Regidora – Presidente del desarrollo urbano, medio ambiente y ecología de Puebla, quien ilustró de manera profunda y con emoción ese concepto de ciudad contextualizada con el desarrollo propio de Puebla a través su historia, con sus características culturales, socio-económicas y de comportamiento, que construyeron una ciudad con un urbanismo en el cual más marcas de desigualdad y desequilibrios obligan a buscar nuevos modelos. El proceso de Smart City de PUEBLA, es una herramienta de reflexión y de transformación para ese futuro de mutación y de transición urbana.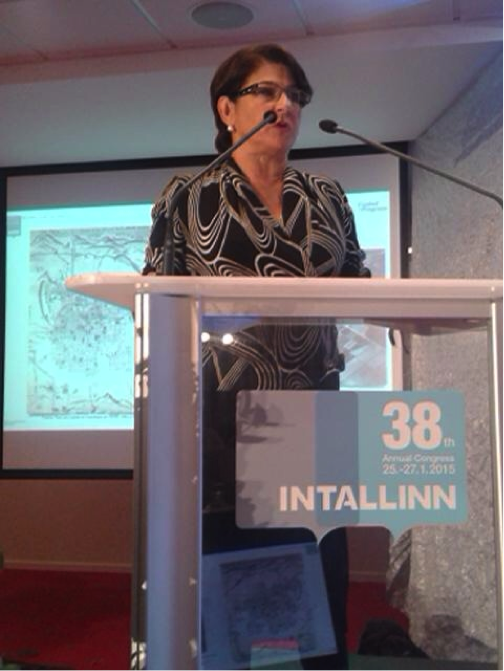 El CONTINENTE AFRICANO, una vez más reafirma la importancia estratégica que representa para la humanidad. Su desarrollo vertiginoso a nivel demográfico y la existencia de grandes megalópolis confrontadas a las duras realidades de la satisfacción de necesidades, nos interroga sobre la imperiosa necesidad de ver la inteligencia urbana como un proceso socialmente inclusivo antes que una fuente de experimentación tecnológica. No hay lugar a dudas que el testimonio de esta parte del mundo conlleva a priorizar esas cuatro líneas de acción imperativas para un desarrollo mas equilibrado:
– Privilegiar la calidad de vida en el corazón del proyecto urbano ciudadano.
– Reducir imperativamente el consumo de recursos naturales e integrar esta accionen las diferentes funciones urbanas.
– Dar paso a una real gobernanza territorial fuerte y participativa.
– Desarrollar procesos capaces de adaptarse a las culturas y contextos locales.
Las CIUDADES DE ASIA-PACÍFICO aportan el testimonio concreto de un desarrollo urbano a un ritmo sin precedentes en la historia de la humanidad, con la consecuente presión que esto conlleva en las infraestructuras. Es el caso de Indonesia, Malasia, Singapur, Tailandia, Taiwán, China, Corea, Japón y sus mega-ciudades… Este desarrollo, impetuoso de los últimos 30 años, coloca las gobernanzas de las ciudades de esta parte del mundo en un desafío dramático frente a este tipo de modelo de desarrollo. Ya no se trata solamente de luchar contra la congestión del tráfico y la polución. Más allá, se trata de interrogarse sobre cuáles son los valores que orientan este desarrollo urbano y cómo darles otra orientación en la búsqueda de un equilibrio de naturaleza diferente, entre la demanda de servicios para las personas y los habitantes, y la oferta masiva de las nuevas tecnologías. ¿Es aún posible de encontrar otros modelos económicos para la ciudad?
La pregunta está abierta, aún sin respuestas, pero el hecho de formularla y de discutirlo como se hizo en el Consejo Mundial del Desarrollo Urbano y de abordarla en el marco de INTA38, es una muestra de la necesidad vital que representa.
Las ciudades que llevan adelante los grandes proyectos "Smart durables", ¿están en capacidad de mostrar el aporte en la calidad de vida ciudadana como salto cualitativo para su desarrollo? La respuesta aportada en INT38 va en ese sentido y es el testimonio de ciudades en distintas partes del mundo que integran esta visión. Los países nórdicos nos dicen que más allá de aportar una respuesta durable a las exigencias medioambientales, la invitación es a explorar otro tipo de urbanidad, a construir otro tipo de relación entre el ciudadano y la ciudad, a privilegiar la calidad de vida con otros servicios cambiando de paradigma en el cual el desarrollo de la infraestructuras se proyecta de manera diferente, para dar paso a una visión más abierta y transversal, en particular frente, a los espacios públicos.
El análisis aportado en INTA38 sobre la dimensión espacial en el re-design urbano de 30 ciudades Europas y el desarrollo de operaciones de "acupuntura urbana" muestra que la relación de la calidad de vida del ciudadano y su nivel de identificación y de aceptabilidad social va de par con una realidad distinta hacia los espacios públicos, zonas verdes, zonas de agua, información sobre la calidad del aire, peatonización, zonas caminables, hibridación de espacios culturales, apertura hacia espacios de juegos y animaciones de proximidad. Sin lugar a dudas, una nueva percepción de la redes sociales de proximidad identificada con la ciudad y el territorio hibrido espacio territorial, geográfica y espacios digitales entran ahora en consideración como eje de desarrollo de esta nueva civilidad urbana.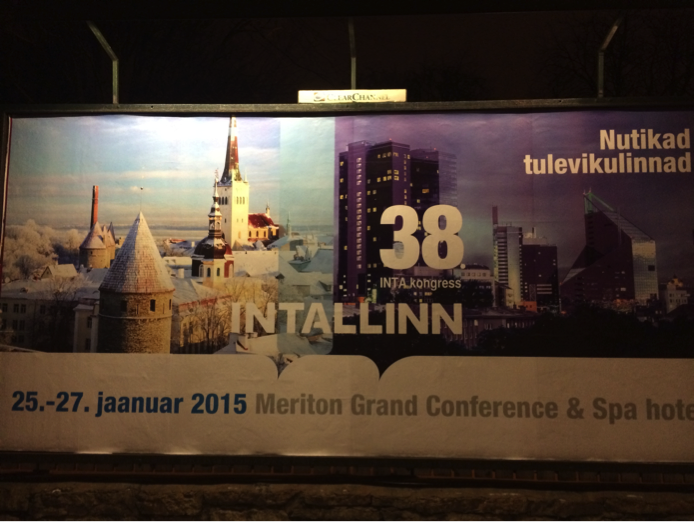 CONCLUSIÓN
Es claro, a manera de conclusión, que se trata de continuar esta ruptura de paradigma con respecto a las ideas convencionales que poseemos frente al entorno urbano, la espacialidad, la naturaleza, la naturaleza del crecimiento económico y la propiedad en un mundo qua cambia, con revoluciones tecnológicas profundas al mismo tiempo y que nos exige a nosotros mismos en nuestras ciudades operar nuestros propios cambios.
Para terminar, Amigos Lectores, sobre este tema volveré la semana próxima con anuncios especiales, fue igualmente un gran placer haber sido invitado a presentar al Consejo de Administración de la INTA el Foro Internacional de la Smart City Humana, que tengo el honor de presidir "Live in a Living City". Una decisión estratégica fue tomada al considerar el INTA como socio permanente de este evento y preparar con los miembros un calendario de eventos que tendrán lugar en Asia, África, América Latina y Europa ,en particular en la perspectiva de la preparación de la conferencia mundial UN HABITAT III, el próximo gran Foro Mundial Urbano, que tendrá lugar en Quito en octubre del 2016.
Una nueva etapa se abre con el Foro "Live in a Living City" y estaremos informando próximamente los lectores de I-AMBIENTE de nuestras próximas citas iberoamericanas.
Hasta la semana próxima.
París, 3 febrero 2015