Dans sa newsletter #7, le Professeur Carlos Moreno annonce son départ de ENGIE INEO, la création de sa nouvelle holding personnelle InTI ainsi que ses nouveaux engagements autour de la disruption et de l'innovation et en particulier la ville intelligente et humaine. Retrouvez également ses derniers billets rédigés, les dernières conférences auxquelles il a assisté ainsi que les prochains événements auxquels il participera.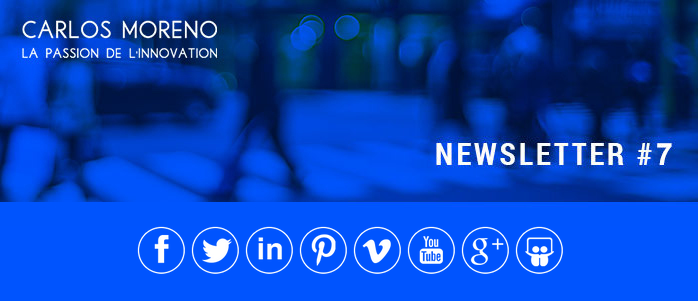 Professeur, chercheur, innovateur, entrepreneur, personnalité scientifique internationale, j'ai rejoint INEO en 2010, à l'époque GDFSUEZ, devenu aujourd'hui ENGIE INEO, lors de l'acquisition de ma start up SINOVIA. Peu de temps après, je suis devenu conseiller scientifique de son PDG Guy Lacroix, qui vient de quitter son poste le 1er octobre.
J'ai passé cinq années extraordinaires à ses cotés en lui apportant ma vision et expertise dans mes domaines de compétences : la puissance de la révolution ubiquitaire du XXIème siècle, l'irruption massive du design de services, la mutation de nos vies urbaines et territoires, la disruption par les nouveaux usages portés par les plateformes.
Sur la scène nationale et internationale, j'ai également porté les valeurs d'INEO ex Cofely, ex GDFSUEZ, maintenant ENGIE et sa volonté pionnière innovatrice dans un monde en mouvement.
Une page se tourne dans mon parcours puisque j'ai quitté ENGIE INEO au 1er décembre.
Je remercie celles et ceux avec qui j'ai pu partager réflexions, actions et expériences ainsi que toutes les formidables équipes avec qui j'ai pu collaborer.
Mes remerciements vont également aux partenaires et à l'éco système du Groupe avec qui j'ai toujours pris un très grand plaisir à interagir.
L'heure est pour moi de poursuivre mon chemin avec de nombreuses initiatives et projets qui me tiennent à cœur et d'en initier bien d'autres 😉
Au travers de ma holding personnelle InTI, mais aussi du Forum international de la Smart City Humaine « Live in a Living City » et d'autres engagements existants et à venir, plus que jamais ma vision, mon savoir-faire, mon expérience, mes pratiques comme scientifique et également comme humaniste et citoyen – planétaire, seront au service de l'innovation, de la rupture et de la transformation de nos vies, villes et territoires.
Professor, researcher, pioneer, entrepreneur, international scientific personality, I joined in 2010 INEO, becoming today INEO ENGIE, during the acquisition of my start-up SINOVIA. A short time later, I became a scientific consultant of Guy Lacroix, who has just left his post of CEO, on October 1st.
I spent extraordinary years by his side  to bring him my vision and expertise in my fields of competence : the power of the ubiquitous revolution of the XXIth century, the massive irruption of the design of services, the transfer of our urban lives and our territories, the disruption by the new uses through platforms.
I have brought to the national and international forefront, the values of INEO exCofely, exGDFSUEZ neo-ENGIE so as its innovative and pioneer will in a shifting world.
However this chapter of my life has come to an end since I decided to leave ENGIE INEO on December 1st.
I thank those with whom I was able to share reflections, actions and experiences as well as all the great teams of INEO and ENGIE with whom I was able to collaborate.
My thanks go to the partners and to the eco system of the Group with whom I always took a very great pleasure to interact.
Time has come for me to pursue many initiatives, projects and commitments which mean a lot to me and to start many others 😉
Through my holding company staff INTI, but also through the international Forum of the Human Smart City "Live in a Living City" and other existing and forthcoming commitments, more than ever my vision, know-how, experience, practices as a scientist and also as a humanist and global citizen, will stay at the service of innovation,  break and transformations of our lives, cities and territories.
Profesor, investigador, innovador, empresario, personalidad científica internacional, entré en INEO GDFSUEZ en 2010, hoy INEO ENGIE, en el momento de la compra de mi Start up SINOVIA. Poco tiempo después, fui nombrado consejero científico del CEO Guy Lacroix, quien acaba de dejar su función, el 1° de octubre.
He pasado 5 años extraordinarios a su lado para aportarle mi visión y experiencia en mis áreas de competencia: el poder de la revolución ubiquitaria del siglo XXI, la irrupción masiva del diseño de servicios, la mutación de nuestras vidas urbanas y nuestros territorios, la disrupción por los nuevos usos a través las plataformas.
He llevado en alto en la escena nacional e internacional, los valores de INEO y del Grupo exGDFSUEZ, ENGIE y su voluntad pionera innovadora en un mundo en movimiento.
A partir del 1° de diciembre, una página queda atrás en mi trayectoria, partiendo de INEO y de ENGIE.
Agradezco a todos aquellos con los que pude compartir reflexiones, acciones y experiencias así como todos los formidables equipos con los que pude colaborar.
También agradezco a los partners y eco sistema del Grupo, con los que tuve siempre un gran placer de interactuar.
La hora ha llegado para mí de proseguir mi camino con múltiples iniciativas, proyectos y compromisos  y de comenzar otros 😉
A través de mi holding personal InTI, desde el Foro internacional de la Smart City Humana « Live in a Living City », con los compromisos existentes y otros que vienen, más que nunca mi visión, Know – How, experiencia y prácticas científicas al igual que como humanista y ciudadano – planetario, estarán al servicio de la innovación, la ruptura y las transformaciones de nuestras vidas, ciudades y territorios.