As part of my weekly contributions on the topic of the Living City and my partnership with the Tribune on behalf of the Forum for Connected Smart Cities, I had the idea of offering a series of articles that will each focus on a selected world city. The goal of these articles is to identify some best practices that could generate ideas and inspiration regarding various aspects of the Living City: resilience, social inclusion, the sharing economy, sustainable development and resource management, new business models and so on. This week we'll learn about the Colombian city of Medellin – invited to take part in the Forum des Villes in Bordeaux on 3 April – which has used social innovation to bring about a hugely successful transformation.
In 2012, to general surprise,
the Wall Street Journal
named Medellin, capital of Colombia's Antioquia region and the country's second largest city by population, "the most innovative city in the world". It's a well-earned distinction when you consider the extraordinary changes the city has successfully wrought over the past two decades. Back in the 1990s, Medellin was considered the most violent city in the world: in 1991 it logged a record 390 homicides per 100,000 residents. Today, Medellin can boast of having slashed its murder rate by 95% and reduced from 8% to 3% the number of residents living in extreme poverty (defined by the country's national statistics office as a monthly income of less than €33.80, considered inadequate to satisfy basic dietary requirements). This radical transformation is the result of an exemplary commitment by municipal leaders across the political spectrum to a shared vision, one that uses a pioneering form of social planning to focus priority attention on the city's most vulnerable residents and neighbourhoods.
This vision took the form of multiple urban development projects, all undertaken with one goal in mind: to build a more humane city that embraces life. For example, the city implemented several creative transport solutions, offering a variety of services that are unique worldwide. A symbol of this innovative urban mobility is the Metrocable, an aerial cable car public transit system linked to the city's underground that has provided new access to urban transit in areas where it was previously unavailable. The transit network also includes an extensive bus system, a bicycle sharing programme and a new tramway currently under construction. And in this city built on a series of mountains, escalators have been constructed to improve daily life for residents.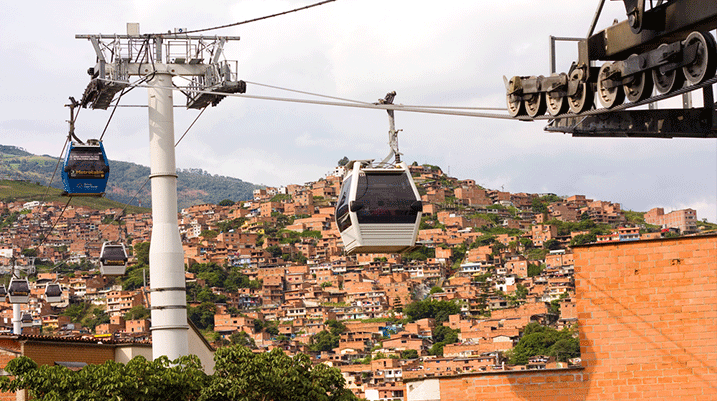 Heavy emphasis has also been placed on improving universal access to educational and cultural opportunities. A prominent example of this commitment are the UVAS (Unidades de Vida Articulada), popular community clubs that have been set up alongside the municipal reservoirs supplying water to residents living at high and medium altitudes. In the past, these reservoirs were walled off, while the surrounding population had no access to public green space. So the walls and fencing were taken down, to bring residents closer together and to help forge community ties; the reservoirs still serve their original purpose but have also been transformed into UVAS sites that offers sporting, leisure and educational facilities for the public. Another example is the Buen Comienzo child care centres for young children from low-income families. They offer high-quality health and nutrition services, recreational facilities and schooling. A civics education programme using innovative instructional methods has been set up in each of the city's public schools: City School provides after-school activities for all students as well as additional instruction in four areas: culture, science and technology, sport and recreation, and language learning. The municipal government has also created public spaces that serve as both parks and libraries. They have emerged as community gathering places that contribute significantly to social inclusion by being accessible to all residents, regardless of where they live.
Medellin has also pursued an active commitment to arts and culture in recent years. The Museum of Antioquia and Sculpture Park, which features the work of Medellin artist Francisco Botero, are just two examples of the municipal government's desire to bring art to every corner of the city. In addition, Medellin has developed an extensive system of music conservatories, the Medellin Network of Music Schools. And then there is the House of Memory Museum, which commemorates Medellin's years of violence in the hopes they will never be repeated–part of a significant project to jointly create and pass on a collective urban memory.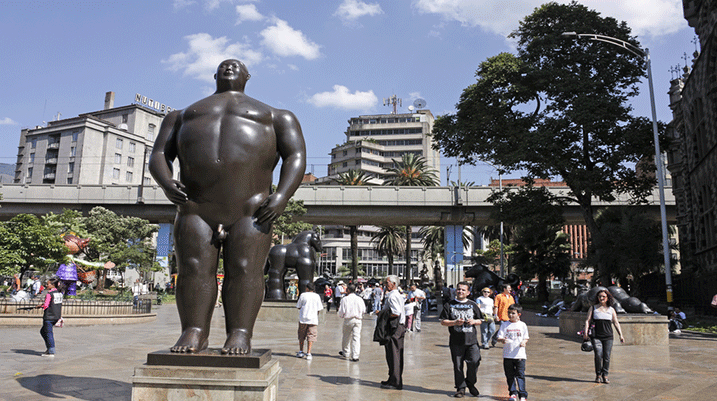 Another of Medellin's ambitious redevelopment projects aimed at fostering social inclusion involves a different aspect of the living city: parks and the environment. The garden walkway that comprises one section of the Green Belt circling the city is part of a medium- and long-term strategy to transform the transitional areas that lie between the city and the surrounding rural districts, areas that are currently home to makeshift dwellings (favelas) lacking any public services. The city's goal is to prevent these areas from expanding any further and improve living conditions for their residents. A pedestrian beltway has been constructed, featuring bicycle paths as well as municipal centres that offer medical, educational and recreational facilities. In addition, Medellin is planning to build parks all along its riverside: the Medellin River Parks project is designed to transform the river into an "environmental hub", whose impact spreads beyond the city into the surrounding region.
Lastly, I should highlight the efforts being made to develop and strengthen this culture of innovation among the city's population, stemming from the idea that the city does not belong solely to the government or the universities but to the people of Medellin themselves. The municipal government, in partnership with the city council, has adopted a Science, Technology and Innovation Plan for the years 2012 – 2021, designed to attract local, national and international private investors. The city has also signed a Pact for Innovation that will increase its innovation budget from 0.75% to 2% of GDP over the next three to four years. Moreover, Medellin is in the process of redeveloping an entire city neighbourhood into what will be known as the Innovation District. Plans are to develop more than a million square metres of commercial space over the next decade, specifically designed for investors in fields such as energy and new information and healthcare technology.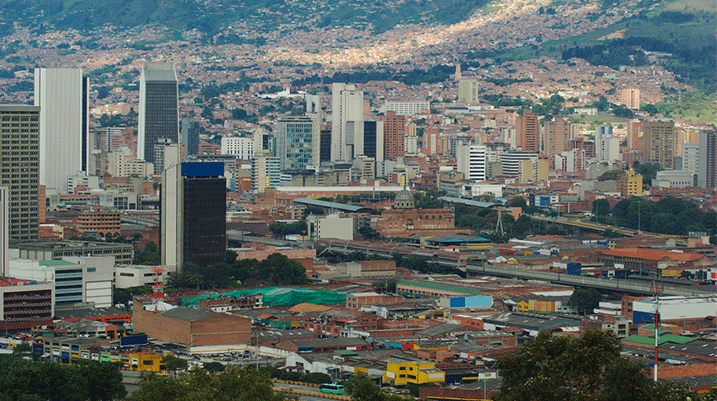 These few examples will, I believe, demonstrate the impressive urban and, above all, cultural transformation that Medellin has successfully carried out in recent years. The truly ground-breaking nature of the city's strategy is its commitment to equity, rooted in five aspects of civic life: transparency, participation, non-violence, innovation and resilience. The results are on a par with the issues at stake.
Link to interview with Anibal Gaviria, Mayor of Medellin, Colombia:
En 2012, à la surprise générale,
le Wall Street Journal
élisait Médellin, capitale de la région d'Antioquia et seconde ville de Colombie par sa population, « ville la plus innovante au monde ». Une distinction pourtant largement méritée si l'on se penche sur l'exceptionnelle mutation qu'a réussi cette ville en une vingtaine d'années. Dans les années 90, Médellin était considérée comme la ville la plus violente du monde – en 1991, elle a atteint le taux record de 390 homicides pour 100 000 personnes. Aujourd'hui, Médellin peut se targuer d'avoir réduit de 95% ce taux et d'avoir fait reculer de 8 à 3% son taux de population touchée par la pauvreté extrême (soit, d'après l'institut national de statistiques colombien, des revenus mensuels inférieurs à 33,80 euros, considérés comme insuffisants pour satisfaire les besoins alimentaires de base). Cette profonde transformation est le fruit d'un engagement exemplaire de la gouvernance sur plusieurs mandats – et ce, quel que soit le bord politique des dirigeants – autour d'une vision commune : donner la priorité, par une planification sociale pionnière, aux populations et aux territoires les plus vulnérables.
Cette vision a porté de nombreux projets de développement urbain dont la finalité était toujours la même : bâtir une ville plus humaine, tournée vers la vie. La ville a ainsi mis en œuvre des solutions de mobilité créatives, avec une variété de services qui sont aujourd'hui uniques au monde. Symbole de cette mobilité urbaine innovante, le Métrocâble, un système de téléphérique utilisé comme transport urbain, relié au métro, qui a permis de désenclaver des quartiers de la ville qui en étaient auparavant exclus. Une vaste couverture de bus, un système public de vélos en libre-service et un nouveau tramway, en cours de construction, viennent compléter le dispositif. Des escalators ont été installés dans la ville pour améliorer la vie quotidienne des résidents dans une ville bâtie sur un ensemble de montagnes.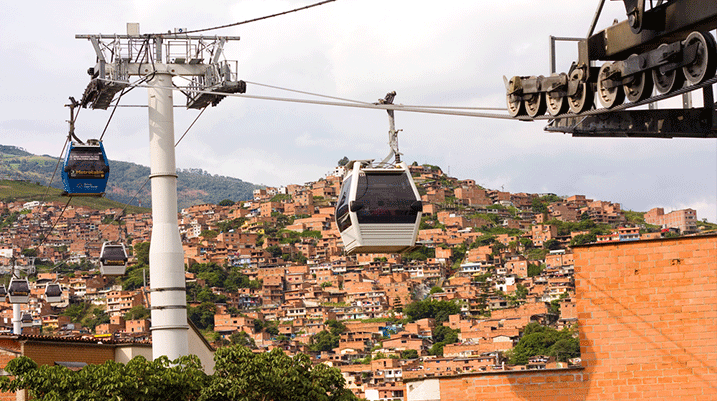 L'accent a par ailleurs été très fortement mis sur l'accès à l'éducation et la culture pour tous. Symbole de cet engagement, les UVAS (Unidades de Vida Articulada) : il s'agit de clubs sociaux populaires, qui ont été installés à côté des réservoirs à eau de la ville qui alimentent les habitations situées à haute et moyenne altitude. Ces réservoirs étaient autrefois entourés de murs et la population alentour ne disposaient pas d'espace public. Les murs et les côtures ont donc été supprimés pour rapprocher les habitants et favoriser la construction du lien social et les réservoirs, tout en conservant leur fonction d'origine, ont été transformé en UVAS, regroupant des équipements de sport, de loisir et d'éducation à destination des habitants. Autres exemples forts : les garderies Buen Comienzo accueillent les jeunes enfants des familles à revenu modeste en proposant de services de santé, de nutrition, de loisir et d'éducation d'excellente qualité. Un programme d'éducation civique, composé d'un parcours pédagogique innovant, a été mis en place dans toutes les écoles publiques de la ville : City School propose ainsi à tous les élèves des activités extrascolaires et des cours complémentaires dans quatre domaines : culture, science et technologie, sports et loisirs, apprentissage des langues. La municipalité a aussi aménagé des espaces publics qui font à la fois office de parcs et de bibliothèques. Ils sont devenus des lieux de vie qui contribuent fortement à l'inclusion sociale en étant accessibles à tous les habitants, tous quartiers confondus.
En matière de culture, Médellin a également mis en œuvre une politique active au cours des dernières années. Le musée d'Antioquia et la Place des Sculptures, ornée des œuvres de Botero, originaire de la ville, sont deux exemples qui illustrent bien la volonté de la municipalité d'amener l'art dans tous les recoins de la ville. Un réseau dense de conservatoires de musique a par ailleurs été mis en place par la ville (Network of Music School of Medellin). Citons enfin la création du House of Memory Museum, qui vise à commémorer, pour ne pas les répéter, les années de violence de Médellin – dans une intéressante démarche de co-construction et transmission de la mémoire urbaine collective.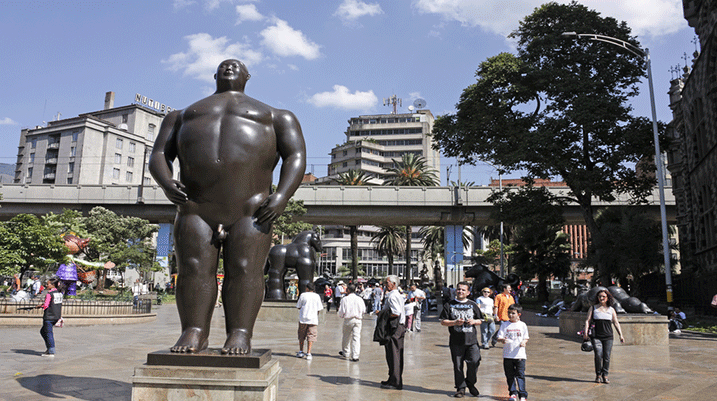 Autre dimension essentielle d'une ville vivante, l'environnement et les espaces verts de la ville font actuellement l'objet d'aménagements ambitieux, toujours dans une perspective d'inclusion sociale. Le Garden Walkway, qui fait partie de la ceinture verte de Médellin (Médellin Green Belt) s'inscrit ainsi dans une stratégie à moyen et long terme pour transformer les zones intermédiaires, se trouvant entre les zones urbaines et les zones rurales environnantes, aujourd'hui construites avec des habitations de fortune sans accès aux services publics (favelas). L'objectif est de limiter leur extension, tout en y créant des conditions de vie meilleure. Une ceinture piétonne dotée de pistes cyclables, ponctuée de bâtiments dédiés à la santé, l'éducation, le sport et les loisirs, a été aménagée. Médellin projette en outre de construire des parcs tout le long de la rivière : Médellin River Parks vise à transformer la rivière en un « hub environnemental » dont le rayonnement s'étendra au-delà de la ville, au niveau régional.
Je soulignerai, pour finir, les efforts qui sont faits pour développer et renforcer la culture de l'innovation parmi les habitants, dans l'idée que celle-ci n'appartient pas seulement aux gouvernement ou aux universités, mais bien aux citoyens eux-mêmes. La municipalité a mis sur pied, avec le Conseil de la Ville, un Programme des Sciences, Technologies et Innovations destiné à attirer les investisseurs privés, locaux, nationaux et étrangers, qui court de 2012 à 2021. Un Pacte Medellin Innovation a également été signé pour faire passer, d'ici trois ou quatre ans, le budget de la ville en matière d'innovation de 0,75 à 2% de son PIB. Médellin, enfin, est en train d'aménager un quartier entier de la ville (Innovation District) consacré à l'innovation. Il est prévu d'y développer, dans les 10 prochaines années, plus d'un million de m2 d'espaces dédis aux investisseurs dans les domaines, notamment, de l'énergie, des nouvelles technologies de l'information et de la santé.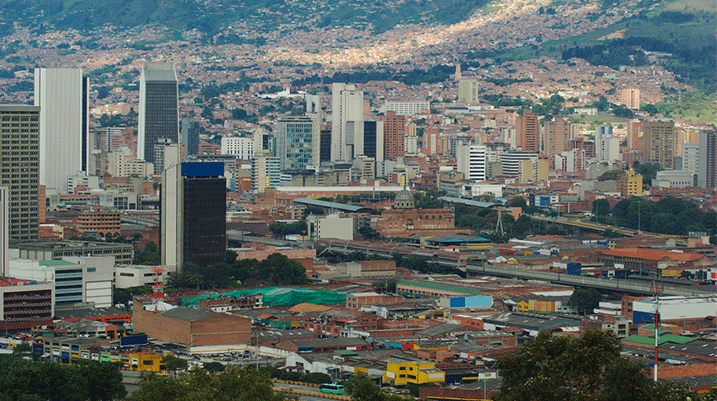 Ces quelques exemples démontrent bien, je pense, l'impressionnante transformation urbaine que Médellin a réussi à mettre en œuvre en en faisant, avant tout, une transformation culturelle. La vraie révolution menée par cette ville est en effet celle de l'équité, qu'elle a fondée sur cinq aspects de la vie citoyenne : la transparence, la participation, la non-violence, l'innovation et la résilience. Le résultat est à la hauteur des enjeux.
En el ámbito de mis contribuciones semanales sobre el tema de la Ciudad Viva y en mi nueva colaboración semanal con el Diario francés "La Tribune", mas la preparación para los Foros de las Metrópolis Inteligentes y Conectadas, deseé proponer una serie de artículos que harán un focus cada uno sobre una ciudad del mundo. El objetivo: descrbir buenas prácticas que podrán constituir una fuente de reflexión y de inspiración en diversos dominios de la Ciudad Viva: resiliencia, inclusión social, economía del compartir, desarrollo sostenible y manejo de los recursos, nuevos modelos de negocios etc.
Esta semana, en exclusividad para I-AMBIENTE en español, descubrimos la ciudad de Médellin, en Colombia – que he invitado a la sesión del Foro de las ciudades inteligentes y humanas de Burdeos el próximo 3 de abril – y quien ha desarrollado de manera ejemplar ante el mundo su transformación apostando por la innovación social, urbana, con la tecnología al servicio de una ciudad para la vida.
En 2012, sorpresa general, el Wall Street Journal elegía Medellín, capital de la región de Antioquia y segunda ciudad de Colombia por su población, «ciudad más innovante en el mundo». Una distinción ampliamente merecida y reconocimiento a la mutación urbana excepcional que con éxito ha tenido esta ciudad en una veintena de años. En los años 90, Medellín era considerada como la ciudad más violenta del mundo – en 1991, alcanzó la tasa récord de 390 homicidios por 100 000 personas. Hoy, Medellín puede enorgullecerse de haber reducido el 95 % esta tasa y de haber hecho retroceder del 8 al 3 % su tasa de población tocada por la pobreza extrema (a saber, según el Instituto Nacional Colombiano de Estadísticas, rentas mensuales inferiores a 33,80 euros, consideradas como insuficientes para satisfacer las necesidades alimentarias de base). Esta transformación profunda es el fruto de un compromiso ejemplar de la gobernanza sobre varios períodos – y esto, cualquiera que haya sido la orientación política de los dirigentes – alrededor de una visión común : darle la prioridad, a una planificación social pionera, a las poblaciones y a los territorios más vulnerables.
Esta visión llevó numerosos proyectos de desarrollo urbano cuya finalidad era siempre la misma: edificar una ciudad más humana, como ciudad para la vida, el lema de Medellín, conocido ahora a través del mundo. La ciudad puso en ejecución así soluciones creativas de movilidad, con una variedad de servicios que hoy son únicos en el mundo. Símbolo de esta movilidad urbana innovante, METROCABLE, un sistema de teleférico utilizado como transporte urbano que permitió poner fin a un enclave de barrios populares de la ciudad, comunas, que antes estaban excluidas. Una vasta malla de servicio de autobús, un sistema público de bicicletas en autoservicio y un nuevo tranvía, en curso de construcción, vienen completar el dispositivo. Escaleras mecánicas, que le han dado la vuelta al mundo, han sido instaladas en barrios para mejorar la vida cotidiana de los residentes en una ciudad edificada en un entorno montañoso.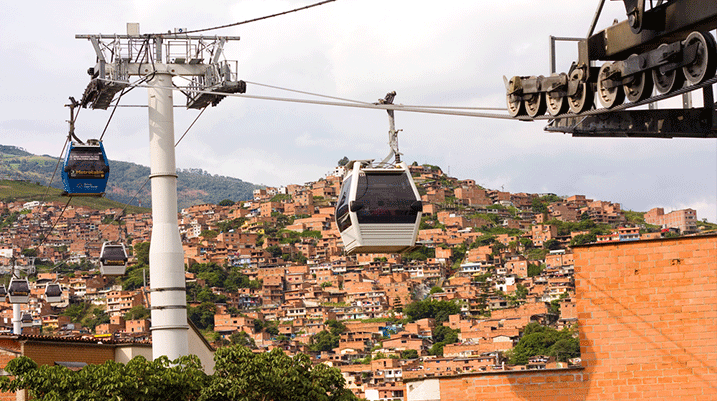 El acento ha sido puesto fuertemente por otra parte sobre el acceso a la educación y la cultura para todos. Símbolo de este compromiso, las UVAS (Unidades de Vida Articulada): se trata de clubs sociales populares, que han sido instalados al lado de las reservas de agua de la ciudad que alimentan las viviendas situadas en alta y media altitud. Estos depósitos fueron protegidos y aislados en otros tiempos por paredes y la población alrededor no disponían de espacio público. Las paredes y las cercas han sido suprimidas para acercar a los habitantes y favorecer la construcción del lazo social mientras los depósitos, conservando su función de origen, han sido transformados en UVAS, reagrupando equipos de deporte, de ocio y de educación con destino a los habitantes. Otros ejemplos en esta línea de acción : las GUARDERÍAS "Buen Comienzo" acogen a los niños de familias con ingresos modestos proponiendo servicios sanitarios, nutrición, ocio y educación de excelente calidad. Un programa de educación cívica, compuesto de una continuidad pedagógica innovadora, ha sido desarrollado en todas las escuelas públicas de la ciudad: City School les propone así a todos los alumnos actividades extraescolares y cursos complementarios en cuatro áreas: cultura, ciencia y tecnología, deportes y ocio, aprendizaje de lenguas. La municipalidad también dispuso espacios públicos que son al mismo tiempo parques y bibliotecas. Se convirtieron en lugares de vida que contribuyen fuertemente a la inclusión social siendo accesibles a todos los habitantes, de todos los barrios.
En el sector de la cultura, Médellin también puso en ejecución una política activa durante los últimos años. El museo de Antioquia y la Plaza de las Esculturas, adornada con las obras de Botero, originario de la ciudad, son dos ejemplos que ilustran bien la voluntad de la municipalidad de traer el arte en todos los lugares de la ciudad. Una red densa de conservatorios de música ha sido organizada por la ciudad (Network of Music School of Medellin). Citemos finalmente la creación de House of Memory Museum, que pretende conmemorar, para no repetirlos, los años aciagos de la violencia de Médellin – en una interesante acción de co – construcción y transmisión de la memoria urbana colectiva.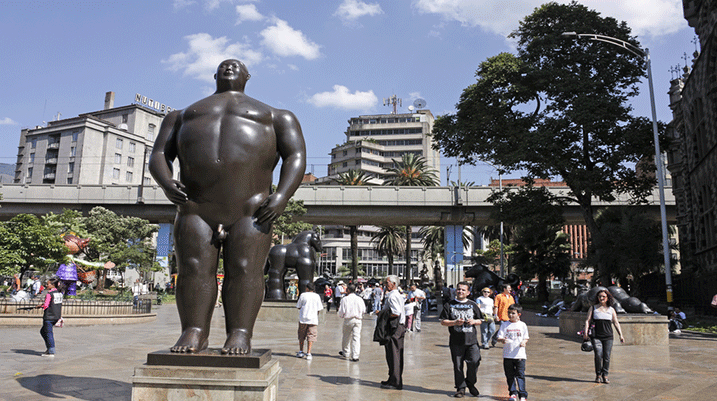 Otra dimensión esencial de una ciudad viva, el medio ambiente y los ESPACIOS VERDES de la ciudad son objeto actualmente de disposiciones ambiciosas, siempre en una perspectiva de inclusión social. Garden Walkway, que forma parte del cinturón verde de Médellin (MEdellÍn Green Belt) se inscribe así en una estrategia a plazo medio y largo para transformar las zonas intermedias, situadas entre las zonas urbanas y las zonas rurales cercanas, que han sido construidas con viviendas de fortuna sin acceso a los servicios públicos (favelas). El objetivo es de limitar su extensión, creando allí condiciones de una mejor vida. Un cinturón peatonal dotado de pistas para ciclistas, con edificios dedicados a la salud, la educación, el deporte y el ocio, ha sido construido. MEdellÍn proyecta construir una zona de parques junto al río: MedellÍn River Parks pretende transformar el río en un «hub medioambiental» cuya presencia se extenderá más allá de la ciudad, impactando a nivel regional.
Subrayaré, para terminar, los esfuerzos que han sido hechos para desarrollar y reforzar la CULTURA DE LA INNOVACIÓN entre los habitantes, con la idea que ésta no pertenece solamente al gobierno o a las universidades, sino más bien a los ciudadanos mismos. La municipalidad ha creado con el Consejo de la Ciudad, el Programa de las Ciencias, Tecnologías e Innovaciones destinado a atraer a los inversionistas privados, locales, nacionales y extranjeros, el cual se proyecta del 2012 al 2021. Un Pacto Medellin Innovación también ha sido firmado para hacer pasar, en tres o cuatro años, el presupuesto de la ciudad en materia de innovación del 0,75 al 2 % de su PIB. Médellin, finalmente, está planificando una zona de la ciudad (Distrito de la Innovación) consagrado a la innovación. Está previsto de desarrollar allí, en los 10 próximos años, más de un millón de m2 de espacios que serán dedicadas a las inversiones en áreas tales la energía, las nuevas tecnologías de la información y la salud.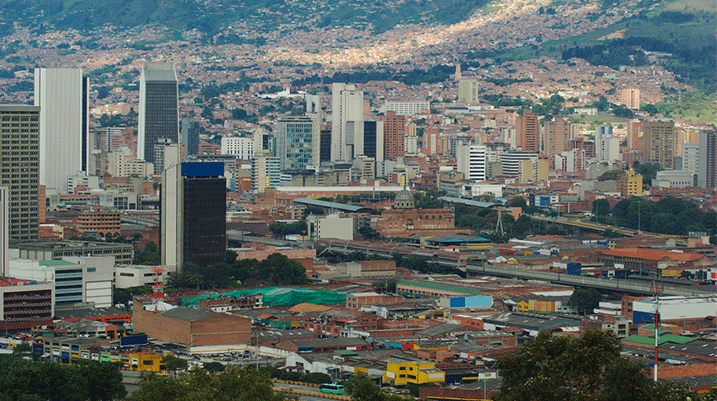 Estos varios ejemplosmuestran bien, pienso, la impresionante transformación que Medelíin consiguió poner en ejecución haciendo, ante todo, una transformación cultural, social y urbana. La verdadera revolución llevada por esta ciudad es en efecto la de la equidad, que s escribe con la E de educación, como lo explico en París en el Foro Smart City del Gran Paris en noviembre cuando invitamos al Alcalde Aníbal Gaviria. El nos precisaba que esta acción estratégica de Ciudad para la Vida está fundada sobre cinco aspectos claves de la vida ciudadana: la transparencia, la participación, la acción sin violencia, la innovación y la resiliencia. El resultado está a la altura de los desafíos y la comunidad internacional lo ha reconocido con los multiples premios que le ha dado a Medellín.
Un ejemplo que podemos resaltar en esta crónica internacional de una "Liveable City", una Ciudad Viva, en la cual la inclusion social, la re invencion urbana y los avances tecnologicos estan al servicio de lus usos y servicios de los ciudanos para mejorar la calidad de vida.
¿No es esto en realidad lo que promovemos cuando hablamos de la Smart City humana, con esta vision de la Metropolis Inteligente y Humana?
Entrevista video de Anibal Gavria, Alcalde de Medellin (Colombia):