Chers lecteurs,
Le 4 mars dernier, le Blog « La passion de l'innovation » est né afin d'accompagner mon activité sous un nouveau format, multimédia et multicanal.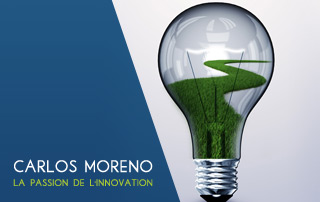 A l'approche des vacances d'été en France, je souhaiterais tout d'abord vous remercier pour votre soutien venu des quatre coins du monde – pour vos encouragements, vos félicitations et tous vos messages de sympathie, qui font partie de cette dynamique, à la fois créative et riche, de partage autour de cette thématique qui m'est si chère : innover, c'est-à-dire pousser les frontières dans tous les sens du terme, décloisonner, participer au brassage indispensable pour trouver de nouvelles voies pour l'avenir.
Mon Blog est rythmé par des publications régulières qui sont, grâce à vous, un succès : l'interview vidéo d'une personnalité le lundi, mon billet du mercredi, un article d'actualité un mardi sur deux, une réflexion de fond le dernier jeudi de chaque mois, ainsi qu'une newsletter trimestrielle. Il est complété par de multiples canaux qui illustrent la diversité du numérique : une page Facebook, une communauté Google+, des vidéos sur Vimeo, des collections de photos sur Pinterest, des slideshows accessibles par Slideshare, un lien professionnel permanent sur LinkedIn et un fil d'animation sur Twitter. Je fais par ailleurs un effort pour qu'un maximum des informations publiées soit accessible en 3 langues : français, espagnol, anglais.
Au fil de l'eau, chacune des rubriques s'enrichit en fonction de l'actualité mais aussi de mon agenda, puisque chaque intervention publique (conférence, congrès, interview, article etc.) est pour moi l'occasion de rendre visible mon engagement dans la vie scientifique, technologique, de l'innovation et du numérique, en France et partout dans le monde.
Conscient de l'importance du multimédia, mais aussi du besoin de disposer des interfaces adaptées et d'optimiser le temps de chacun, je me suis également efforcé de proposer un accès convivial et interactif à cette palette de canaux qui sont tous reliés les uns aux autres – sciences de la complexité oblige… 😉
Mais le jeu en valait la chandelle, car l'accueil de la communauté s'est révélé très positif. L'audience globale, tous supports confondus, est exceptionnelle. Un grand merci donc à toutes et à tous !
Alors que les congés estivaux démarrent en France, je suspends mes publications jusqu'à la rentrée. Durant l'été, le Blog sera animé par des rediffusions et la préparation de l'actualité de la rentrée qui s'annonce, d'ores et déjà, bien chargée.
Le workshop « Sytems of Systems in Technology Foundations » du Labex MS2T à Compiègne du 4 au 6 septembre, la Conférence internationale « Quand les Datas et les Objets deviennent communicants » de la fameuse « Boule de Cristal » de Montréal le 17 septembre ou encore la rencontre ibéro-américaine des Villes Numériques à Quito les 23 et 24 septembre, sont des rendez-vous de haut niveau que je prépare déjà.
La période estivale va également me permettre de peaufiner quelques annonces que je ferai dès la rentrée au sujet de nouvelles initiatives, qui vont me permettre de continuer à jouer le rôle d'animateur d'une communauté à la fois nationale et internationale sur des thèmes qui me/nous sont chers.
De nouveaux rendez-vous majeurs, dont je ferai bientôt part, sont en préparation, toujours sur la base d'une intelligence collaborative afin de poursuivre le partage, les échanges, la réflexion commune – bref, le penser et l'agir ensemble.
Il s'agira, toujours, de privilégier l'excellence, la qualité, le professionnalisme, le travail en réseau, les regards croisés, l'altérité, le maillage comme source de création collective.
Voilà comment je souhaite continuer à apporter ma pierre pour transformer nos vies et nos villes – en plaçant au cœur de ma démarche la science, la technologie, l'innovation, le numérique.
Participer à la construction d'un chemin, dont le but n'est autre que la co-construction, dans la découverte et l'étonnement, du chemin lui-même, est passionnant à vivre, même si ce chemin est long et pas toujours aisé ! Car c'est bien cela qui m'anime… La passion de l'innovation !
Bon été et bonnes vacances !
Una mirada antes de la pausa del verano…
Apreciados lectores:
El pasado 4 de marzo nació el blog "La pasión por la innovación" a modo de acompañamiento a mi actividad en un nuevo formato multimedia y multicanal.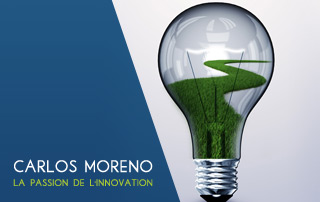 Ante la inminencia del periodo vacacional en Francia, es mi deseo, ante todo, agradecer el apoyo que me habéis brindado desde todos los rincones del mundo, los ánimos, las congratulaciones y todos los mensajes de simpatía que forman parte de esta dinámica, a la vez creativa y rica, que nos permite intercambiar opiniones sobre un tema que merece todo mi interés: innovar, es decir, llevar más lejos las fronteras en todos los sentidos del término, fomentar la apertura y participar en el mestizaje indispensable para encontrar nuevas vías de cara al futuro.
El ritmo de mi blog responde a publicaciones regulares que, gracias a todos vosotros, son un auténtico éxito: la videoentrevista del lunes a una personalidad, mi columna del miércoles, un artículo de actualidad un martes de cada dos, una reflexión de fondo el último jueves de cada mes y una newsletter trimestral. Todo ello completado con múltiples canales que ilustran la diversidad del mundo digital: una página en Facebook, una comunidad Google+, vídeos en Vimeo, colecciones de fotos en Pinterest, slideshows accesibles a través de Slideshare, un enlace profesional permanente en Linkedln y una película de animación en Twitter. Además, me esfuerzo para que la mayor parte de la información publicada pueda consultarse en tres idiomas: francés, español e inglés.
Cada una de las secciones se va enriqueciendo sobre la marcha no solo en función de la actualidad sino también de mi agenda, ya que aprovecho cada intervención pública (conferencia, congreso, entrevista, artículo, etc.) para hacer patente mi compromiso con la vida científica, tecnológica, de la innovación y del mundo digital, en Francia y en todo el planeta.
Soy consciente de la importancia del multimedia, y también de la necesidad de disponer de interfaces adaptadas y optimizar el tiempo de cada cual. Por eso me he esforzado en ofrecer un acceso agradable e interactivo a esta paleta de canales que están todos vinculados unos a otros, como no podía ser menos, tratándose de ciencias de la complejidad…;-)
Pero valía la pena, porque el recibimiento de la comunidad se ha revelado muy positivo. La audiencia global del conjunto de los soportes es excepcional. ¡Muchas gracias a todas y a todos!
Ahora que empiezan en Francia las vacaciones estivales, suspendo mis publicaciones hasta la vuelta. Durante el verano el blog seguirá vivo con la redifusión y la preparación de la actualidad de la próxima temporada que se anuncia ya muy cargada.
El workshop "Systems of Systems in Technology Foundations" de Labex MS2T en Compiègne del 4 al 6 de septiembre, la Conferencia internacional "Cuando los Datos y los Objetos se vuelven comunicantes" de la famosa "Bola de Cristal" de Montreal, el 17 de septiembre, o también el Encuentro Iberoamericano de Ciudades Digitales de Quito, los días 23 y 24 de septiembre, constituyen unas citas de alto nivel que ya estoy preparando.
Las vacaciones de verano van a permitirme asimismo perfilar algunas novedades que comunicaré a la vuelta sobre nuevas iniciativas, que me permitirán seguir desempeñando el papel de dinamizador de una comunidad a la vez nacional e internacional sobre temas que me/nos son sumamente gratos.
En breve comunicaré las fechas de nuevas citas importantes, actualmente en fase de preparación, siempre basadas en una inteligencia colaboradora, para poder seguir compartiendo, intercambiando y reflexionando en común: en una palabra, pensar y actuar conjuntamente.
Se dará preferencia, como siempre, a la excelencia, la calidad, la profesionalidad, el trabajo en red, las miradas cruzadas, la alteridad y el mallado como fuente de creación colectiva.
Así es como deseo continuar aportando mi granito de arena para transformar nuestras vidas y nuestras ciudades, confiando a la ciencia, la tecnología, la innovación y el mundo digital todo el protagonismo de mi iniciativa.
Participar en la construcción de un camino, cuyo objetivo no es otro que la coconstrucción, llena de descubrimientos y asombro, del camino en sí, es algo realmente apasionante, aunque el camino sea largo y no siempre fácil. Porque esto es lo que me anima… la pasión por la innovación.
Feliz verano y que disfrutéis de las vacaciones.
A word before the summer break
Dear Readers,
The blog "Passion for innovation" was launched on the 4th of last March in a new multimedia-multichannel format to accompany my work.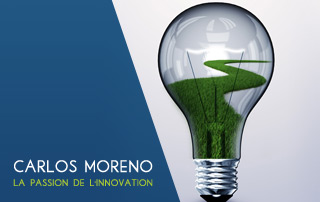 With the approach of the summer holidays in France, I would first like to thank you for your support, encouragement, congratulations and your many messages of support received from all over the world, which are an integral part of this rich, creative sharing dynamic on a theme that is close to my heart: innovation, which consists in pushing back boundaries in every sense of the term, decompartmentalising and participating in the cross-fertilisation of ideas indispensable to finding new avenues for the future.
My blog is punctuated by a number of regular publications which, thanks to you, are a success: a video interview with a notable personality on Monday, my column on Wednesday, a news article every other Tuesday, an in-depth analysis on the last Thursday of each month and a quarterly newsletter. It is supplemented by multiple complimentary channels that illustrate the diversity of digital media: a Facebook page, a Google+ community, videos on Vimeo, photo collections on Pinterest, slideshows accessible via Slideshare, a permanent professional link on LinkedIn and a hosted Twitter feed. I also make an effort to ensure that a maximum amount of published information is available in three languages: French, Spanish and English.
As the opportunity arises, each posting is enriched with input from current events and my schedule of activities, since for me, each public event (i.e. conference, convention, interview, article etc.) is an opportunity to enhance the visibility of my commitment to scientific and technological pursuits, particularly in the areas of innovation and digital convergence, in France and throughout the world.
I am well aware of the importance of multimedia, but also of the need for suitable interfaces that permit everyone to make the best use of their time, so I also sought to provide friendly, interactive access to this range of channels, which are all interconnected – the sciences of complexity oblige… 😉
The game was worth the candle, since the community's reception has proved very positive. The global audience, across all media, is outstanding. A big thank you to you all!
As the summer holidays start in France, I am suspending my publications until September. During the summer, the blog will feature reruns as I prepare for the autumn events line-up, which promises to be very busy.
I am already preparing for a number of top-level meetings, including the "Systems of Systems in Technology Foundations" workshop organised by Labex MS2T in Compiègne on 4-6 September, the international conference "When Data and Objects start communicating" organised by Montreal's famous "Boule de Cristal" on 17 September, as well as the Ibero-American meeting of Digital Cities in Quito on 23-24 September.
The summer months will also allow me to put the finishing touches to several announcements that I will make in September concerning new initiatives that will enable me to continue to lead a community at both national and international level on topics that are dear to me/us.
Some major new events, which I will announce shortly, are under preparation, as always on the basis of collaborative intelligence, to promote sharing, exchange and joint reflection – in short, so that we can think and act together.
As usual, the aim is to promote excellence, quality, professionalism, collaborative work, multiple perspectives, alternative viewpoints and networking as a source of collective creation.
That is how I hope to continue making my contribution to the transformation of our lives and cities – by placing science, technology, innovation and digital convergence at the heart of my approach.
Participating in the construction of a road – the goal of which is none other than the co-construction of the road itself through a constant process of discovery and amazement – is an enthralling experience, even though the road is long and not always easy! That is what motivates me: a passion for innovation!
Wishing you a good summer and a pleasant holiday!