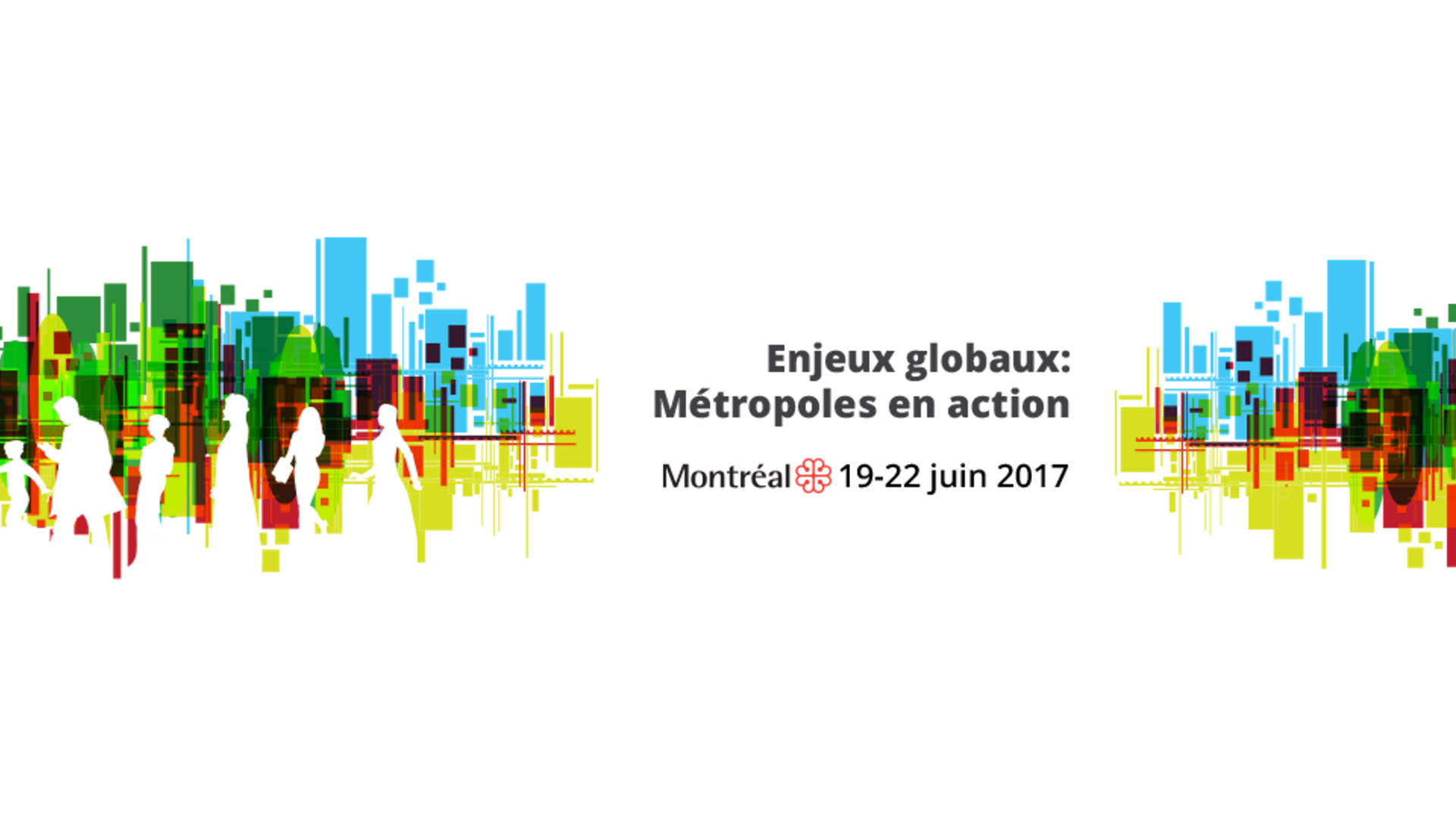 Digital Life, Urban Living and the Climate
This week the international conference on the economy and digital cities is being held in Montreal, organized by the Canadian Association of Administrative Sciences (ASAC). In a few weeks, the 12th world conference of major conurbations, Metropolis, will take place in Montreal, under the banner "Global challenges: Metropolises in action". These are two events that are contributing to deeper reflection on the urban changes of today and tomorrow. The reflection I want to share in Montreal concerns the role that the digital economy, and the digital world in general, plays today with regard to urban life. Beyond the concerns related to the accelerated development of technology, it is vital for me yet again to sound the alarm concerning the major issue of our planet – climate change – and in which urban living contributes to its intensification.
In this last weekend of May the great heatwaves in France began. Within a few hours, we saw hundreds of "vertical swimming pools" appearing everywhere, this time with them going viral on the social networks.
For many years we have already had the opportunity to follow weak signals of the rise in this urban antisocial behaviour: breaking water hydrants installed for the use of the fire services to produce these "geysers" for cooling down.
On the other side of the planet, Dhaka, Bangladesh, one of the "factories of the world" – a purveyor of cheap labour in the textile industry on behalf of major brands throughout the world – was almost paralyzed by the panic caused by 30,000 workers leaving their posts, forcing 18 factories to close. The reason? 500 workers fell ill in a single day, 400 of whom were hospitalized, due to the high rise in hot weather. Of course, fatigue and malnutrition amplify the impact of climatic conditions to the detriment of workers' health.
I recently visited Sri Lanka, in the western and southern parts of the island, during a reflection on the impact of climate change, urban life and the preservation of historical heritage in this part of the world. The sad news, though, is that only this week this very area has seen the worst monsoon surge in 15 years, with figures of 200 dead and at least 300,000 displaced, which unfortunately are still only rough numbers!
East Africa faced severe food insecurity in early 2017, affecting nearly 20 million people, with significant consequences on the social tensions front due to the combination of higher temperatures and low rainfall.
In Buenos Aires, just a few weeks ago, a red alert was declared due to the soaring temperatures, with the temperature approaching 40° C. The last time this alert went red was at the end of 2013, when the temperature rose to 47° C. The heatwave that hit 52 Argentinian cities was the worst since 1906.
We can keep going around the world of our urban lives recognising this situation that continues to get worse year after year. Climate change is a reality and a major threat. This is a survival issue for humanity over the coming decades.
The digital roadmap in our urban lives, which must be carried by all the mayors of the world, from north to south and from east to west of the planet, regardless of the size of the city, must set its sights without the slightest hesitation on actions to contribute to the fight against climate change.
We are at a turning point in the actions we are taking. At a time when serious decisions will be made on the Paris Agreements by the US in the Trump era, it is essential to remember that the digital economy must be one of the levers for the transformation of our lifestyles in our cities and lands, face to face with the climate emergency.
The century of cities is also the century of ubiquity with this dual observation:
the urban world, producing for the most part wealth, has also become a world producer-consumer of mass real-time data,
urban life, which has become a service, is criss-crossed by new functions and services, bringing new economic models from digital platforms.
It is essential to look ahead to the next 10 years if we want technology to go beyond a digital city, without soul and ironically disconnected from the priority of a sustainable, resilient and living city.
In 2020 – in other words, tomorrow – 5G will be deployed into our urban lives, bringing a new breakthrough with regard to digital uses and services. With a performance at least 100 times greater than that of today, this connectivity will for example enable the loading of the equivalent of 30 films in just a few seconds, with a reliability in the order of 99.999% This is a new breakthrough looming on the horizon, with the emergence of distributed architectures which, converged with the growing power of "smart devices", will open other opportunities in all areas of urban life. With the development of algorithmic techniques based on artificial intelligence – "deep learning" – 'Data science' is a power never seen before that will be at the service of the conurbations.
Massive opportunities will be available to all of us in all areas in the life of our cities. The connectivity of objects, IoT, will also enter a new era with high-speed IoT and mass IoT in real time. Digital simulation, virtual reality, augmented reality, and the hybridisation of object and user networks will take on a new dimension.
It is therefore an opportunity, like that of all breakthroughs, to imagine the services according to our priorities. If we want to avoid the massive 'zombie – geekfication' of hyper-connected but socially disconnected users, it becomes essential to take a look at the urban roadmap. It will be at the forefront of the rediscovery of the life of a living city, which will have at its heart the battle for the climate, to restore a key position to biodiversity and nature, to put the citizen at the centre of urban life in order to be frugal and economical in resources and, particularly, in energy.
It is vital to imagine today how this new technological breakthrough must be put at the service of a flawless commitment for a human, living, sustainable, resilient city, in order to give itself all the means for this fight every single day: that is, the struggle for the climate.
Vie numérique, urbaine et climat
Cette semaine se tient à Montréal la conférence internationale sur l'économie et les villes numériques, organisée par l'Association des Sciences Administratives du Canada, (ASAC). Dans quelques semaines, aura lieu toujours à Montréal, la XIIème conférence mondiale de grandes Métropoles, Métropolis, sous le signe « Enjeux globaux : Métropoles en action ». Il s'agit encore de deux événements qui contribuent à approfondir la réflexion sur les mutations urbaines d'aujourd'hui et à venir. La réflexion que je tiens à partager à Montréal, concerne la place que l'économie numérique, et le numérique en général, joue aujourd'hui, concernant la vie urbaine. Au delà des considérations liées aux développements accélérés de la technologie, il m'est indispensable de sonner, une fois de plus, l'alarme concernant l'enjeu majeur de notre planète, le changement climatique, et dont la vie urbaine participe à son amplification.
Ce dernier week-end de mai ont débuté les grandes chaleurs en France. En quelques heures, nous avons vu un peu partout apparaître des centaines des « piscines verticales », avec cette fois-ci, leur viralisation par les réseaux sociaux.
Nous avons déjà eu l'occasion de suivre depuis de longues années les signaux faibles de la montée de cette action d'incivilité urbaine : casser les bornes d'incendie à l'usage de pompiers pour donner lieu à ces « geysers », en vue de se rafraîchir.
De l'autre côté de la planète, Dacca, au Bengladesh, l'une des « usines du monde », – pourvoyeuse d'une main d'œuvre bon marché dans l'industrie du textile pour le compte de grandes marques du monde-, fut presque paralysée par la prise de panique de 30 000 ouvriers qui ont quitté leurs postes forçant 18 usines à fermer. La cause ? 500 ouvriers tombés malade en une seule journée dont 400 hospitalisés en raison de la forte montée de la chaleur. Bien sûr, la fatigue et la malnutrition viennent amplifier l'impact de conditions climatiques au détriment de la santé de travailleurs.
Il y a peu, je me rendais au Sri Lanka, dans la zone ouest et sud de l'île à l'occasion d'une action de réflexion concernant l'impact du changement climatique, la vie urbaine et la conservation du patrimoine historique, dans cette partie du monde. Tristes nouvelles, cette semaine dans cette zone, qui a vu déferler la pire mousson depuis 15 ans, avec le solde, hélas, encore provisoire de 200 morts et au moins 300 000 déplacés !
L'Afrique de l'Est, a du faire face au début de l'année 2017 à une forte insécurité alimentaire touchant près de 20 millions de personnes, avec des conséquences importantes sur le front de tensions sociales, en raison de la combinaison de la montée des températures et de la faiblesse des précipitations.
À Buenos Aires, il y a à peine quelques semaines, l'alerte rouge a été déclarée en raison des fortes chaleurs, avec une température frôlant les 40°C. La dernière fois, où cette alerte est passée au rouge remonte à fin 2013, quand la température est montée jusqu'à 47°C.Vague de chaleur qui a touché 52 villes d'Argentine, la pire depuis 1906.
Nous pouvons continuer à faire le tour du monde de nos vies urbaines avec la constatation de cette situation qui ne cesse de s'aggraver année après année. Le changement climatique est une réalité et constitue une menace majeure. C'est un enjeu de survie pour l'humanité à l'horizon des prochaines décennies.
La feuille de route du numérique dans nos vies urbaines, qui doit être portée par tous les maires du monde, du nord au sud, de l'est à l'ouest de la planète, quelque soit la taille des villes concernées, doit être tournée, sans aucune hésitation, sur les actions en vue d'apporter sa contribution à la lutte contre le changement climatique.
Nous sommes à un tournant dans les actions entreprises. Au moment où des décisions graves seront prises à propos des Accords de Paris par les USA, à l'ère de Trump, il est indispensable de rappeler que l'économie numérique doit être l'un des leviers pour la transformations de nos modes de vie dans nos villes et territoires, face à l'urgence climatique.
Le siècle des villes, est en même temps le siècle de l'ubiquité avec cette double constatation :
le monde urbain producteur pour l'essentiel de richesse, est devenu aussi un monde producteur-consommateur en masse de données en temps réel,
la vie urbaine devenue servicielle est traversée par de nouveaux usages et services, porteurs de nouveaux modèles économiques à partir des plateformes numériques.
Il est indispensable de se projeter à l'horizon des 10 prochaines années, si nous voulons que la technologie aille au delà d'une ville numérique, sans âme et paradoxalement déconnectée de la priorité d'une ville durable, résiliente et vivante.
En 2020, demain donc, la 5G viendra se déployer dans nos vies urbaines, apportant une nouvelle rupture concernant les usages et les services du numérique. Avec une performance au moins 100 fois supérieure à aujourd'hui, cette connectivité permettra par exemple de charger l'équivalent de 30 films en à peine quelques secondes, avec une fiabilité de l'ordre de 99,999% C'est une nouvelle rupture qui se profile à l'horizon, avec l'émergence d'architectures distribuées, qui en convergence avec la montée en puissance des «smart devices», ouvrira d'autres possibilités dans tous les domaines de la vie urbaine. Avec le développement des techniques algorithmiques basées sur l'intelligence artificielle, le « deep learning », la « Data science » c'est une puissance jamais vue qui sera au service des urbains.
Des possibilités immenses s'offriront à nous tous, dans tous les domaines de la vie de nos cités. La connectivité des objets, l'IoT, rentrera également dans une nouvelle ère avec l'IoT haut débit et les IoT massif en temps réel. La simulation numérique, réalité virtuelle, réalité augmentée, l'hybridation des réseaux des objets et des utilisateurs prendra une nouvelle dimension.
C'est donc une occasion, comme celle de toutes les ruptures pour imaginer les services à l'aune de nos priorités. Si nous voulons éviter d'aller vers la massive « zombi – geekfication » des utilisateurs hyper connectés, mais socialement déconnectés, il devient essentiel de porter un regard sur une feuille de route urbaine. Elle sera au premier plan de la redécouverte de la vie d'une ville vivante, qui aura au cœur le combat pour le climat, pour redonner une place clé à la bio diversité et à la nature, mettre le citoyen au centre de la vie urbaine afin d' être frugal et économe dans les ressources, et en particulier, l'énergie.
C'est un impératif d'imaginer dès aujourd'hui, comment cette nouvelle rupture technologique devra être mise au service d'un engagement sans faille pour une ville humaine, vivante, durable, résiliente, afin de se donner tous les moyens pour ce combat de tous les jours qui est la lutte pour le climat.
Vida digital, urbana y clima
Esta semana se celebra en Montreal la conferencia internacional sobre la economía de las ciudades digitales, organizada por la Asociación de las Ciencias Administrativas de Canadá (ASAC por sus siglas en inglés). En unas semanas, tendrá lugar en Montreal, la XII conferencia mundial de las grandes metrópolis, Metrópolis, bajo el lema "Desafíos globales: metrópolis en acción". Se trata de dos eventos que contribuyen a profundizar en la reflexión sobre las mutaciones urbanas de hoy en día, y las que están por venir. La reflexión que voy a compartir en Montreal, concierne al lugar que la economía digital, y lo digital en general, juegan a día de hoy, respecto a la vida urbana. Además de las consideraciones vinculadas con los desarrollados acelerados de la tecnología, me es indispensable señalar, una vez más, la alarma respecto al principal desafío de nuestro planeta, el cambio climático, en el que la vida urbana participa de su amplificación.
Este último fin de semana de mayo, han comenzado los grandes calores en Francia. En algunas horas, hemos visto aparecer centenares de "piscinas verticales", y al mismo tiempo, su viralización a través de las redes sociales.
Ya hemos tenido la ocasión de seguir después de largos años las débiles señales del crecimiento de esta acción incívica urbana: romper las bocas de incendio para uso de los bomberos, para dar lugar a estos "geisers", en virtud de refrescarse. Al otro lado del planeta, Dacca, en Bangladesh, una de las "fábricas del mundo", proveedor de mano de obra barata en la industria textil para las grandes marcas del mundo, fue casi paralizada por el panico de 30 000 obreros que se retiraron de su lugar de trabajao llevando al cierre de 18 fabricas. ¿La causa? 500 trabajadores enfermaron en una sola jornada, de los cuáles 400 fueron hospitalizados debido al gran aumento del calor. Por supuesto, la fatiga y la malnutrición vienen a amplificar el impacto de las condiciones climáticas en detrimento de la salud de los trabajadores.
Hace poco, estuve en Sri Lanka, en la zona oeste y sur de la isla, con la ocasión de una acción de reflexión sobre el impacto del cambio climático, la vida urbana y la conservación del patrimonio histórico, en esta parte del mundo. ¡Tristes noticias, esta semana en esta zona, que ha visto llegar el peor Monzón en 15 años, con el desgraciado balance provisional de 200 muertos y al menos 300.000 desplazados!
El Este de África, ha tenido que hacer frente al comienzo del año 2017 con una fuerte inseguridad alimentaria que afecta a más de 20 millones de personas, con importantes consecuencias en lo que respecta a fuertes tensiones sociales por la combinación de la subida de temperaturas y la escasez de precipitaciones.
En Buenos Aires, hace pocas semanas, la alerta roja fue declarada con motivo de fuertes calores, con una temperatura que rozaba los 40ºC. La última vez que esta alerta roja se activó fue en 2013, cuando la temperatura alcanzó los 47ºC. Una ola de calor que afectó a 52 ciudades de Argentina, le peor desde 1906.
Podemos continuar haciendo un tour alrededor del mundo con la constatación de esta situación que no deja de agravarse año tras año. El cambio climático es una realidad que constituye una amenaza principal. Es un desafío de supervivencia para la humanidad en el horizonte de las próximas décadas.
La hoja de ruta de lo digital en nuestras vidas urbanas, que debe ser liderada por los alcaldes de todo el mundo, de norte a sur, de este a oeste del planeta, sea cual sea el tamaño de las ciudades, debe voltearse, sin lugar a dudas, sobre las acciones que puedan aportar su contribución a la lucha contra el cambio climático.
Nos encontramos en un punto de inflexión respecto a las acciones tomadas. En el momento en el que decisiones importantes se tomarán respecto a los Acuerdos de Paris por parte de Estados Unidos, en la era de Trump, es indispensable recordar que la economía digital debe ser una de las palancas para la transformación de nuestro modo de vida en nuestras ciudades y territorios frente a la urgencia del clima.
El siglo de las ciudades, es al mismo tiempo el siglo de la ubicuidad con esta doble constatación:
El mundo urbano productor esencial de riqueza, se ha convertido también en un mundo productor-consumidor masivo de datos en tiempo real.
La vida urbana convertida en "servicial" es atravesada por nuevos usos y servicios, portadores de nuevos modelos económicos a partir de las plataformas digitales.
Es indispensable proyectarse en el horizonte de los 10 próximos años, si queremos que la tecnología vaya más allá de una ciudad digital, sin alma y paradójicamente desconectada de la prioridad de una ciudad sostenible, resiliente y viva.
En 2020, mañana prácticamente, el 5G se desplegará en nuestras vidas urbanas, aportando una nueva ruptura respecto a los usos y servicios de lo digital. Con una capacidad al menos 100 veces superior a la que tenemos a día de hoy, esta conectividad permitirá, por ejemplo, descargar el equivalente a 30 películas en apenas unos pocos segundos, con una fiabilidad del orden del 99,999%. Es una nueva ruptura que se perfile en el horizonte, con la emergencia de arquitecturas distribuidas, que en convergencia con el crecimiento de la potencia de los "Smart devices", abrirá otras posibilidades en todos los campos de la vida urbana. Con el desarrollo de técnicas algorítmicas basadas en la inteligencia artificial, el "Deep learning", el "Data science" es un poder nunca visto al servicio de los ciudadanos.
Posibilidades inmensas se abren ante nosotros, en todos los dominios de la vida de nuestras ciudades. La conectividad de los objetos, el IoT, entrará en una nueva era con el IoT masivo en tiempo real. La simulación digital, realidad virtual, realidad aumentada, la hibridación de las redes de los objetos y los usuarios, tomará una nueva dimensión.
Esta es por tanto una oportunidad, al igual que se produce en todos los saltos, para imaginar los servicios en función de nuestras prioridades. Si queremos evitar ir hacía la masiva "zombi-geekfication" de los usuarios hyper conectados, pero socialmente desconectados, se hace esencial echar una mirada sobre una hoja de ruta urbana. Estará en el primer plano del redescubrimiento de la vida de una ciudad vibrante, que tendrá en su corazón la batalla por el clima, para volver a dar un espacio clave a la biodiversidad y a la naturaleza, poner al ciudadano en el centro de la vida urbana con el fin de ser frugal y ahorrativo en los recursos, en particular, en la energía.
Es un imperativo imaginar hoy, cómo esta nueva ruptura tecnológica deberá ser puesta al servicio de un compromiso sin fisuras para una ciudad humana, viva, sostenible, resiliente, a fin de poner todos los medios para el combate diario en lucha por el clima.