As part of my weekly series about Living Cities and my partnership with La Tribune for the Connected Smart Cities Forum, I wanted to write a series of articles each focusing on a different city around the world. My goal is to identify best practices that could serve as a source of ideas and inspiration for various facets of the Living City: resilience, social inclusion, a sharing economy, sustainable development and resource stewardship, new business models, etc. This week, our travels take us to South Africa to explore Cape Town, which is using social innovation as the driver to completely transform itself by 2040.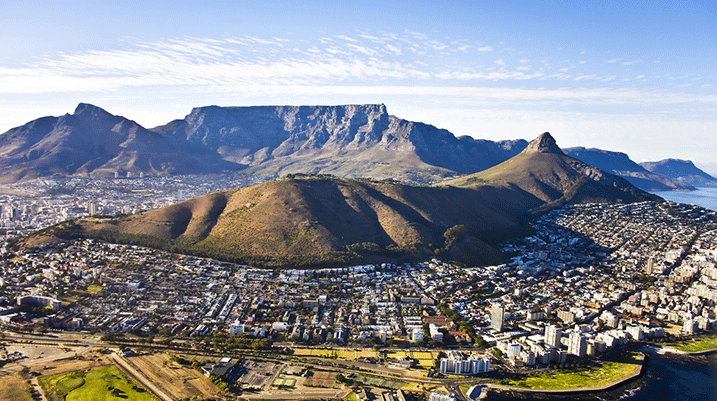 Considered the Mother City of South Africa, Cape Town–which gets its name from the Cape of Good Hope located 47 km from the historic city centre–was founded in 1652. After the end of Apartheid in 1991, the city experienced a period of administrative transition which resulted in the 2000 creation of a new municipality called the City of Cape Town, responsible for administering the entire Cape Town metropolitan area.
One CAPE 2040
In October 2012, this entity released a sweeping economic development programme called OneCape2040 – From Vision to Action. The programme was developed with input from a wide variety of stakeholders and promotes an approach based on inclusion and resilience. Six key transitions were identified and adapted into 12 objectives.
Knowledge transition – Educating Cape
Economic access transition – Enterprising Cape
Ecological transition – Green Cape
Cultural transition – Connecting Cape
Settlement transition – Living Cape
Institutional transition – Leading Cape
One interesting aspect of this programme is its long horizon. Realising how complex the issues are, the municipality is prepared for the transition period to take 28 years (until 2040), broken down into 4 phases: 2012-2019, 2020-2026, 2027-2033 and 2034-2040.
In order to transform its vision into action, the City of Cape Town has also chosen a strategic priority that will serve as a backbone for the programme as a whole: reducing unemployment, particularly among young people. The municipality sees social inclusion as a powerful lever that could ultimately transform the face of the city. By creating opportunities, encouraging initiatives, boosting citizens' self-confidence, and increasing collaboration, the city is setting in motion a complex engine of urban cohesion that will go far beyond simply reducing unemployment rates. The "Paths to Employment" part of the programme, for example, calls for creating full-time and part-time jobs in the public and private sectors, supported by qualification and training initiatives.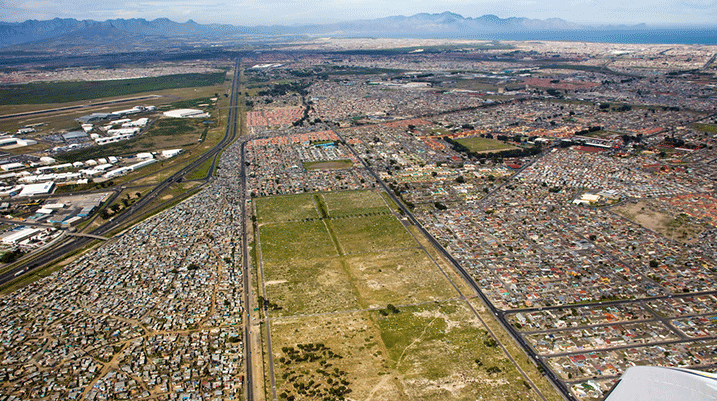 A new urban space for a new society
The City of Cape Town also understands that creating a prosperous future for its residents means facing its past. It is impossible to build a more just, more inclusive, more living city on the ruins of apartheid, which influenced the smallest details of the current urban space. The neighbourhoods were designed to separate the populations, discourage mingling and contact, and promote inequalities. The public spaces are not conducive to chance meetings or to large gatherings, having rather been devised to facilitate surveillance and monitoring by the authorities. Likewise, the roads were built not to create connections and ease traffic, but to allow the authorities to close and isolate certain neighbourhoods in case of trouble. The current consequences of this urban design, which embodies segregation, include massive traffic problems due to people living far from their jobs, considerable air pollution, and repeated uprisings.
To move thing forward, the City of Cape Town has joined forces with the African Centre for Cities and the International New Town Institute to create the Density Syndicate with active support from Catherine Stone, Director for Spatial Planning and Urban Design. The aim is not simply to increase density and rein in urban sprawl, but in fact to use urban design as a concrete manifestation of the open society to which Cape Town now aspires. The Two Rivers Urban Park project is a good example of the approach: it calls for creating a vast public green space in an area that is currently a no-man's-land between several neighbourhoods and townships. Another example is the Maitland Townhall project, which aims to create mixed-use office and residential areas and an equally mixed population around Voortrekker Road, a major axis where thousands of workers arrive by train each day from the Cape Flats. The city is also actively supporting other initiatives currently underway.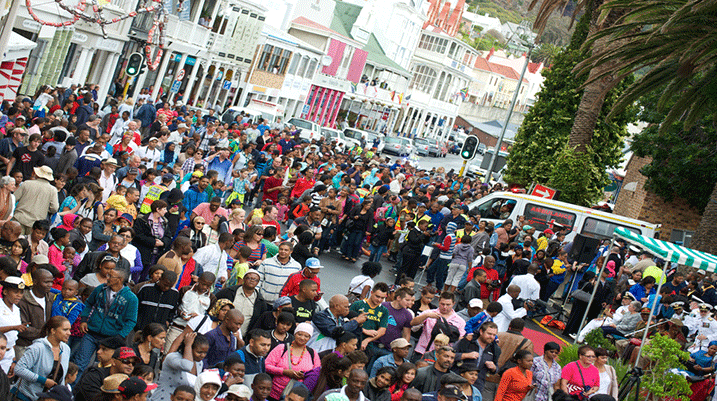 Future Cape Town
Cape Town is not only committed to creating more just living conditions for all its residents; it is also a vibrant, lively, energetic city with many initiatives in progress. I will conclude this article with a few examples, such as Infecting The City, an extraordinary week-long festival that invades the streets each year with theatre and art pieces designed for a wide variety of audiences. Another interesting movement, founded by the Future Cape Town association, is the Young Urbanists group of 20- to 30-year-olds who are determined to rethink the way their city is designed to reflect the concerns of the younger generation, such as preserving the environment, promoting social inclusion, and encouraging technological innovation. For all its efforts, Cape Town was chosen World Design Capital in 2014 by the International Council of Societies of Industrial Design for its innovative use of design for economic, cultural, and social purposes. More than 460 projects designed to "transform life" in the city were launched that year, all showing incredible creativity and thirst for change.
Comparto con nuestros lectores el placer que tuve cuando fui invitado al
14o Congreso Mundial de las Ciudades – Puertos
, a África del Sur tejiendo lazos, entre otras, con esta ciudad. Considerada como la ciudad – madre de África del Sur, Ciudad del Cabo – Cape Town en inglés – bautizada así en referencia al Cabo de Buena Esperanza, situado a 47 kms en el sur de su centro histórico, fue fundada en 1652. Desde el fin el apartheid en 1991, la ciudad conoció un período de transición administrativa que acabó, en 2000, en la creación de una nueva municipalidad, City of Cape Town, encargada administrar toda la zona metropolitana del Cabo.
One CAPE 2040
En octubre de 2012, ésta hizo público un importante programa de desarrollo económico, titulado One Cape 2040 – From Vision to Accion. Elaborado en respuesta a numerosas consultas de las diversas partes implicadas, el programa reivindica una acción fundada sobre la inclusión y la resiliencia. Seis transiciones-clave que hay que operar han sido identificadas, y a partir de ellas, 12 objetivos:
Knowledge transition – Educating Cape
Economic access transition – Enterprising Cape
Ecological transition – Green Cape
Cultural transition – Connecting Cape
Settlement transition – Living Cape
Institutional transition – Leading Cape
Uno de los aspectos interesantes de este programa es su proyección en el tiempo pues se inscribe en un largo plazo. Conscientes de la complejidad de los desafíos, la municipalidad se han dado un período de transición de 28 años (hasta 2040) dividido en 4 fases: 2012-2019, 2020-2026, 2027-2033 y 2034-2040.
Con el fin de transformar esta visión en acción, la Ciudad del Cabo escogió por otra parte un eje estratégico que sirve de columna vertebral para el conjunto del programa: la lucha contra el paro, de los jóvenes particularmente. La inclusión social es vista por la municipalidad como la palanca poderosa de acción, que debe permitir a termino transformar la vida de la ciudad: creando oportunidades, favoreciendo las iniciativas, reforzando la confianza en sí mismo de los ciudadanos, desarrollando las colaboraciones; es toda una dinámica de cohesión urbana que se pone en marcha, cuyas consecuencias se extienden bien más allá de una tasa de desempleo simple en bajada. El área"Paths to Employment" prevé así la creación de empleos de tiempo completo o a tiempo parcial, en los sectores públicos y privados, completado por acciones de calificación y de formación.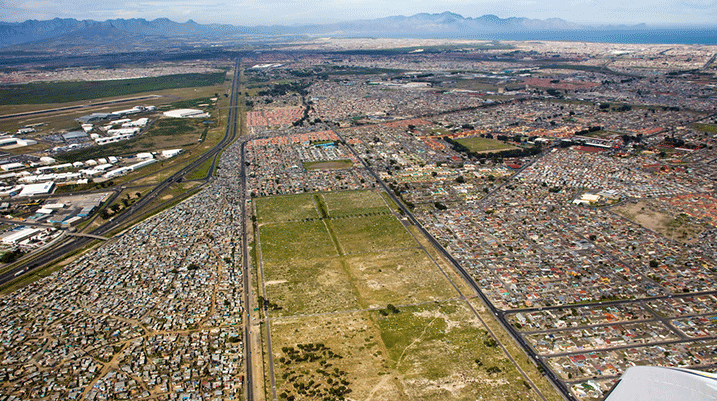 Un nuevo espacio urbano para una nueva sociedad
Para brindarles a sus habitantes un futuro próspero, la municipalidad del Cabo es plenamente consiente de la importancia capital que también representa hacer frente a su pasado. Es imposible edificar una ciudad más justa, más inclusiva y más viva sin tener en cuenta, aun tratandose ahora de las ruinas del apartheid, lo que esto significo en la construcción y utilización del espacio urbano hasta en sus menores detalles. Los barrios fueron concebidos para separar a las poblaciones, impedir las mezclas y los intercambios, promover las desigualdades. Los espacios públicos no eran propicios ni a los encuentros ni a las aglomeraciones de personas: fueron pensados al contrario para favorecer la vigilancia y el control por las autoridades. Las calles, avenidas, rutas, no fueron construidas para crear conexiones y fluidifier la circulación, sino para permitirles a las autoridades, en caso de perturbaciones, cerrarlas y aislar barrios enteros. Entre las consecuencias actuales de este diseño urbano que encarna la segregación podemos citar: problemas masivos de tráfico debidos al hecho que la gente vive lejos de su lugar de trabajo, una contaminación del aire considerable, manifestaciones sociales de descontento recurrentes.
Para hacer evolucionar la situación, la municipalidad del Cabo, en asociación con African Centre for Cities e International New Town Institute, creó el Density Syndicate, apoyado activamente por Catherine Stone, directora de planificación espacial y del Diseño Urbano. El objetivo no es únicamente reforzar la densidad con el fin de controlar mejor la expansión urbana, sino bien de encarnar, vía el diseño urbano, la open society a la cual aspira hoy la ciudad del Cabo. El proyecto Two Rivers Urban Park es un buen ejemplo de esta propuesta: él preve la organización de un vasto espacio verde público en una zona actualmente abandonada, ubicada entre diversos barrios y townships. Otro ejemplo, el proyecto Maitland Townhall, que busca mezclar espacios de oficinas y de vivienda para tambien mezclar poblaciones heterogéneas alrededor del eje de Voortrekker Road, que recibe cada día millares de trabajadores venidos en tren de Cape Flats. Otras iniciativas están en curso y reciben el apoyo activo de la ciudad.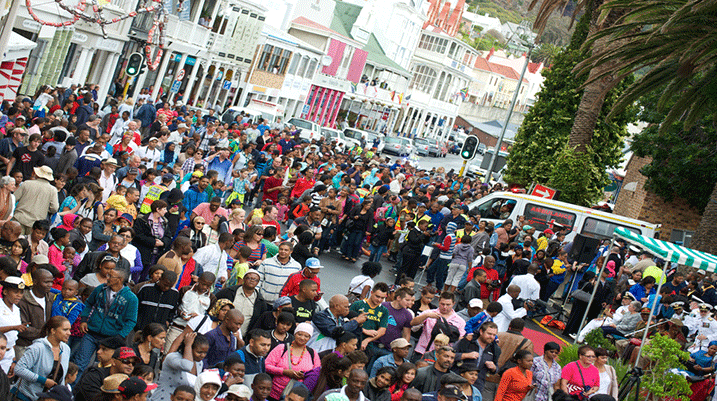 Futuro Cape Town
Comprometida para edificar condiciones de vida más equitativas para todos sus con ciudadanos, Ciudad del Cabo es también una ciudad vibrante de vida y de energía, que rebosa de multiples iniciativas. Yo citaría algunos ejemplos para terminar este artículo, como Infecting The City, un festival anual excepcional, que abre la calle durante una semana a manifestaciones múltiples teatrales y artísticas, destinadas a públicos muy variados. Otro movimiento interesante, creado por la asociación Future Cape Town, el colectivo Young Urbanists reúne a jóvenes urbanistas, entre 20 y 30 años, decididos a repensar la disposición de su ciudad a partir de las preocupaciones de la nueva generación : preservación del medio ambiente, la inclusión social, la innovación tecnológica. Hay que anotar finalmente, y es un hecho importante, que en el 2014, Ciudad del Cabo fue elegida Capital Mundial del Diseño por elInternational Council of Societies of Industrial Design por su utilización innovante del diseño a fines económicos, culturales y sociales. Más de 460 proyectos destinados a «transformar la vida» en la ciudad fueron montados paea esta ocasión, signos de una creatividad y de una sed de cambio asombrosos.
Otro continente y otra ciudad que nos muestran que una visión del futuro acompañada por buenas prácticas de la ciudad viva es una fuente poderosa de inspiraciones para todos, aquí y ahora.
Considérée comme la cité-mère d'Afrique du Sud, Le Cap –
Cape Town
en anglais – baptisée ainsi en référence au Cap de Bonne-Espérance, situé à 47 km au sud de son centre historique, a été fondée en 1652. Depuis la fin de l'apartheid en 1991, la ville a connu une période de transition administrative qui a abouti, en 2000, à la création d'une nouvelle municipalité,
City of Cape Town
, chargée d'administrer toute la zone métropolitaine du Cap.
One CAPE 2040
En octobre 2012, celle-ci a rendu public un important programme de développement économique, appelé OneCape2040 – From Vision to Action. Élaboré suite à de nombreuses consultations des diverses parties prenantes, le programme revendique une approche fondée sur l'inclusion et la résilience. Six transitions-clés à opérer ont été identifiées, à partir desquelles 12 objectifs ont été déclinés.
Knowledge transition – Educating Cape
Economic access transition – Enterprising Cape
Ecological transition – Green Cape
Cultural transition – Connecting Cape
Settlement transition – Living Cape
Institutional transition – Leading Cape
L'un des aspects intéressants de ce programme est qu'il vient s'inscrire dans un temps long. Consciente de la complexité des enjeux, la municipalité table sur une période de transition de 28 années (jusqu'en 2040) elle-même divisée en 4 phases : 2012-2019, 2020-2026, 2027-2033 et 2034-2040.
Afin de transformer cette vision en action, la ville du Cap a par ailleurs choisi un axe stratégique qui sert de colonne vertébrale à l'ensemble du programme : la lutte contre le chômage, des jeunes notamment. L'inclusion sociale est vue par la municipalité comme un levier d'action puissant, qui doit permettre à terme de transformer le visage de la ville : en créant des opportunités, en favorisant les initiatives, en renforçant la confiance en soi des citoyens, en développant les collaborations, c'est toute une dynamique de cohésion urbaine que l'on met en branle, dont les conséquences s'étendent bien au-delà d'un simple taux de chômage en baisse. Le volet « Paths to Employment » prévoit ainsi la création d'emplois à temps plein ou à temps partiel, dans les secteurs publics et privés, complétée par des actions de qualification et de formation.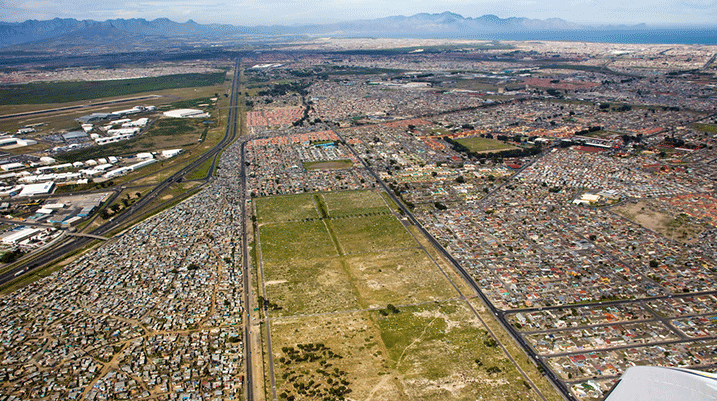 Un nouvel espace urbain pour une nouvelle société
Pour assurer à ses habitants un avenir prospère, la municipalité du Cap a bien compris qu'il lui fallait également faire face à son passé. Impossible de bâtir une ville plus juste, plus inclusive et plus vivante sur les ruines de l'apartheid, qui a présidé à la construction de l'espace urbain jusque dans ses moindres détails. Les quartiers ont été conçus pour séparer les populations, décourager les mélanges et les échanges, promouvoir les inégalités. Les espaces publics ne sont propices ni aux rencontres ni aux attroupements : ils ont au contraire été pensés pour favoriser la surveillance et le contrôle par les autorités. De même, les routes n'ont pas été construites pour créer des connexions et fluidifier la circulation, mais pour permettre aux autorités, en cas de troubles, de fermer et isoler des quartiers entiers. Parmi les conséquences actuelles de ce design urbain incarnant la ségrégation : des problèmes de trafic massifs dus au fait que les gens vivent loin de leur lieu de travail, une pollution de l'air considérable, des soulèvements récurrents.
Pour faire évoluer la situation, la municipalité du Cap, en association avec l'African Centre for Cities et l'International New Town Institute, a créé le Density Syndicate, soutenu activement par Catherine Stone, Directrice du Planning spatial et du Design Urbain. L'objectif n'est pas uniquement de renforcer la densité afin de mieux contrôler l'expansion urbaine, mais bien d'incarner, via le design urbain, l'open society à laquelle aspire aujourd'hui la ville du Cap. Le projet Two Rivers Urban Park est un bon exemple de cette démarche : il prévoit l'aménagement d'un vaste espace vert public à l'emplacement d'une zone actuellement laissée-pour-compte, coincée entre divers quartiers et townships. Autre exemple, le projet Maitland Townhall, qui vise à mélanger des espaces de bureaux et d'habitation tout en mixant des populations hétérogènes autour de l'axe de Voortrekker Road, qui reçoit chaque jour des milliers de travailleurs venus par train des Cape Flats. D'autres initiatives sont en cours et reçoivent le soutien actif de la ville.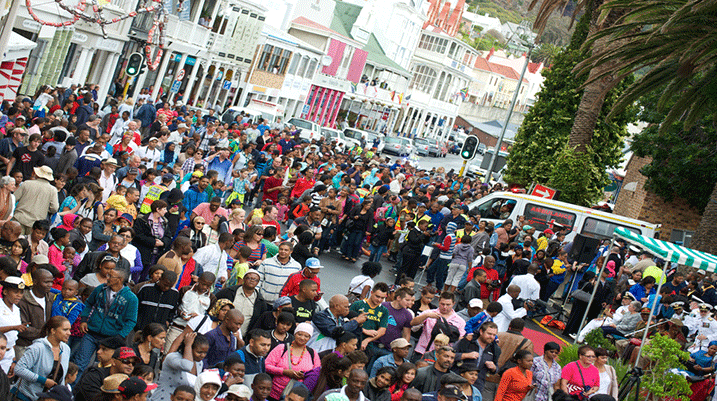 Future Cape Town
Engagée pour bâtir de conditions de vie plus équitables pour tous ses concitoyens, Le Cap est aussi une ville vibrante de vie et d'énergie, qui regorge d'initiatives diverses. Je citerais quelques exemples pour clore cet article, comme Infecting The City, un festival annuel exceptionnel, qui ouvre la rue pendant une semaine à de multiples manifestations théâtrales et artistiques, destinées à des publics très variés. Autre mouvement intéressant, créé par l'association Future Cape Town, le collectif Young Urbanists réunit de jeunes urbanistes, ayant entre 20 et 30 ans, décidés à repenser l'aménagement de leur ville à partir des préoccupations de la nouvelle génération : préservation de l'environnement, inclusion sociale, innovation technologique… Il est à noter enfin qu'en 2014, Cape Town a été élue Capitale Mondiale du Design par l'International Council of Societies of Industrial Design pour son utilisation innovante du design à des fins économiques, culturelles et sociales. Plus de 460 projets destinés à « transformer la vie » dans la ville ont été montés à cette occasion, signes d'une créativité et d'une soif de changement étonnantes.