In the run-up to the Future of Places conference in Stockholm between June 29th and July 1st, Professor Carlos Moreno continues his series of articles exploring urban public spaces. At the intersection between a number of environmental, social, cultural issues, public spaces are being reinvented worldwide, driven by the all-pervasive power of digital technology.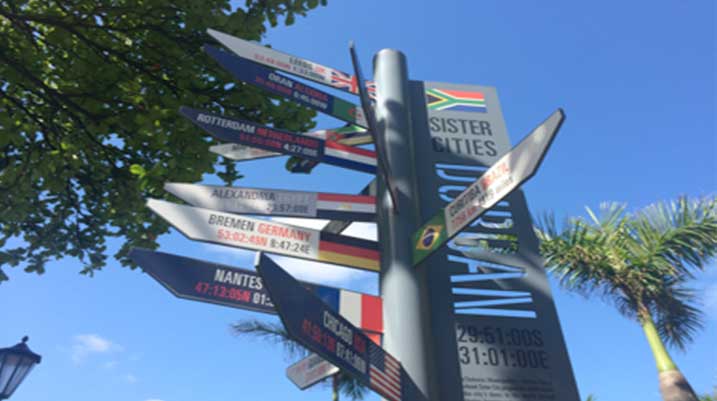 There's now a growing awareness, almost everywhere in the world, of the need to take a different approach to our towns and cities, which are growing at an increasingly rapid rate – a trend which will only get stronger in the years to come – and to redevelop them to make sure they remain, above all, good living environments. Within this context, public spaces are now being reimagined as strategic spaces that will enable us to radically transform the face of our cities.
Public spaces, in fact – and it's a point I often stress – are places where people mix, meet, talk and, to this extent, help to make a city more socially cohesive. They also raise important public health issues: climate change and the increase in urban air pollution mean that it is vital to make space for pedestrians and cyclists, green areas and waterways in our cities. In the run-up to COP21, this is a challenge and a significant issue for all urban players in the north, south, east and west of our planet, where most of the population now lives in urban areas.
The dramatic heatwave that hit Paris in the summer of 2003, for example, revealed the need to tackle the urban heat-island effect and to rethink the density, landscape, green areas, waterways and biodiversity of our cities. Some cities around the world have already implemented a number of radical initiatives by replacing the expressways which divided and disfigured them, and which were responsible for their very high levels of urban air pollution, with green areas, cycle lanes and leisure spaces which are open to all.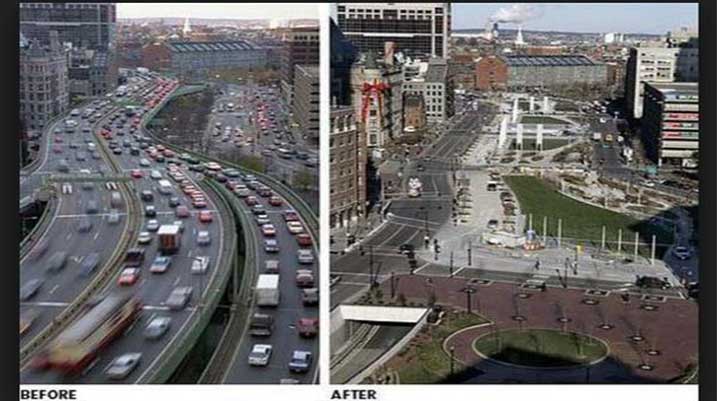 Geolocation and open maps: using digital technology to improve city life
As well as these environmental challenges, urban players need to adapt to new uses and tap into the power of digital technology in order to maximize the potential of public spaces or to improve their management. I'm thinking, for example, of urban furniture, which can be made "smart" with the addition of new features; bus shelters can supply people with traffic information and new services to help strengthen social links. New technology is a powerful lever for change, because it allows us to create new urban services by showcasing heritage, and fostering cultural, festive or community activities, etc.
Geolocation, in the age of collaborative economics, is also a "fertile ground" for transforming urban public spaces. All-pervasive technology – by which I mean the fact that a city's inhabitants are connected 24 hours a day via their mobiles – has radically changed our relationship with the space around us and mapping practices.
Once simple printed reference points which guided us along a certain route and which allowed us to locate our position, mapping has become, not a tool but an important medium for hybridization – a living space, jointly developed, which is also the source of shared knowledge. They are the tip of the iceberg of this new 21st century world in which digital technology, now widespread and diffuse, is shaping our lives in a different way, while its social uses are leading to significant behavioral changes.
Browsers of all sorts and geographic information systems are no longer simple geometric or vector reference points, layers of iconized representations or providers of coordinates in a given format. Ontologies, knowledge, learning and its collaborative emergence are, for me, the point at which we part ways with the geometric territorial paradigm which is gradually fading in front of us.
In the end, it is our ability to remove ourselves from this territory and to make it knowledge that is radically transforming our outlook today, embodied by what we call open mapping: wiki territories, wiki walks, mapping parties and all other forms of shared knowledge. By taking ownership of it, everyone creates their own Urban Maps, with their own benchmark uses, which arise dynamically in accordance with their socio-temporal development. An extreme example of this is the anticipatory shipping system that predicts orders patented by Amazon in January 2014. Based on algorithmic inference, it allows for the delivery of products to a geographic area even before they are ordered. In a century of ubiquitous technology, it is, more than ever, essential to work towards the convergence of these territories, uses and technologies as part of a socially inclusive and civic-minded approach.
 Tactical urbanism to reinvent the streets
 Several cities around the world use tactical urbanism or urban acupuncture to empower civic initiatives to transform public spaces, such as streets. "Hacking" streets allows for the development of pioneering outdoor initiatives which transform the ways in which public spaces are used at a time when, for example, a totally different approach is being taken to the role of cars in numerous cities, including Madrid, Tokyo and Paris. The Better Block website provides a showcase for numerous tactical urbanism initiatives across the world.
Some examples
Several cities around the globe have already taken up this approach and they have become more open and lively places by helping citizens identify with their cities. They include Montreal, Medellin and Sidney which I have already mentioned in my articles, but also Paris, Nantes, Bordeaux, Detroit, Philadelphia, Amsterdam, Kyoto and Cape Town, among others.
The Project for Public Spaces website also supports this vision of citizens retaking ownership of their city's public spaces. The idea is to think about the streets in a different way, not as places of transit, but as public spaces, in which a community spirit can take root (Streets as Places). The website provides examples of best practices across the world: in Saragossa, Spain, for example, empty or disused urban spaces have been turned into appealing public spaces for residents as part of the experimental "estonoesunsolar" project. More than 60 community organizations have already lent their support to bring 33 sites back to life – that's the equivalent of more than 42,000 sq.m. Another example is the Campus Martius Park in Detroit which has become one of the most dynamic public spaces in the United States over the last decade. Throughout the year, these green spaces at the heart of the city bring together residents from neighboring communities to take part in activities such as yoga, ice-skating, dance courses, etc. The park has significantly helped to revive the economy of the surrounding blocks.
These encouraging and stimulating initiatives need to serve as benchmarks for an international community of urban players, but also for citizens themselves, who are investing their energy in changing the face of their cities!
Un peu partout dans le monde, à l'heure actuelle, une prise de conscience s'opère. Les villes, qui concentrent de plus en plus de monde – une tendance qui ne va faire que s'accentuer dans les années à venir – doivent être repensées et réaménagées pour demeurer des lieux où il fait bon vivre avant tout. Dans ce contexte, les espaces publics sont réinvestis comme des espaces stratégiques, grâce auxquels le visage d'une ville peut être profondément transformé.
Les espaces publics sont en effet – je le dis souvent – des lieux de brassage, de rencontres, d'échanges et à ce titre, ils participent à la cohésion sociale de la ville. Ils sont aussi porteurs d'enjeux majeurs de santé publique : à l'heure du réchauffement climatique et de l'augmentation de la pollution de l'air urbain, il est crucial de mieux intégrer des espaces piétons et cyclables, des zones vertes et des plans d'eau au sein des villes. À l'approche de la COP21, c'est un défi et un enjeu majeur pour tous les acteurs de la ville du nord au sud et de l'est à l'ouest de notre planète majoritairement urbanisée.
L'épisode dramatique de la canicule à Paris lors de l'été 2003, notamment, a montré la nécessité de faire face aux îlots de chaleur urbains et de repenser la densité urbaine, son paysage, ses zones vertes, ses plans d'eau et sa bio diversité. Des initiatives radicales ont déjà été mises en œuvre dans certaines villes du monde : les voies rapides qui traversaient la ville en la défigurant, responsable d'une très forte pollution de l'air urbain, ont été remplacées par des espaces verts, des pistes cyclables et des espaces de loisirs accessibles à tous.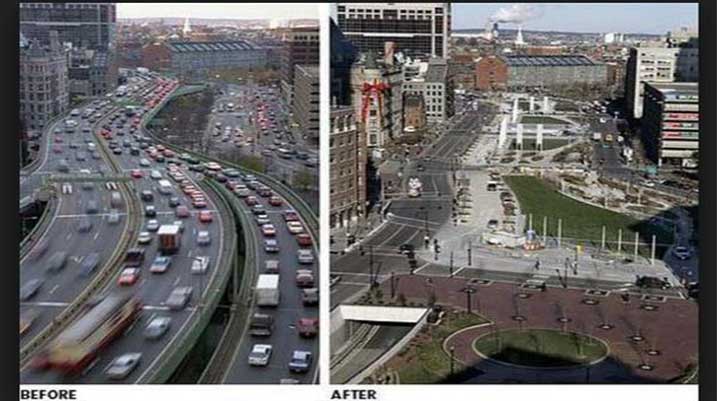 Géolocalisation et cartographies collaboratives : quand le numérique se met au service de la vie en ville
Outre ces enjeux environnementaux, les acteurs de la ville doivent aujourd'hui s'adapter aux nouveaux usages et s'appuyer sur la puissance du numérique pour exploiter au maximum le potentiel des espaces publics ou encore améliorer leur gestion. Je pense, notamment, au mobilier urbain qui peut être rendu « intelligent » en étant investi de nouvelles fonctionnalités, comme c'est le cas pour les abribus par exemple, qui fournissent aux utilisateurs des informations sur le trafic mais aussi des nouveaux services pour participer au tissage du lien social. Les nouvelles technologies représentent un puissant levier de transformation puisqu'ils permettent de créer de nouveaux services urbains : mise en valeur du patrimoine, développement d'activités culturelles, festives ou de quartier etc.
La géolocalisation, à l'heure de l'économie collaborative, constitue également un « terreau » exceptionnel de transformation des espaces publics urbains. Avec la technologie ubiquitaire, c'est-à-dire le fait pour les habitants d'être connectés 24h/24 en mode mobile, le rapport à l'espace qui nous entoure, ainsi que les pratiques cartographiques, ont profondément changé.
De simples repères imprimés nous permettant de nous guider et de nous localiser lors d'un parcours, les cartographies sont devenues, non plus des outils mais des lieux d'hybridation majeurs constituant de vrais espaces de vie, de construction collaborative, d'émergence de savoirs partagés. Ils incarnent ainsi la face émergée de l'iceberg de ce nouveau monde du XXIème siècle, dans lequel le numérique, présent partout de manière diffuse, façonne nos vies différemment – tandis que les usages sociaux engendrent de forts bouleversements dans nos comportements.
Les navigateurs de toutes sortes et les systèmes d'information géographique ne sont plus de simples repères géométriques et vectoriels ni des couches de représentations iconisées, porteuses de coordonnées dans un format donné. Les ontologies, la connaissance, le savoir et son émergence collaborative constituent selon moi le point de rupture avec le paradigme territorial géométrique qui, peu à peu, s'efface devant nous.
C'est finalement la capacité à s'abstraire du territoire pour l'amener au plan de la connaissance qui transforme radicalement nos perceptions aujourd'hui, incarnées dans ce que nous appelons des cartographies collaboratives : wiki territoires, wiki walks, mapping-parties ou tout autre forme de savoirs partagés. Chacun crée ainsi, en se l'appropriant, ses propres Urban Maps, avec ses propres repères d'usages qui se présentent dynamiquement en fonction de ses évolutions socio-temporelles. Voyez poussé à l'extrême en usage le brevet que Amazon a déposé en janvier 2014 pour faire de la prédiction des commandes de consommation, issue de l'inférence algorithmique, afin d'anticiper la livraison sur un périmètre géographique ! Au siècle de l'ubiquité, plus que jamais, il est donc indispensable d'œuvrer à la convergence entre les territoires, les usages et les technologies dans une démarche d'inclusion sociale et citoyenne.
L'urbanisme tactique pour réinventer les rues
Parmi différentes villes dans le monde, l'urbanisme tactique ou acupuncture urbaine se déploie comme une manière d'associer des initiatives citoyennes aux transformations des espaces publics dont par exemple les rues. Cette approche de « hacker » les rues permet de construire à ciel ouvert des initiatives pionnières de transformation des usages des espaces publics à l'heure où par exemple la place des voitures dans les villes est reconsidérée en profondeur dans de nombreuses villes (Madrid, Tokyo, Paris, par exemple). Le site The Better Block compile et présente nombreuses initiatives à travers le monde d'urbanisme tactique.
Quelques exemples
Plusieurs villes à travers le monde se sont déjà emparées de cette approche, ce qui leur a permis de devenir, via une identification entre les citoyens et leur ville, des lieux plus ouverts et plus vivants. Je citerai notamment Montréal, Medellin et Sidney que j'ai déjà étudiées dans ces colonnes, mais aussi Paris, Nantes, Bordeaux, Détroit, Philadelphie, Amsterdam, Kyoto, Cap Town…
Le site Project for Public Spaces porte également cette vision d'une réappropriation par les habitants des espaces publics de leur ville. Le concept ? Repenser les rues, en en faisant non plus des lieux de transit mais des espaces publics, dans lesquels s'enracine l'esprit des communautés (Streets as Places). Le site répertorie des exemples de bonnes pratiques à travers le monde : à Saragosse, en Espagne, par exemple, le projet expérimental « estonoesunsolar » a permis de reconvertir des espaces urbains vides ou inutilisés en espaces publics attractifs pour les habitants. Plus de 60 associations de quartier se sont déjà mobilisées, permettant à 33 sites de renaître à la vie, soit une superficie de plus de 42 000 m2. Autre exemple : le Campus Martius Park de Détroit devenu au cours de la dernière décennie, l'un des espaces publics les plus dynamiques des Etats-Unis. Toute l'année, ces espaces verts au cœur de la ville réunissent les habitants des quartiers voisins pour des activités variés (yoga, patinoire, cours de danse etc). Le parc a d'ailleurs considérablement contribué à la revitalisation économique des blocks environnants.
Autant d'initiatives encourageantes et stimulantes qui doivent servir de point de repère à la communauté mondiale des acteurs de la ville, mais aussi aux citoyens eux-mêmes, et qui s'investissent pour changer le visage de leur ville !
De regreso del
Vietnam
y con motivo de la proxima conferencia
Future of Places
que se efectuará en Estocolmo del 29 de junio al 1 de julio, continuo mi serie sobre los espacios públicos las ciudades. En el corazon de los desafios medioambientales, sociales y culturales, los espacios públicos se reinventan hoy, en los cinco continentes, gracias al poder ubiquitario del digital.
Un poco por todas partes en el mundo, en la actualidad, una mayor toma de conciencia se produce. Las ciudades, que concentran cada vez más habitantes – una tendencia que va a acentuarse en los años por venir – deben ser repensadas y reorganizadas para que sean ante todo lugares de calidad de vida, ciudades para la vida, ciudades de buen vivir. En este contexto, los espacios públicos deben ser considerados como espacios estratégicos, gracias a los cuales la vision de una ciudad puede ser transformada profundamente.
Los espacios públicos son en efecto – a menudo lo digo – lugares de mezcla, de encuentros, de intercambios y a este título, participan en la cohesión social de la ciudad. Son también elementos esenciales de salud pública : a la hora del recalentamiento climático y del aumento de contaminación del aire urbano, es crucial de integrar mejor los espacios peatones y cyclables, las zonas verdes y acuaticas en el seno de las ciudades. La cercania de la COP21, a finales de año en Paris, pone aun mas de relieve este desafío y es una encrucijada mayor para todos los actores de la ciudad del norte al sur y del este al oeste de nuestro planeta mayoritariamente urbanizado.
El episodio dramático del calor canicular en París en el verano del 2003, particularmente, mostró la necesidad de hacer frente a los islotes urbanos de calor y de repensar la densidad urbana, su paisaje, sus zonas verdes, sus estanques y su bio diversidad. Situacion con consecuencias mortales considerables en la poblacion de tercera edad mas vulnerable y que no es un hecho aislado ni desgraciadamente anecdotico. Iniciativas radicales ya han sido puestas en ejecución en ciertas ciudades del mundo : las vías rápidas que atravesaban la ciudad desfigurándola, responsable de una contaminación del aire muy fuerte urbano, han sido reemplazadas por espacios verdes, pistas para ciclistas y espacios de diversion accesibles a todos.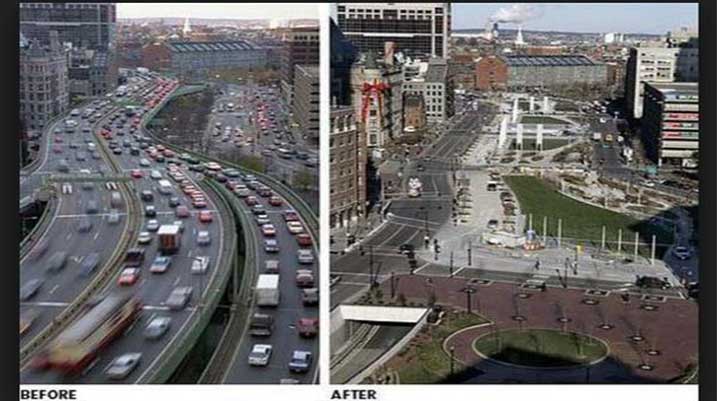 Geolocalizacion y cartografías colaborativas: cuando el digital se pone al servicio de la vida en ciudad
Además de estas consideraciones medioambientales claves, los actores de la ciudad deben hoy adaptarse a los nuevos usos y apoyarse en el poder del digital para explotar al máximo el potencial de los espacios públicos o mejorar su gestión. Pienso, particularmente, en el mobiliario urbano que puede ser adquirir caractéristicas "smart" siendo investido de nuevas funcionalidades, como es el caso para las Marquesinas, Paradas de Buses, Kioscos de Informacion por ejemplo, que les proporcionan a los utilizadores no solo informaciones sobre el tráfico pero también nuevos servicios para participar en el tejido del lazo social. (Bibliotecas, Colectas de objetos a re utilizar, Auto o Co – reparaciones, Escritura publica…etc) Las nuevas tecnologías representan una palanca poderosa de transformación pues permiten crear nuevos servicios urbanos : revalorización del patrimonio, desarrollo de actividades culturales y festivas de barrio, intercambio se saberes, culturas, herramientas de wiki – economias, compartidas colaborativas, urbanas etc.
La geo localizacion, a la hora de la economía colaborativa, también constituye una fuente catalizadora excepcional de transformación de los espacios públicos urbanos. Con la tecnología ubiquitaria, es decir el hecho para los habitantes de ser conectados 24h / 24 en modo móvil, el vinculo frente al espacio que nos rodea, así como las prácticas cartográficas, han profundamente cambiado.
De simples referencias visuales impresas que nos permitían guiar y localizarnos en el momento de un trayecto, las cartografías mas que herramientas se han convertido en lugares de hibridación constituyendo verdaderos espacios de vida, de construcción colaborativa y de emergencia de ese saber compartido. Ellos encarnan así la vista emergida del iceberg de este nuevo mundo del siglo XXI, en el cual el digital, presente por todas partes de manera difusa, influye en nuestras vidas de manera permanente– al mismo tiempo que los usos sociales engendran nuevos comportamientos en nuestras vidas.
Los interfaces de navegacion de toda clase y los sistemas de información geográfica no son simplemente informaciones geométricas o vectoriales en un formato dado. Las ontologías, el conocimiento, el saber y su emergencia colaborativa constituyen desde mi punto de vista, la ruptura que se ha producido con el paradigma territorial geométrico y es una de las fuentes mayores de cambio en el XXI siglo.
Es finalmente la capacidad a abstraerse del territorio para llevarlo al plan del conocimiento que transforma radicalmente nuestras percepciones hoy, encarnadas en los que llamamos cartografías colaborativas: wiki territorios, wiki walks, mapping-partes u otra forma de saber compartido. Cada uno crea así, apropiándosele, su propio Urban Maps, con sus propias características de usos que se presentan dinámicamente y siguiendo nuestras propias evoluciones sociales y temporales. ¡Veamos por ejemplo llevado al extremo la patente que Amazon depositó en enero de 2014 para hacer la predicción de los futuros pedidos de los consumidores, y nacida de la inferencia algorítmica, con el fin de anticipar la entrega en un perímetro geográfico ! En el siglo de la ubicuidad, más que nunca, es pues indispensable trabajar en la convergencia entre los territorios, los usos y las tecnologías con una acción de inclusión social y ciudadana.
El urbanismo táctico y reinventar las calles
En diferentes ciudades en el mundo, el urbanismo táctico o la acupuntura urbana se despliega como una manera de asociar iniciativas ciudadanas con las transformaciones de los espacios públicos entre los que están por ejemplo las calles. Esta acción de "hacker" las calles y espacios públicos permite construir a cielo abierto iniciativas pioneras de transformación de los usos de los espacios públicos cuando por ejemplo el rol de los coches en las ciudades es reconsiderado en profundidad en numerosas ciudades Madrid, Tokio, París, por ejemplo. El sitio The Better Block compila y presenta numerosas iniciativas a través del mundo de urbanismo táctico.
Unos ejemplos
Varias ciudades a través del mundo ya se apoderaron de esta vía de transformación, lo que les permite construir una mejor identificación entre los ciudadanos y su ciudad, par ser lugares más abiertos y más vivos. Citaré particularmente Montreal, Medellín, Sidney, Ciudad del Cabo, que ya estudié en estas columnas, pero también París, Nantes, Burdeos, Detroit, Filadelfia, Ámsterdam, Kyoto,…
El website Project for Public Spaces también presenta esta visión de un re apropiación por los habitantes de los espacios públicos de su ciudad. ¿El concepto? Repensar las calles, haciendo de ellas no solo lugares de tránsito sino ante todo espacios públicos, en los cuales echa raíces el espíritu de las comunidades (Streets as Places). Este website presenta ejemplos de buenas prácticas a través del mundo: en Zaragoza, en España, por ejemplo, el proyecto experimental « estonoesunsolar » permitió readaptar espacios urbanos vacíos o inutilizados en espacios públicos atractivos para los habitantes. Más de 60 asociaciones de barrio ya se movilizaron, permitiendo a 33 lugares de renacer a la vida citadina, es decir una superficie más de 42 000 m2. Otro ejemplo: el Campus Martius Park de Detroit el cual se ha convertido durante la última década, una de los espacios públicos más dinámicos de los Estados Unidos. Cada año, estos espacios verdes en el corazón de la ciudad reúnen a los habitantes de los barrios vecinos para actividades variadas (yoga, pista de patinaje, academia de baile etc.). El parque contribuyó considerablemente por otra parte a la revitalización económica de los blocks cercanos y todo esto en el marco de la decadencia y renacimiento de Detroit, afectado por sus dificultades estructurales de "mal vivir"
Estas y muchas otras iniciativas alentadoras y estimulantes son un aporte para la comunidad mundial de los actores de la ciudad. Igualmente para los ciudadanos y todos aquellos que creemos que es posible de ir adelante con el compromiso de tener ciudades para la vida, ciudades vivas y desarrollar la inteligencia ciudadana para compartir una real calidad de vida.