In the first of a new series of articles, Prof. Carlos Moreno explores the concept of the urban public space in the wake of the digital revolution. Places where people meet, mix and create, the physical embodiment of citizenship, and the beating heart of our communities, public spaces play a strategic role in the urban environment. To shed light on this phenomenon, Prof. Moreno will be taking a closer look at best practices from around the world.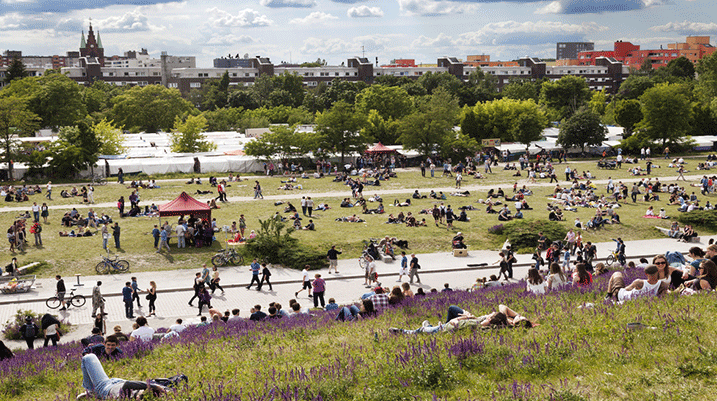 The way in which architectural elements are composed in a city not only reveals the layers of its history but also how spaces constantly adapt to changing functions, the vagaries of history and the lifestyle of its inhabitants. What we call the "urban ambiance" or "urban atmosphere"[1], in our towns and cities, is the result of the successive transformation of urban public spaces and their uses over time. As such, urban public spaces play a central role in forging a city's identity. And they are essential to the citizen's ability to identify themselves with their city.
The form and structure of a city's streets is the result of the way space has been arranged to respond to its changing uses over the years: public highways, pavements for pedestrians, squares and monuments, as well as enclosures, tree alignment, and street furniture. Lamps, road signs, public benches, waiting areas for public transport users, store signs and advertising hoardings each help to familiarise the citizen with his or her city.
However, the uncontrolled development of these elements can have a disruptive effect on our day-to-day living spaces. This is one of the key challenges facing metropolitan peri-urbanity, or rather suburbanity[2] to cite the works of Marc Dumont and Emmanuelle Hellier on this topic[3], for example. Composed of housing estates, these neighbourhoods are part of a "deliberate distancing" strategy that goes hand-in-hand with an "enforced banishment" and the absence of any kind of mixing – effectively strangling the living city's oxygen supply. This has led to the development of an "urbanity gradient" – a phenomenon with a long history and widely seen in France in the tendencies expressed through voting for extremist parties in recent elections, which constitutes a sort of "silent anger".
The dominant role played by the car, the paradigm of urbanisation and the development of our cities for more than fifty years, has meant that traffic – now present in most cities around the world – has been imposed on the public space and its inhabitants. We can also observe the corollary of this phenomenon in many developing countries where the streets are "swarming" with two-wheeled vehicles. Sharing the road with – and presenting obstacles to – cars, these two-wheeled vehicles have also invaded the (few) accessible pavements, which have been turned into parking spaces.
Very often, and in many cities across the world, the public space is chaotic but remains loyal to its core values: open access, equality, the mixing of people from different backgrounds, open communication, diversity and tolerance.
Historically, streets – particularly in medieval Europe – were living spaces. Now, these spaces have become, in very many instances, places we pass through, or even simple utilitarian spaces, such as car parks and building access ways, eclipsing this fundamental dimension of a space for living, mixing and creativity[5].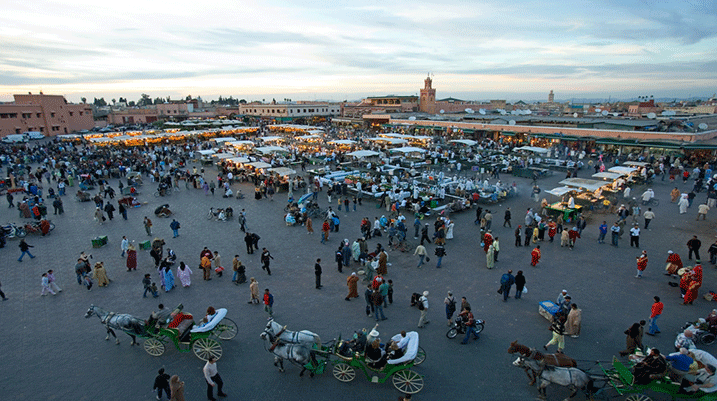 A space for digital sharing
One of the major challenges facing the living city, therefore, is its ability to reinvent the street as a space for sharing and, beyond the street, to turn public spaces into collaborative areas – sources of creativity and innovation. The notion of sharing is, in fact, crucial because it allows us to coherently transform relationships between citizens, and not just those between the resident and their city or environment.
In the 21st century, a major new component – digital technology, and the ability it gives everyone to geo-locate themselves – has been added to the mix, radically changing the role played by individuals in the public space. Armed with a smart device, the pedestrian has been turned into a multi-sensor and multi-sensory entity, radically changing the ties that bind him or her to the urban space and the public space in particular. From a simple observer, he or she makes a very real contribution to our knowledge of the city and its public spaces. What's more, the multiplication of individual observations has brought about the emergence of a collective understanding of urban practices.
By detecting functional spaces selected from within the actual space[6], the public space has been transformed by new uses which are co-created by the connected citizen. Connectivity fosters the bringing together of communities, thereby renewing the relationship between the citizen and the city[7]. For the first time in the history of city life, through the combined use of digital platforms available and open to citizens, and their hyper-connected mobile devices, supported by the integration of new technologies into urban furniture, the public space has become an extension of our everyday lives – a "hybridisation" space made possible by this all-pervasive connectivity, to the city and the world, while at the same time rooted in the local area. This is what people are now calling the new "hyper-localism" – the emergence of a social and regional life in the digital era.
Geo-localisation is transforming the very nature of social networks, which are no longer simply based on social affinities, but also on geographic relevance. It enables social networks to be grounded in the real world by providing people with new opportunities to meet each other and to take ownership of the urban or tourist space. It makes localism once again a fundamental element of the socialisation dynamic.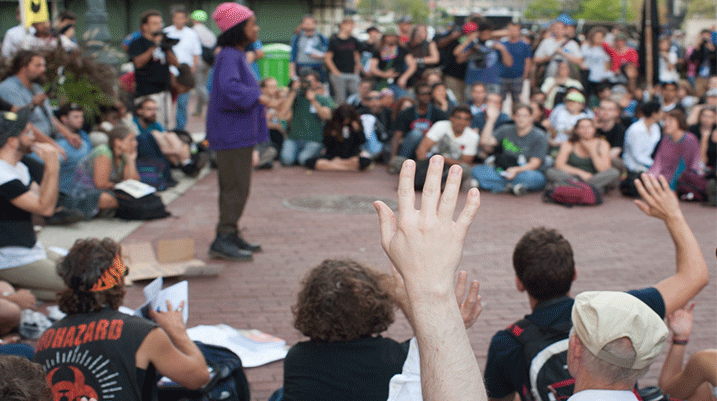 Radical transformation
Our changing world, with its new uses and paradigms, has led to the emergence of numerous projects in cities like Paris, Barcelona, Medellin, New York, Singapore, London, Adelaide and Copenhagen, but also in thousands of small- and medium-sized towns. I recommend a visit to the wonderful website of the "Project for Public Spaces", an organisation set up in 1975 by Holly Whyte to explore the issue of "The Social Life of Small Urban Spaces". The organisation has developed thousands of projects in more than 40 countries and is a member of the "Placemaking Leadership Council".
I think it is obvious that the hybridisation between the urban space, the public space and new technologies is not simply a "geek" epiphenomenon. These new uses correspond, in reality, to a radical transformation of the link that binds the citizen to his or her environment. The use of digital technology should allow people to reinvest the public space and hand it back to children and young people, for example, by making it easier to set up open-air Fab Labs, organise multimedia screenings on walls, and offer people the chance to take part in sporting and cultural activities. It is also becoming possible to reuse spaces such as stations and car parks to develop shared and collective urban gardening activities or to create pedestrianised discovery zones.
From next week, this forum will provide me with the opportunity to share with you in detail, real life examples of how people are developing public spaces, along with other original initiatives organised worldwide.
Notes
http://www.lemonde.fr/election-presidentielle-2012/article/2012/02/28/dans-la-france-peri-urbaine-le-survote-pour-le-fn-exprime-une-colere-sourde_1649247_1471069.html
Partager l'espace public, Ghislaine Gefrroy, Ville de Paris, Directrice de la Voirie et Déplacements
https://vatmalaquais.wordpress.com/informations/enseignants/marc-armengaud/
La composición de los elementos arquitecturales en el seno de una ciudad revela la superposición de las épocas así como la adaptación constante de los lugares a la evolución de las funciones, azares de la historia y las experiencias de la vida de los hombres. Lo que se llama el " ambiente urbano " o la " atmósfera urbana "[1], en nuestras ciudades, resulta de estas transformaciones sucesivas del espacio público y sus usos con el curso del tiempo.
Los espacios públicos contribuyen así fuertemente a la identidad de una ciudad.
Constituyen un elemento mayor de la capacidad del ciudadano a identificarse con su ciudad.
La forma y la morfología de las calles resultan de la organización del espacio deseada para responder a estos usos que evolucionan durante los años: los servicios de vías públicas, las aceras para los peatones, las plazas, los monumentos, los recintos, las alineaciones de árboles, pero también el mobiliario urbano. El alumbrado público, las señales de tráfico, los bancos públicos, diversos lugares de espera de los transportes públicos o los letreros, paneles de los comerciantes o publicitarios, son una muestra de los elementos que concurren a familiarizar al ciudadano con su ciudad.
En el caso de un desarrollo no controlado, estos elementos pueden sin embargo ser una fuente de perturbación de nuestro espacio de vida cotidiana. Es por ejemplo, el gran drama de la peri urbanización metropolitana, o más bien de la suburbanización [2] para evocar los trabajos de investigación en Francia de Marco Dumont y Emmanuelle Hellier sobre este tema [3]. Los barrios en las afueras construidos por ejemplo como encintos cerrados, para aislarse o protegerse, representan un « alejamiento escogido » que va a la par con una « relegación sufrida » y la ausencia de toda mezcla, amputando así lo que constituye el alma de la ciudad viva. Esto conduce al fenómeno conocido desde hace tiempo como « gradiente de urbanización » ampliamente observado en Francia por las tendencias [4] expresadas en el momento de las últimas elecciones, dichas de " cólera sorda " , con votos extremistas.
La plaza preponderante del coche, siendo el paradigma de la urbanización y del desarrollo de nuestras ciudades desde hace más de 50 años también impuso al espacio público y a sus habitantes de sufrir su circulación, que se despliega hoy en la mayoría de las ciudades del mundo. También observamos en numerosos países emergentes, el corolario, con calles hechas los "enjambres" de los móviles motorizados de 2 ruedas y en particular motocicletas o motos. Además de confrontarse con los coches, estos móviles invaden tambien las pocas aceras libres, que se convierten en sus zonas de aparcamiento.
Muy a menudo y en muchas ciudades por el mundo, el espacio público es un espacio caótico pero que sigue ligado a los valores fuertes que el conlleva : libertad de acceso, igualdad, carácter mixto, comunicación abierta, diversidad, y tolerancia.
Las calles en otro tiempo, particularmente en la Europa de la Edad media, eran unos lugares de vida. Hoy, estos lugares se convirtieron, en muy numerosos casos, en lugares de paso o en espacios simples utilitarios (aparcamientos de coches, acceso a los edificios), ocultando esta dimensión fundamental de lugar de vida, de mezcla, de creatividad [5].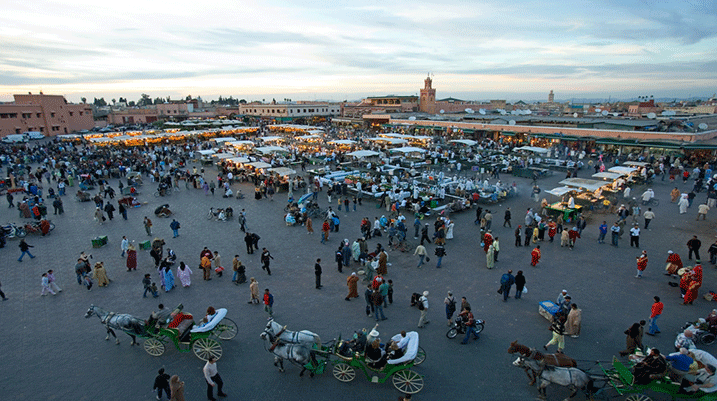 Un lugar de compartir digital
Uno de los desafíos mayores, para una ciudad viva, reside pues en su capacidad a reinventar la calle como lugar de compartir. Y más allá de la calle, hacer de los espacios públicos, los lugares colaborativos, fuente de creatividad y de innovación. La noción de compartir es en efecto crucial, porque ella permite transformar de modo coherente las relaciones entre los ciudadanos, del habitante con su ciudad y su medio ambiente.
En el siglo XXI, un nuevo componente mayor vino para imponerse, modificando el lugar de cada uno en el seno del espacio público: el digital, potenciado ademas en la vida cotidiana con la capacidad intrínseca de la geo localización. El peatón proveído de su smart device se convierte en efecto una verdadera entidad multisensorial y esto implica que los lazos que le unen en su uso diario con los espacios urbanos y en particular con el espacio público se transforman en profundidad. De observador simple, se trata ahora un verdadero y activo contribuyente al conocimiento de la ciudad y sus espacios públicos. La multiplicación de las observaciones individuales hace por otra parte emerger una comprensión colectiva de las prácticas urbanas.
Detectando espacios funcionales seleccionados en el seno del espacio [6] real, el espacio público es transformado por los nuevos usos que son co-creados por el ciudadano conectado. La conectividad llevada a la vida social cotidiana puede así favorecer la capacidad de los habitantes a crear vínculos en sus comunidades, renovando en ese caso la relación entre ciudadano y ciudad [7]. Por primera vez en la historia de la vida urbana, por el uso combinado de las plataformas digitales disponibles y abiertas en sus usos hacia los ciudadanos, los devices móviles del ciudadano hyper conectado, la integración de las nuevas tecnologías en el mobiliario urbano, el espacio público se presenta en cierto modo como un espacio que prolonga el de la vida corriente para ser un verdadero lugar de hibridación con esta conectividad ubiquitaria, urbi y orbi, y al mismo tiempo anclada en el local. Es esta nueva hyper proximidad, de la que hablamos con la emergencia de la vida social y territorial en la era digital.
La geo localización transforma así la misma naturaleza de las redes sociales que mas allá de las afinidades sociales han comenzado su mutación para ir hacia una dimensión asociando también la pertinencia geográfica. Ella permite particularmente a las redes sociales echar raíces en el mundo real abriendo nuevas vías de encuentros y de apropiación del espacio urbano o turístico. Esto conlleva de resaltar la proximidad como el elemento primordial del paso de socialización.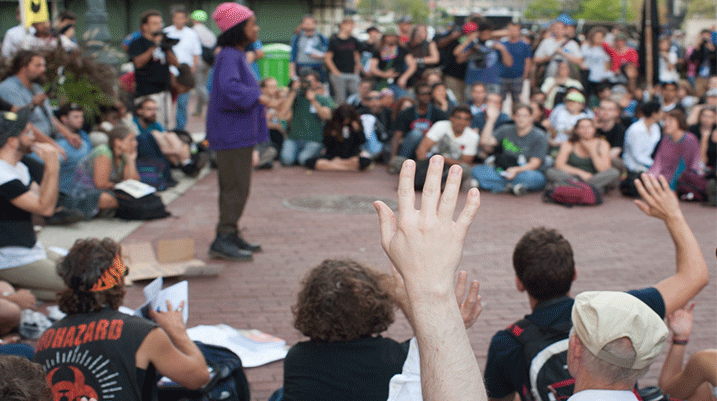 Una transformación profunda
En un mundo que cambia, con nuevos usos y paradigmas, numerosos proyectos emergen en ciudades como París, Barcelona, Medellin, Nueva York, Singapur, Londres, Adélaïde, Copenhague, pero también en numerosas ciudades medias y pequeñas. Lo invito amigo lector a consultar el portal magnífico "Project for público Spaces" , la asociación creada en 1975 por Holly Whyte alrededor del tema «The Social Life of Small Urban Spaces ». La asociación desarrolló millares de proyectos en más de 40 países y es miembro del "Placemaking Leadership Council" .
Para mí, es claro que la hibridación entre espacio urbano, espacio público y nuevas tecnologías no puede ser reducida a un epifenómeno de "geek". Estos nuevos usos corresponden en realidad a una transformación profunda del lazo que une al ciudadano con su medio ambiente. Los usos digitales deben permitir recuperar el espacio público y devolverlo a sus habitantes,tambien a los niños y a los jóvenes, a la vida comunitaria abierta, a la multitud creativa, por ejemplo, facilitando la creación de Fab Labs a cielo abierto, la proyección multimedia sobre las paredes, la práctica de actividades deportivas y culturales. Se hace también posible reutilizar los espacios tales como las estaciones o los aparcamientos de coches para desarrollar la jardinería urbana compartida y colectiva o de crear zonas peatonales de descubrimiento.
Desde la próxima semana, esta tribuna será para mí la ocasión de hacerles descubrir en detalle proyectos concretos de disposición de espacios públicos e iniciativas originales desarrolladas en diferentes lugares del mundo.La Ciudad viva, es la Ciudad para sus Ciudadanos, y los espacios públicos se encuentran el el corazón de su capacidad a ser creativa, responsable, solidaria, abierta y generosa. Una ciudad inclusiva comienza con espacios públicos inclusivos y en ellos la tecnología es una poderosa herramienta para contribuir a su desarrollo al servicio de la vida y la colectividad.
* Este texto es una adaptacion de mi artículo de septiembre del 2014
Notas:
[1] http://ambiances.revues.org/261 Contexte spatial des ambiances urbaines et usage des lieux Arnaud Piombini [2] http://www.franceculture.fr/blog-globe-2011-01-19-ne-dites-plus-peri-urbain.html [3] http://www.marc-dumont.net/ [4] Article le Monde [5] Partager l'espace public, Ghislaine Geofroy, Ville de Paris, Directrice de la Voirie et Déplacements [6] Colette Cauvin, Pour une approche de la cognition spatiale intra-urbaine, cité par Arnaud Piombini [7] Mar Amenangaud Villes, Architecture et Territoires
La composition des éléments architecturaux au sein d'une ville révèle la superposition des époques ainsi que l'adaptation constante des lieux à l'évolution des fonctions, des aléas de l'histoire et des expériences de la vie des hommes. Ce que l'on nomme « ambiance urbaine » ou « atmosphère urbaine »[1], dans nos villes, résulte de ces transformations successives de l'espace public et de ses usages au fil du temps. Les espaces publics contribuent ainsi fortement à l'identité d'une ville. Ils constituent un élément majeur de la capacité du citoyen à s'identifier avec sa ville.
La forme et la morphologie des rues résultent de l'organisation de l'espace souhaitée pour répondre à ces usages qui évoluent au cours des années : les voiries, les trottoirs pour les piétons, les places, les monuments, les enceintes, les alignements d'arbres, mais aussi le mobilier urbain. Les lampadaires, les panneaux de signalisation, les bancs publics, les divers lieux d'attente des transports publics ou encore les enseignes commerçantes et publicitaires, sont autant d'éléments qui concourent à familiariser le citoyen avec sa ville.
Dans le cas d'un développement non contrôlé, ces éléments peuvent cependant devenir une source de perturbation de notre espace de vie quotidienne. C'est par exemple, le grand drame de la périurbanité métropolitaine, ou plutôt de la suburbanité[2] pour évoquer les travaux de Marc Dumont et Emmanuelle Hellier sur ce sujet[3]. Ces quartiers construits sous la forme de lotissements ont fait l'objet d'un « éloignement choisi » qui va de pair avec une « relégation subie » et l'absence de tout brassage, amputant ainsi ce qui constitue l'âme de la ville vivante. Cela conduit au phénomène connu depuis longtemps du « gradient d'urbanité » largement observé en France par les tendances exprimées[4] lors des dernières élections, dites de « colère sourde », avec des votes extrémistes.
La place prépondérante de la voiture, paradigme de l'urbanisation et du développement de nos villes depuis maintenant plus de 50 ans a également imposé à l'espace public et à ses habitants de subir la circulation, qui se déploie aujourd'hui dans la plupart des villes du monde. On observe également dans de nombreux pays émergents, le corollaire, avec des rues devenues des « essaims » des deux roues. En plus de se côtoyer et de se confronter aux voitures, ces deux roues envahissent le (peu) de trottoirs libres, qui deviennent leurs zones de parking.
Bien souvent et dans beaucoup de villes par le monde, l'espace public est un espace chaotique mais qui reste attaché aux valeurs fortes qu'il porte : liberté d'accès, égalité, mixité, communication ouverte, diversité, et tolérance.
Les rues d'autrefois, notamment dans l'Europe du Moyen âge, étaient des lieux de vie. Aujourd'hui, ces lieux sont devenus, dans de très nombreux cas, des lieux de passage voire de simples espaces utilitaires (parkings, accès aux bâtiments…), occultant cette dimension fondamentale de lieu de vie, de brassage, de créativité[5].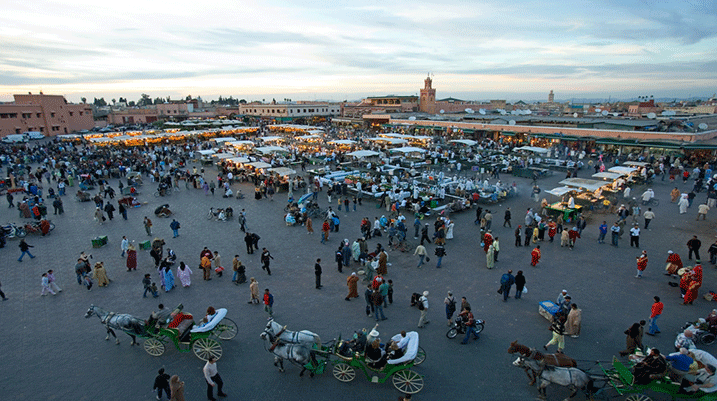 Un lieu de partage numérique
L'un des enjeux majeurs, pour une ville vivante, réside donc dans sa capacité à réinventer la rue comme lieu de partage. Et au-delà de la rue, à faire des espaces publics des lieux collaboratifs, source de créativité et d'innovation. La notion de partage est en effet cruciale, car elle permet de transformer de façon cohérente les relations entre les citoyens, et non plus uniquement celles de l'habitant avec sa ville et son environnement.
Au XXIème siècle, une nouvelle composante majeure est venue s'imposer, bouleversant la place de chacun au sein de l'espace public : le numérique, avec la capacité qu'il donne à chacun de se géolocaliser. Le piéton muni de son smart device devient en effet une véritable entité multi-capteurs et multi-sensorielle et, à ce titre, les liens qui l'unissent aux espaces urbains et en particulier à l'espace public se transforment en profondeur. De simple observateur, il devient un véritable contributeur à la connaissance de la ville et de ses espaces publics. La multiplication des observations individuelles fait par ailleurs émerger une compréhension collective des pratiques urbaines.
En détectant des espaces fonctionnels sélectionnés au sein de l'espace réel[6], l'espace public est transformé par les nouveaux usages qui sont co-créés par le citoyen connecté. La connectivité favorise les rassemblements de communautés, renouvelant par là la relation entre citoyen et ville [7]. Pour la première fois dans l'histoire de la vie citadine, par l'usage combiné des plateformes numériques disponibles et ouvertes aux usages vers les citoyens, les devices mobiles du citadin hyper connecté, l'intégration des nouvelles technologies dans le mobilier urbain, l'espace public devient en quelque sorte un espace qui prolonge celui de la vie courante pour devenir un lieu d'hybridation avec cette connectivité ubiquitaire, urbi et orbi, mais également et au même temps ancrée dans le local. C'est cette nouvelle hyper proximité, dont nous parlons avec l'émergence de la vie sociale et territoriale à l'ère du numérique.
La géolocalisation transforme ainsi la nature même des réseaux sociaux qui ne se fondent plus seulement sur les affinités sociales, mais aussi sur la pertinence géographique. Elle permet notamment aux réseaux sociaux de s'enraciner dans le monde réel en ouvrant de nouvelles voies de rencontres et d'appropriation de l'espace urbain ou touristique. Elle replace la proximité comme élément primordial de la démarche de socialisation.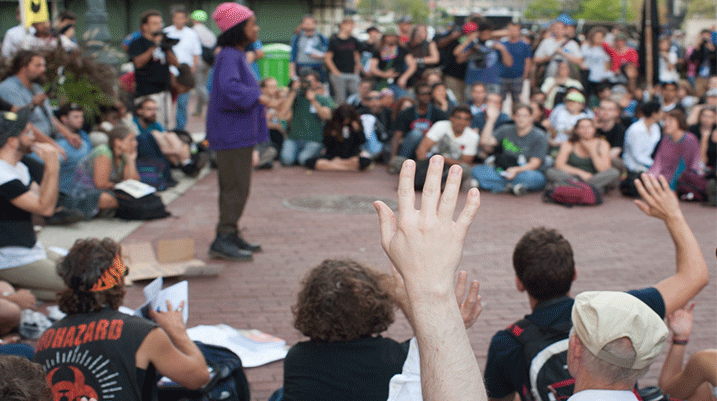 Une transformation profonde
Dans un monde qui change, avec de nouveaux usages et paradigmes, de nombreux projets émergent dans des villes comme Paris, Barcelone, Medellin, New-York, Singapour, Londres, Adélaïde, Copenhague, mais aussi dans de nombreuses moyennes et petites villes. Je vous invite à consulter le magnifique site « Project for Public Spaces », association créée en 1975 par Holly Whyte autour du thème « The Social Life of Small Urban Spaces ». L'association a développé des milliers de projets dans plus de 40 pays et est membre du « Placemaking Leadership Council ».
Pour moi, il est clair que l'hybridation entre espace urbain, espace public et nouvelles technologies ne peut pas être réduite à un épiphénomène « geek ». Ces nouveaux usages correspondent en réalité à une transformation profonde du lien qui unit le citoyen à son environnement. Les usages numériques doivent permettre de récupérer l'espace public et de le rendre aux enfants et aux jeunes par exemple, en facilitant la création de Fab Labs à ciel ouvert, la projection multimédia sur les murs, la pratique d'activités sportives et culturelles. Il devient également possible de réutiliser les espaces tels que les gares ou les parkings pour développer le jardinage urbain partagé et collectif ou de créer des zones piétonnes de découverte.
Dès la semaine prochaine, cette tribune sera pour moi l'occasion de vous faire découvrir en détail des projets concrets d'aménagement d'espaces publics et des initiatives originales développées aux quatre coins du monde.
Notes:
http://www.lemonde.fr/election-presidentielle-2012/article/2012/02/28/dans-la-france-peri-urbaine-le-survote-pour-le-fn-exprime-une-colere-sourde_1649247_1471069.html
Partager l'espace public, Ghislaine Gefrroy, Ville de Paris, Directrice de la Voirie et Déplacements