As part of my weekly contributions on the topic of the Living City and my partnership with the Tribune on behalf of the Forum for Connected Smart Cities, I had the idea of offering a series of articles that will each focus on a selected world city. The goal of these articles is to identify some best practices that could generate ideas and inspiration regarding various aspects of the Living City: resilience, social inclusion, the sharing economy, sustainable development and resource management, new business models and so on. This week, we will focus on Yokohama, a Japanese port city located 30 km south of Tokyo, which has undergone a highly successful transformation of an exemplary nature in just a few decades.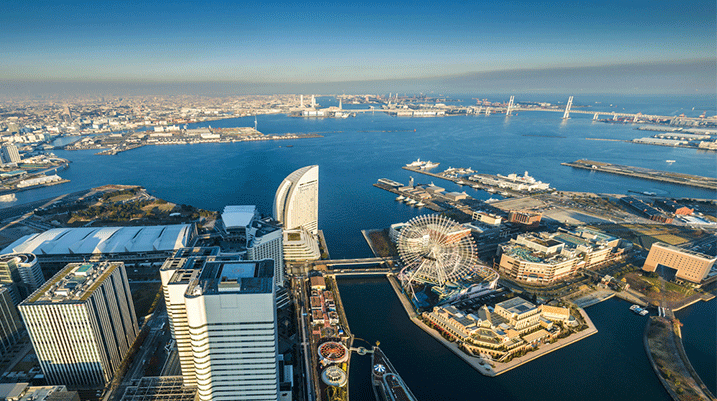 With 3.7 million inhabitants, the city of
Yokohama
is Japan's second largest city after the Tokyo metropolitan area. Located near the capital on Tokyo Bay, the port city has long suffered from this peripheral location and struggled to build its own identity. In the 1960s, the port area was given over to industrial activities, while the north of the city resembled a gigantic transport hub for residents, who travelled to Tokyo daily for work, cultural activities, shopping and entertainment. The city also suffered from environmental problems that damaged its attractiveness, including frequent traffic congestion, a growing waste disposal problem and an unhealthy living environment.
In the late sixties, a number of projects were launched by the municipal authorities to turn the situation around. Unfortunately, the results fell short of expectations, due in part to a lack of long-term commitment and coordination between stakeholders. In the early eighties, the municipal team changed its strategy, after concluding that only a major commitment by all stakeholders could make a real difference. This growing awareness paid off handsomely, since Yokohama won the World Smart City Award in Barcelona in 2011, the Global Green City Award in Berlin in 2013, and a special mention by the jury for the Lee Kuan Yew World City Prize in Singapore in 2014.
Minato Mirai 21
The key to the transformations undertaken by the city was the Minato Mirai 21 project for the "Future Port of the 21st century", launched in 1981 with the aim of revitalising the city centre and transforming the port area. The project was distinctive in that all stakeholders (i.e. local and national public sector participants, residents, non-profit groups, manufacturers, property owners, etc.) were involved from the inception. The challenge was to make Yokohama as attractive as Tokyo for its jobs, the quality of its living environment and the diversity of its activities. To that end, the port industrial area needed to be transformed first to create a pleasant and vibrant waterfront punctuated by modern office buildings, parks and recreational areas.
In addition to the substantial investment represented by the construction of new infrastructures on the waterfront, this involved a complex process of reshuffling land ownership, since most of the land in the area belonged to private owners. Thanks to the support of citizens and the various stakeholders, the city was able to successfully negotiate arrangements to acquire or lease land from the landowners. The face of the waterfront could thus be updated, due in part to strong aesthetic choices in terms of architecture. An efficient new public transit system was also built as part of the programme. In parallel, Yokohama became heavily involved in the decentralisation movement that was launched in Japan at the time, aimed at reducing the prominence of the capital Tokyo. Many businesses and government agencies relocated their corporate headquarters or offices to the city's new districts. Over a period of 30 years, Yokohama thus succeeded in establishing its own identity and vitality through its public policy.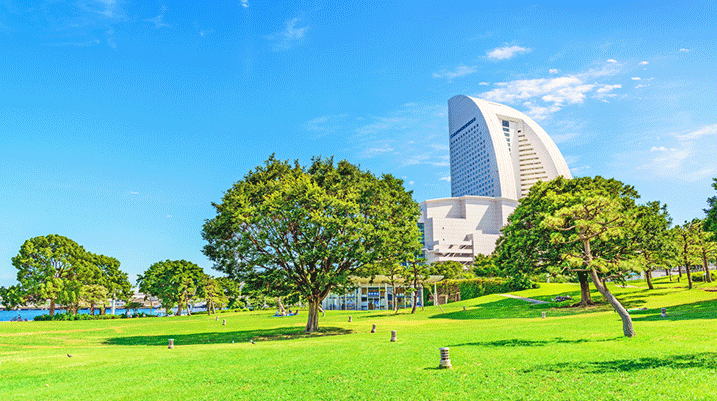 The green transformation
To complement this structuring project, Yokohama committed very early on to an ambitious environmental policy. In 2003, the city implemented its G30 plan, aimed at achieving a 30% reduction in the production of waste across the metropolitan area by 2010. The municipality organised more than 11,000 information sessions and over 3,900 awareness-raising campaigns on this issue. The target was reached five years ahead of the date set by the programme, in 2005, thus allowing the city to close two waste incineration plants.
Yokohama has also been a pioneer in the fight against climate change. In 2008, it was one of 13 cities selected as "Eco Model Cities by the government from among 82 candidates for its efforts to reduce greenhouse gas emissions. The same year, the municipality launched the CO-DO30 plan targeting a 30% reduction in greenhouse gas emissions by 2025. Once again, the city is relying primarily on educating its citizens and businesses to change habits and promote new practices.
Yokohama also invested very early in green energy. In 2007, the city opened an urban wind power plant designed to produce about 3 million kWh of electricity per year, covering the needs of about 850 households. The Hama-Wing project also provided an opportunity to stimulate civic commitment. Instead of relying on public funds, the municipality had the idea of selling shares to the residents of Yokohama to finance the project. All shares were sold in three days and 350 residents became owners of the plant.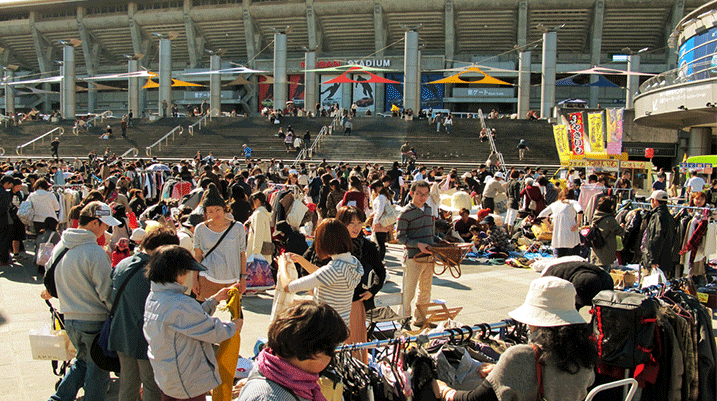 FutureCity Yokohama
Buoyed by the momentum already achieved, the port city is still actively pursuing its transformation today. In December 2011, the Japanese government designated it as a "FutureCity" for its efforts to foster social innovation. One of the major societal challenges facing Japan is the aging of its population. What solutions must be found to ensure that aging populations can continue to enjoy life in urban environments? This is one of the main areas of reflection and experimentation by the municipality today. In the Aoba Ward, for example, the city has set up workshops for residents so that they can work together with the local transport operator, relevant institutions and academics to find solutions in such areas as medical services, intergenerational communication and housing.
In addition to being a forerunner in urban planning and environmental policy, Yokohama is today a pioneer in the field of social innovation. Moreover, since 2011, the city has hosted the conference Social Innovation/Smart City Week, a major event for the international community interested in the living city of the future. The challenge is to develop strategies and action plans on the basis of social and societal issues, rather than technical knowledge and institutional practices. The next conference will be held in July 2015.
Cada año en el marco del World Cities Summit en Singapur el Premio World City Prize Lee Kuan Yew en honor del fundador de la Ciudad – Estado de Singapur, quien acaba de morir, es atribuido. En 2014 Medellin – objeto de un articulo anterior – y Yokohama compartieron este reconocimiento.
Con sus 3,7 millones de habitantes, la ciudad de Yokohama es la segunda ciudad de Japón después de la aglomeracion de Tokio. Implantada cerca de la capital en la bahía de Tokio, la ciudad portuaria sufrió durante mucho tiempo de esta situación periférica y luchó para construirse una identidad propia. En los años 60, la zona portuaria fue sacrificada a las actividades industriales, mientras que el norte de la ciudad se parecía a un gigantesco "hub" de transporte para los habitantes que se iban a Tokio cada día, para el trabajo, pero también para la cultura, los comercios y la diversion. La ciudad también sufría de problemas medioambientales que perjudicaban a su atractividad : atascos recurrentes, un aumento creciente de los desechos, un marco poco sano de vida.
A finales de los años 60, un cierto número de proyectos fueron lanzados por las autoridades municipales para cambiar estas situaciones . Ellos desafortunadamente no obtuvieron los resultados esperados, de hecho, particularmente por la falta de un compromiso duradero y de coordinación entre las distintas partes. Al principio de los años 80, el equipo municipal cambió de estrategia, comprendiendo que sólo un compromiso máximo y eco sistémico de todos los actores podria cambiar el rumbo de las cosas. Una toma conciencia que dio amplios frutos de manera espectacular, ya que en 2011, Yokohama obtuvo el World Smart City Award en Barcelona, en 2013 el Global Green City Award en Berlín y en 2014, la mención especial del jurado del Premio Lee Kuan Yew en Singapur.
Minato Mirai 21
Clave de la mutacion operada por la ciudad, el proyecto Minato Mirai 21 http://www.minatomirai21.com/eng/, « Futuro Puerto del siglo 21 », fue lanzado así en 1981 con el objetivo de redinamizar el centro ciudad y de transformar la zona portuaria. Su particularidad : todas las partes implicadas (los actores públicos locales y nacionales, los habitantes, las asociaciones, los industriales, los propietarios de los terrenos etc.) lo fueron desde el inicio del proyecto. El desafio era de hacer de Yokohama una ciudad tan atractiva como Tokio por sus empleos, la calidad de su marco de vida, la diversidad de sus actividades. Para esto, había que primero transformar la zona portuaria industrial y hacer un paseo marítimo agradable y dinámico, bordado de edificios de oficinas modernas, de parques y de espacios de diversion.
Además de la inversión importante que representa la construcción de nuevas infraestructuras sobre el paseo marítimo, esto suponía de realizar una revisión territorial compleja, dado que la mayoría de las tierras de la zona pertenecían a propietarios privados. Gracias al apoyo aportado por los ciudadanos y las diversas partes implicadas, la ciudad consigue finalmente negociar con los propietarios la compra o el alquiler de los terrenos. El paseo marítimo pudo desde entonces ser remodelado, sobre todo gracias a decisiones claras en torno a la estética del entorno en materia de arquitectura. Un nuevo sistema de transporte urbano eficaz fue también diseñado y
construido en el ámbito de este programa. En paralelo, Yokohama se implicó fuertemente en el movimiento de descentralización que entonces fue lanzado en el Japón, buscando corregir la prominencia de Tokio, grande y poderosa capital. Numerosas empresas y agencias públicas vinieron entonces a instalar su sede o sus oficinas en los nuevos barrios de la ciudad. En el espacio de 30 años, Yokohama consigue así, basada en la fuerza de su política pública, conquistar una identidad y unos dinamismo proprios.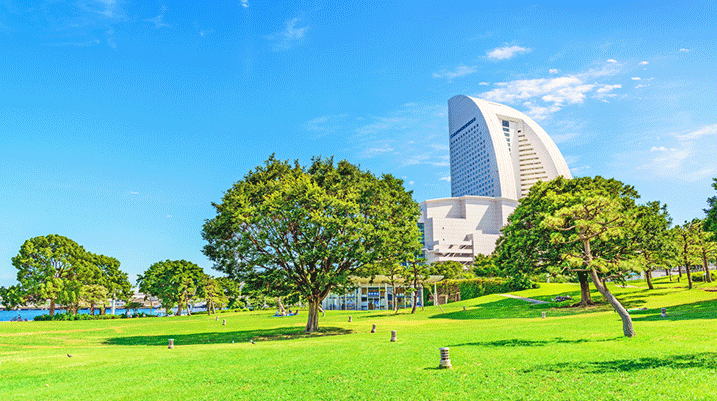 La metamorfosis verde
En complemento de este proyecto estructurante, Yokohama emprendió muy temprano tambien una política medioambiental ambiciosa. Desde 2003, la ciudad concibe e implementa el plan G30, cuyo objetivo era de reducir el 30 % de la producción de desechos a escala del poblado en miras al 2010. La municipalidad organizó más de 11 000 sesiones de información y más de 3900 campos de sensibilización a este tema. El objetivo fue alcanzado desde el 2005, o sea 5 años antes de la fecha fijada por el programa, lo que permitio a la ciudad cerrar dos fábricas de incineración de desechos.
En materia de lucha contra el cambio climático también, Yokohama es una ciudad pionera. En 2008, fue una de 13 ciudades elegidas "Eco Model City" por el gobierno entre 82 candidatas por sus acciones en favor de la reducción de las emisiones de gas a efecto de invernadero. El mismo año, la municipalidad lanzaba el plan CO-DO30, destinado a reducir en el 30 % hacia 2025 las emisiones de GES. Allí igualmente, la ciudad cuenta ante todo con la educación de los ciudadanos y de las empresas para cambiar los habitos y hacer evolucionar las prácticas.
Yokohama invirtió finalmente muy temprano en las energías verdes. Desde 2007, la ciudad abría una central éolica urbana destinada a producir cerca de 3M kWh electricidad al año, lo que cubre las necesidades de cerca de 850 hogares. El proyecto Hama-Wing también fue la ocasión de estimular el compromiso ciudadano. En lugar de recurrir al dinero público, la municipalidad tuvo la idea de venderles a los habitantes de Yokohama acciones para financiar el proyecto. La totalidad de las acciones fueron vendidos en tres días. 350 habitantes se hicieron así socios de la central.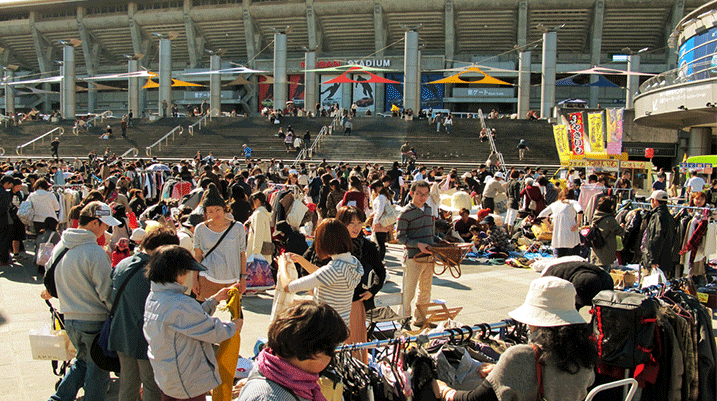 FutureCity Yokohama
Lanzada por este impulso, la ciudad portuaria prosigue activamente hoy su transformación. En diciembre de 2011, el gobierno japonés la eligió "FutureCity" por su capacidad a promover la innovación social. Uno de las grandes desafio sociales a los cuales debe en efecto hacer frente Japón es el envejecimiento de su población. ¿Qué soluciones poner en ejecución para que los amplios sectores de la poblacion que se envejecen continúen viviendo bien en el seno de las ciudades ? Es uno de los ejes actuales de reflexión y de experimentación para la municipalidad. En el barrio de Aoba (Aoba Ward) por ejemplo, la ciudad a creado talleres que asocian los habitantes, al operador local de transporte, las instituciones concernidas y los catedráticos de universidad con el fin de elaborar en común soluciones en materia de servicios médicos, en comunicación inter generaciones, de habitat etc. Podemos ver aqui la entrevista vídeo con el representante de Yokohama en Europa.
Después de haber sido pionera en materia de planificación urbana y de política medioambiental, Yokohama es en lo sucesivo pionera en el area de la innovación social. La ciudad acoge desde el 2011 la conferencia Social Innovación / Smart City Week, acontecimiento mayor para la comunidad internacional de la ciudad viva de mañana. El desafio : construir la reflexión y los planes de acción a partir de las problemáticas sociales, en lugar de solamente privilegiar los conocimientos técnicos y las prácticas institucionales. La próxima edición se efectuará en julio del 2015.
He aquí una ciudad pionera cuya acción ejemplar deseo saludar con este texto. Una ciudad innovadora cuya inteligencia urbana al servicio de sus habitantes, nos muestra que si es posible concretizar estas ciudades vivas de hoy de mañana.
Avec ses 3,7 millions d'habitants, la ville de
Yokohama
est la deuxième ville du Japon derrière l'agglomération de Tokyo. Implantée à proximité de la capitale dans la baie de Tokyo, la ville portuaire a longtemps souffert de cette situation périphérique et lutté pour se construire une identité propre. Dans les années 60, la zone portuaire était sacrifiée aux activités industrielles, tandis que le nord de la ville ressemblait à un gigantesque « hub » de transport pour les habitants qui se rendaient à Tokyo chaque jour, pour le travail, mais aussi pour la culture, les commerces et les loisirs. La ville souffrait également de problèmes environnementaux qui nuisaient à son attractivité : des embouteillages récurrents, une augmentation croissante des déchets, un cadre de vie peu sain.
À la fin des années 60, un certain nombre de projets furent lancés par les autorités municipales pour changer la donne. Ils n'aboutirent malheureusement pas aux résultats escomptés, du fait, notamment d'un manque d'engagement dans le temps et de coordination entre les parties prenantes. Au début des années 80, l'équipe municipale changea de stratégie, réalisant que seul un engagement maximal de tous les acteurs pouvaient faire bouger les lignes. Une prise de conscience qui a porté ses fruits de façon spectaculaire, puisqu'en 2011, Yokohama a remporté le World Smart City Award à Barcelone, en 2013 le Global Green City Award à Berlin et en 2014, la mention spéciale du jury du Prix Lee Kuan Yew à Singapour.
Minato Mirai 21
Clé de la mutation opérée par la ville, le projet Minato Mirai 21, « Futur Port du 21ème siècle », était ainsi lancé en 1981 dans l'objectif de redynamiser le centre ville et de transformer la zone portuaire. Sa particularité : toutes les parties prenantes (acteurs publics locaux et nationaux, habitants, associations, industriels, propriétaires fonciers etc.) furent impliquées dès l'amont du projet. L'enjeu était de faire de Yokohama une ville aussi attractive que Tokyo pour ses emplois, la qualité de son cadre de vie, la diversité de ses activités. Pour cela, il fallait d'abord transformer la zone portuaire industrielle et en faire un front de mer agréable et dynamique, ponctué d'immeubles de bureaux modernes, de parcs et d'espaces de loisirs.
Outre l'important investissement que représente la construction de nouvelles infrastructures sur le front de mer, ceci supposait de gérer un remaniement foncier complexe, la plupart des terres de la zone appartenant à des propriétaires privés. Grâce au soutien apporté par les citoyens et les diverses parties prenantes, la ville réussit néanmoins à négocier avec les propriétaires le rachat ou la location des terres. Le visage du front de mer put dès lors être remodelé, grâce notamment à un parti pris esthétique fort en matière d'architecture. Un nouveau système de transport urbain efficace fut également construit dans le cadre de ce programme. En parallèle, Yokohama s'impliqua fortement dans le mouvement de décentralisation qui fut alors lancé au Japon, visant à corriger la proéminence de la capitale tokyoïte. De nombreuses entreprises et agences publiques vinrent alors installer leur siège ou leurs bureaux dans les nouveaux quartiers de la ville. En l'espace de 30 ans, Yokohama réussit ainsi, à la force de sa politique publique, à conquérir une identité et un dynamisme propres.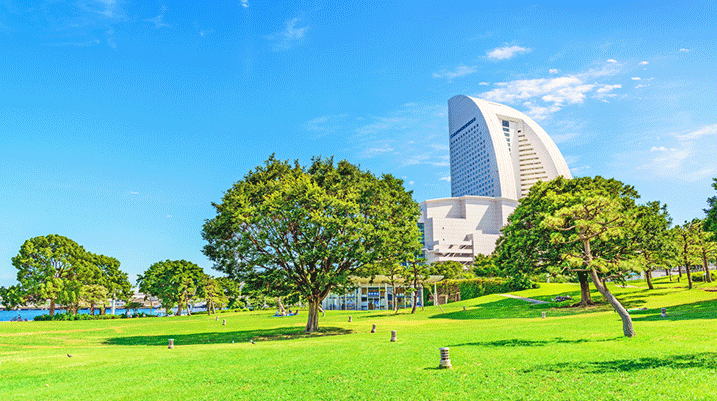 La métamorphose verte
En complément de ce projet structurant, Yokohama s'est engagée très tôt dans une politique environnementale ambitieuse. Dès 2003, la ville mettait en place le plan G30, dont l'objectif était de réduire de 30% d'ici 2010 la production de déchets à l'échelle de l'agglomération. La municipalité organisa plus de 11 000 séances d'information et plus de 3900 campagnes de sensibilisation sur ce sujet. L'objectif fut atteint dès 2005, soit 5 ans avant la date fixée par le programme, ce qui permis à la ville de fermer deux usines d'incinération de déchets.
En matière de lutte contre le changement climatique également, Yokohama fait figure de pionnière. En 2008, elle fut l'une des 13 villes élues « Eco Model City » par le gouvernement parmi 82 candidates pour leurs actions en faveur de la réduction des émissions de gaz à effet de serre. La même année, la municipalité lançait le plan CO-DO30, destiné à diminuer de 30% d'ici 2025 les émissions de GES. Là encore, la ville compte avant tout sur l'éducation des citoyens et des entreprises pour changer les habitudes et faire évoluer les pratiques.
Yokohama a enfin investi très tôt dans les énergies vertes. Dès 2007, la ville ouvrait une centrale éolienne urbaine destinée à produire environ 3M kWh d'électricité par an, ce qui couvre les besoins d'environ 850 ménages. Le projet Hama-Wing fut également l'occasion de stimuler l'engagement citoyen. Au lieu d'avoir recours à l'argent public, la municipalité eut l'idée de vendre aux habitants de Yokohama des actions pour financer le projet. La totalité des actions furent vendues en trois jours. 350 habitants devinrent ainsi propriétaires de la centrale.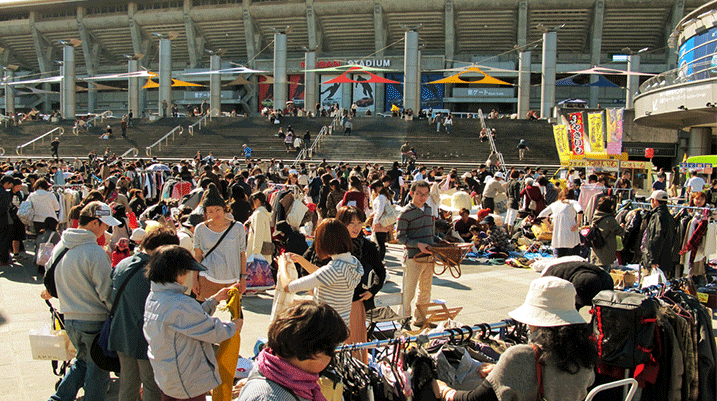 FutureCity Yokohama
Portée par son élan, la ville portuaire poursuit aujourd'hui activement sa transformation. En décembre 2011, le gouvernement japonais l'a élue « FutureCity » pour sa capacité à promouvoir l'innovation sociale. L'un des grands enjeux sociétaux auxquels doit en effet faire face le Japon est le vieillissement de sa population. Quelles solutions mettre en œuvre pour que les populations vieillissantes continuent à bien vivre au sein des villes ? C'est l'un des axes de réflexion et d'expérimentation actuels pour la municipalité. Dans le quartier d'Aoba (Aoba Ward) par exemple, la ville a mis en place des ateliers associant les habitants, l'opérateur local de transport, les institutions concernées et des universitaires afin d'élaborer en commun des solutions en matière de services médicaux, de communication intergénérationnelle, d'habitat etc.
Après avoir été pionnière en matière de planification urbaine et de politique environnementale, Yokohama est désormais pionnière dans le domaine de l'innovation sociale. La ville accueille d'ailleurs depuis 2011 la conférence Social Innovation/Smart City Week, événement majeur pour la communauté internationale de la ville vivante de demain. L'enjeu : construire la réflexion et les plans d'action en partant des problématiques sociales et sociétales, au lieu de partir des connaissances techniques et des pratiques institutionnelles. La prochaine édition aura lieu en juillet 2015.